It's hard to imagine rock's greatest albums without their iconic covers, whose vivid imagery is so deeply ingrained in popular culture that they've become instantly recognizable to multiple generations of music fans. Now, some of classic rock's most beloved album covers are reborn with RedisCover Jigsaw Puzzles.
The exciting new series launches this week with eight jigsaw puzzles featuring the unforgettable cover art from eight of rock's classic albums: David Bowie's The Rise and Fall of Ziggy Stardust and the Spiders from Mars, Jackson Browne's Late for the Sky, Johnny Cash's At Folsom Prison, Bob Dylan's The Freewheelin' Bob Dylan, the Grateful Dead's Aoxomoxoa, Jimi Hendrix's Axis Bold As Love, Nirvana's Nevermind and the Rolling Stones' Let It Bleed.
Every RedisCover title is a high-quality, double-sided, 300-piece 16" x 16" puzzle featuring the original front and back cover art from one of classic rock's most enduring vintage albums. The cover artwork is also reflected in the puzzle's attractive packaging, which contains illuminating "ArtiFacts" about the creation of its cover art, as well as background information about the making of the album.
RedisCover Jigsaw Puzzles, available now at Barnes and Noble, Urban Outfitters and other retail outlets (suggested retail price $21.95), are the brainchild of music-industry veteran Debbie Gold, whose company Gold Standard Games has partnered with the world-renowned Imagination Games for the project. Gold took her first step into the world of games and puzzles in 2009, as creator of the innovative Grateful Dead-Opoly.
The RedisCover Jigsaw Puzzles line has considerable personal resonance for Gold, who has worked extensively with a wide range of notable rock acts including Bob Dylan, Bruce Springsteen and the Grateful Dead. Gold used her industry connections to get clearances from the artists, photographers and designers involved in creating the albums' cover art. She also took care to meticulously reproduce their original designs and color schemes, and to have the puzzles completely manufactured and printed in the United States.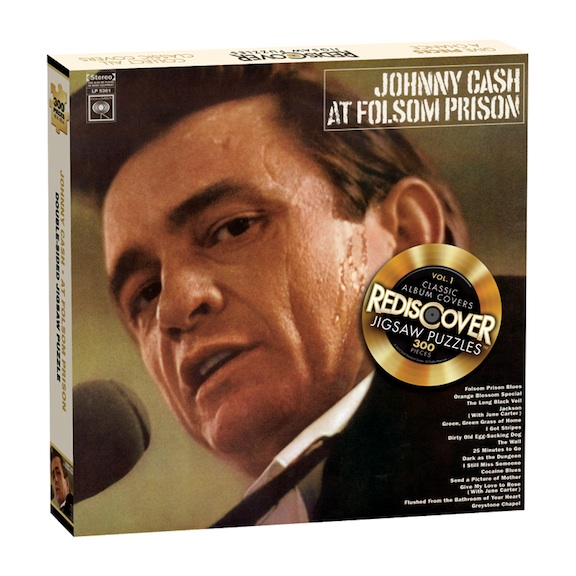 "This is some of the best 20th-century visual art we have, but it has become a lost art with the rise of CDs and downloads," Gold notes. "If you think about your favorite records from the days of vinyl, it's a visual memory as well as an aural one. We used to spend hours pouring over album covers, front and back. Those of us who grew up with these records have a real emotional attachment to this art, and at the same time, there's a resurgence of interest from a new generation of kids who are embracing classic rock in a big way. With RedisCover, we feel privileged to help bring these images back into the culture."
Or, as Rolling Stone contributing editor David Browne writes in the RedisCover packaging, "For a generation that came of age with rock & roll, the covers of the era's classic albums were part of the experience. Now, thanks to RedisCover Jigsaw Puzzles, the iconic album jackets of rock's greatest eras spring back to life, one tantalizing piece at a time."