The Kuti family has made some of my favorite music for a long time now, and I am constantly amazed by how many people are unaware of not only Femi's music, but his legendary father Fela's music as well. The reason why I have noticed sounds silly, but I named my two kittens Fela and Kuti about a year ago, and whenever I tell people their names, no one has any idea what they mean. I am shocked. Fela Kuti invented the afrobeat genre, which is some of the hottest music one can listen to. There is a Broadway play named FELA about his life produced by Jay-Z and Will Smith. Why doesn't anyone know or listen to this inspirational, political, booty shakin' dance music?
Femi lived with his dad for years after his parent's divorce, and even played in his band, like his own son does now. This is where he embodied the afrobeat spirit that he truly encompasses on stage. His presence and seriousness about his work is like no other musician that I have ever seen in my life. His emotions are fierce, and his messages are well spoken.
Last Monday, May 9th, Femi Kuti brought his band Positive Force to the Boulder Theater to throw down in one of his favorite places to play. In true fashion, the band started playing a funky beat first, and little by little each section came out (including the three sultry female dancers) until finally Femi himself came on the stage. He gave the band some orchestrating and got revved up himself, and the party was started. Most of the music that he would play was from his new album Africa for Africa, which is very traditional afrobeat his own way.
Towards the end of the first few songs, Kuti showed his ability to circular breath while playing super long notes and even soloing while circular breathing. This was amazing to see. His vocals sound just like his father's, and his talent as a multi-instrumentalist (saxophone, trumpet, keyboards) match his dad as well. It is like seeing a living legend. I was in the front row for the entire show, and the energy was gripping.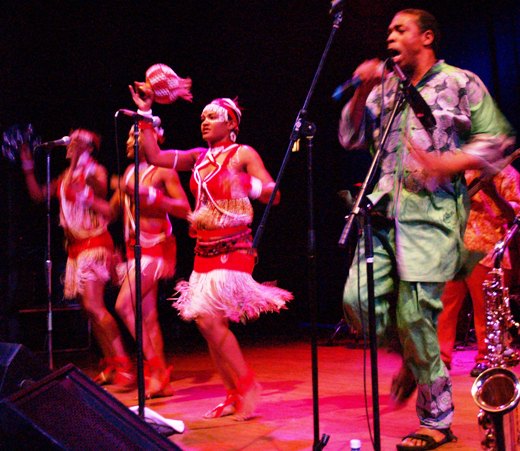 After a few songs, and again as his father's legacy inspires him, Femi told a story about slavery. He compared the slavery of Africans to the holocaust, except for the fact that it has taken place for 500 years. He kept reminding the audience to keep this in the back of their heads. He said many people say that just because other Africans gave up the slaves to Americans, does not make it right on anyone's part. Just like when Germans and other Jews ratted on other Jews to save their own lives. Then, he jammed into his title track "Africa for Africa." The venue was rockin' with people dancing and sweating as Femi was. He is so captivating to watch because he is so active in his shows. He commands the stage and his band. The fortitude that emits from the horn section is powerful.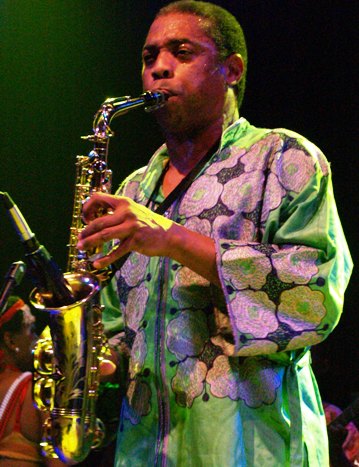 Towards the end of the show they played "Beng, Beng, Beng," which to the delight of much of the crowd had hips shaking from on the stage to off it. Except for an idiot fan whom decided to go on the stage and put dollars on everyone, the crowd was all smiles and dancing throughout the venue. Kuti did actually say that Boulder is becoming more and more his favorite place to play. And he said he was serious! If you are reading this review and do not know what Femi or Fela sound like, you must make it a high priority to listen to these legends. It is some of my favorite music in the world, and there is so much heart and soul put into every beat and song lyric. There are only two shows left on this current American tour, but if you happen to live in those cities, you need to see this show.
Check out more photos from the show.
Catch Femi Kuti and Positive Force tonight in San Francisco at Bimbo's 365 Club.