As I cover regional music festivals, I always like to show Grateful Web readers how festivals work and who puts them together. Though we'd all like to believe that magic festival elves appear in the night and toss fairy dust over a field and the next morning a festival pops up like mushrooms after a rain, it doesn't work like that. There's a lot of planning put into the creation and execution of a major music festival.
Music on the Mesa in Taos, NM, launched June 2015 as an annual event in the region. This festival is unique in that it drew volunteers and visitors for that very first event from out of the region as well as locals. I talked with folks from Louisiana, Minnesota (St. Paul and Duluth), and a few with North Dakota connections. That was well before major buzz had been created by the festival itself.
The reason for this is due to the incredible creativity of Dan Irion of the Taos Brewing Company, who agreed to host this annual festival on three stages on the brewery grounds. He and Stephen Plyler, the executive director and producer of Music on the Mesa, pulled in favors and offered opportunities for many to get a taste of music they wouldn't normally see in the region. Plyer has incredible eclectic musical tastes that were key in luring top-notch artists to Taos for this magical weekend in June. (See this year's lineup below.)
Plyer also is the owner and a partner of True Taos Radio 93.5 KNCE (www.truetaosradio.com), one of the sponsors of the festival. This low-powered station transmits from a renovated Airstream trailer perched behind the brewery. (They even host a regular two-hour Grateful Dead show on Sundays.) Its concept harkens back to radio that I grew up with where real disc-jockeys (over 85 of them) play records (yes, even some real vinyl is played here and well as CDs) of music they are jived about and they know a lot about the artists and their genres. Even the talk radio portions of the radio station's programming involve real people talking about issues relevant to people living high in the mountains of northern New Mexico.
KNCE (the brainchild of Roots + Wires, Walking Rains Productions, LiveTaos.com, and Ravensong Productions) launched something new for this year's MOM: live interviews with musicians appearing at the festival. This is a step up from just playing the bands' CDs. Most of the interviews are from returning performers who comment about the festival.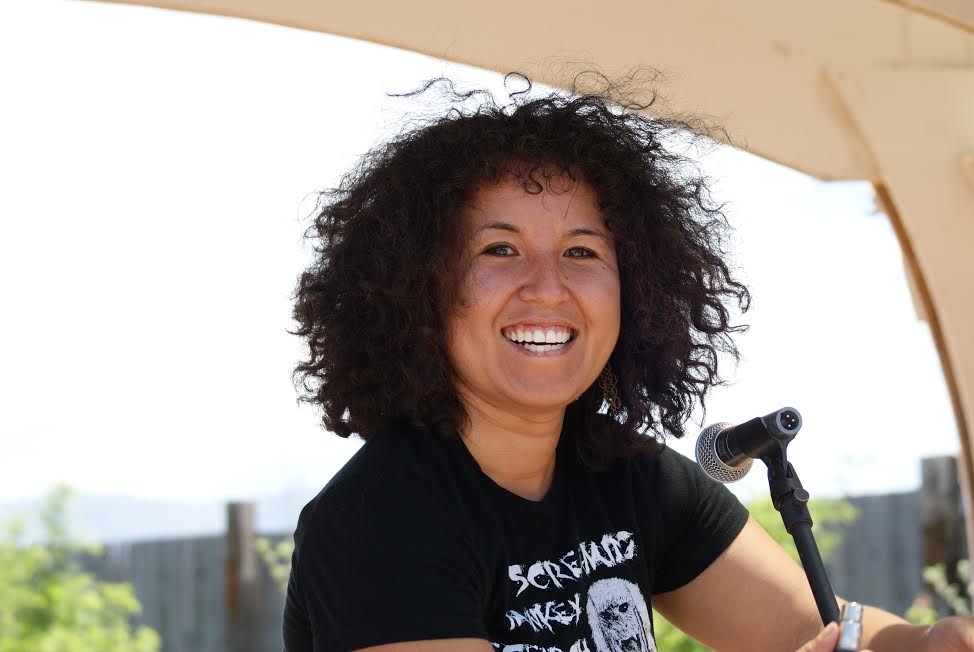 In addition to the infrastructure and artist lineup for this festival, last year even some of the tech staff were not your usual cord-stringers and board-jockies. Sarah Martinez, learned to handle boards and run sound from her work as an electronica musician. A Berkley graduate in guitar, she strayed into walls of sound electronica and became enamored by it. Last year, she ran sound for the small outdoor patio stage, making sure it's mostly acoustic musicians could be well heard and clearly understood. (The big, main, cornucopia stage was manned by a sound veteran, who was extremely flexible moving from genre to genre, no matter how big the band.)
In addition to good sound at the festival, the Taos Mesa Brewing Company also provides meals for festivalgoers and musicians and crew. Chef Dan Kostohryz oversees a kitchen crew that offers a variety of hot meals, including signature brats, grass-fed beef burgers, and vegetarian fare--all done, without a proper kitchen.
Kostohryz, a St. Paul MN native, was apprenticed trained and believes in giving his crews personal instruction and attentive guidance as he was given. He began as a youngster of 14 at the Drover's Inn. Since then, he's cooked up delicious food for high end hotels, private clubs, bar and grills, and fine dining establishments, including the noted Town & Country in St. Paul, the oldest private club in the country.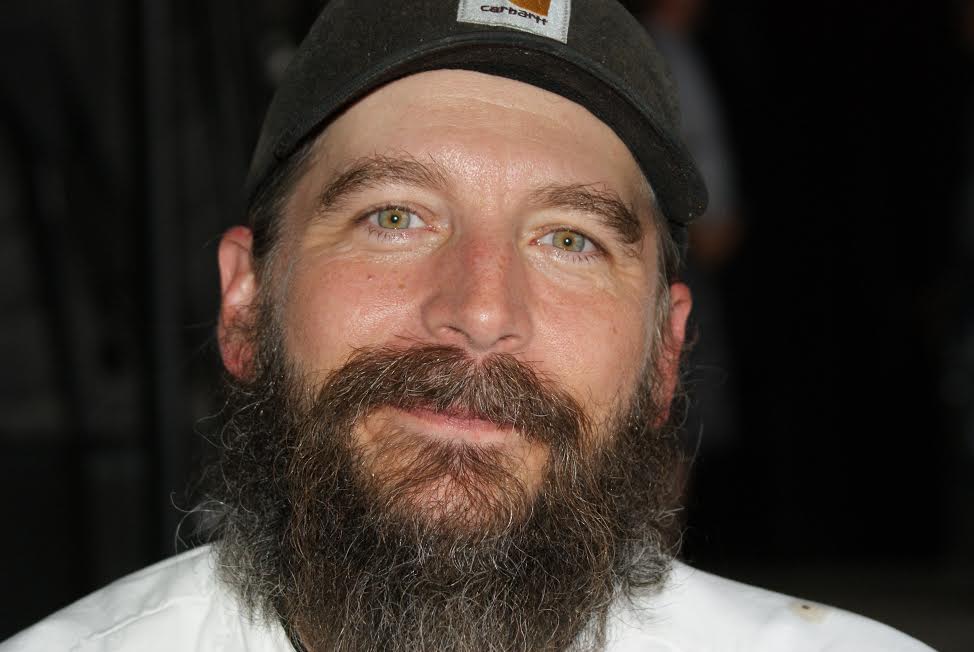 Tiring of the cold Minnesota winters, Kostohryz moved west to Taos and spent a year at Gram's Grill, the busiest restaurant in Taos. His skills were used in a few other local restaurants until he decided to take a break from the fast-paced restaurant culture and applied his skills at Ojo Cliente, a luxury spa nearby.
Then in 2012, the Taos Mesa Brewing Company opened and decided to add food, more as an afterthought to their fine line of craft beers. A couple of years later, the brewery with Kostohryz's help changed its menu and its focus, providing palette-pleasing entrees like Australian flank steak and smoked mahi-mahi tacos. In addition, Kostohryne has also prepared a five-course beer taster's dinner and created a veggie burger from scratch.
And then there are unusual vendors like the turn-of-the-century popcorn vendors. Just seeing them in their red and white suits made me smile every day.
Finally, MOM couldn't be the festival it is without a couple of little amenities. One is two-step and waltz dance lessons on-site. Last year, Rick Lambert and Robyn McCulloch brought their teaching skills to the indoor dance floor and taught a special dance class for festivalgoers. In addition to the dance floor in front of the indoor night stage, there was another dance floor out in the sun near the main stage.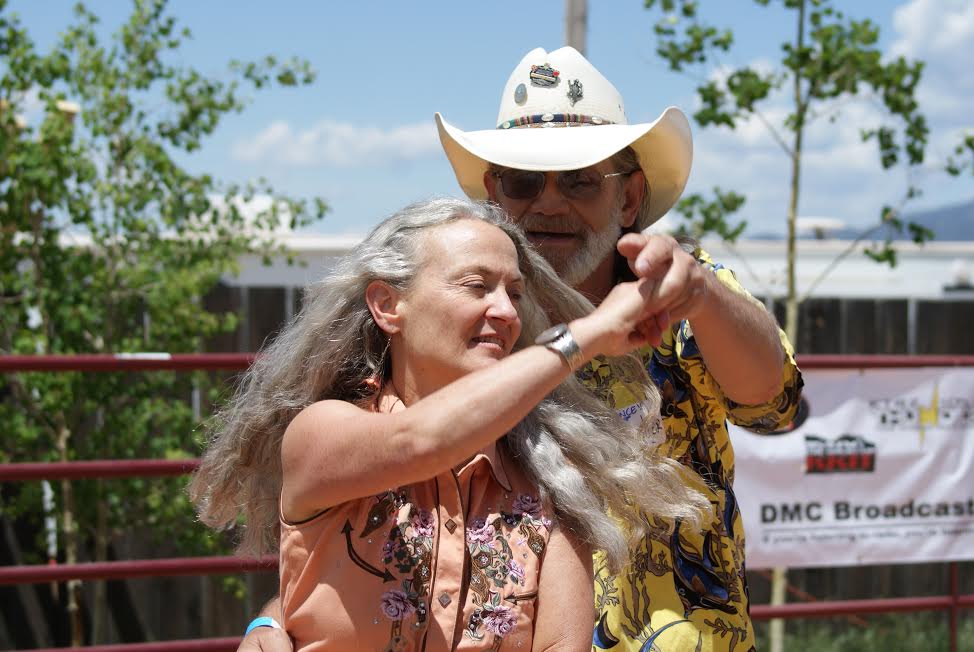 The other amenity was for musicians. Last year, Far West's front man Lee Briante came off the main stage, shaking his hand, obviously in some distress. Back stage a massage therapist offered some techniques to relieve his stress and pain. This is vital for any festival to have on-call. It's almost as important as having an EMT available onsite.
Music on the Mesa continues this year with just as many super behind-the-scenes people who make this festival happen.
Here is Music on the Mesa's 2016 Lineup. Tickets are still available for pre-purchase and at the door.
FRIDAY LINE-UP
Adia Victoria 5:00-6:30pm (Patio)
Mike + Ruthy Band 6:30-8:00pm (Main Stage)
The Giving Tree Band 8:00-9:30pm (Inside)
Elephant Revival 9:30-11:00pm (Main Stage)
Reviva 11:00-12:30am (Inside)
SATURDAY LINE-UP
Kelley Mickwee 11:00am-12:30pm (Main Stage)
Aaron Lee Tasjan 12:30-1:30pm (Patio)
The Honeycutters 1:30-3:00pm (Main Stage)
Samantha Crain 3:00-4:00pm (Patio)
Wayne the Train Hancock 4:00-5:30pm (Main Stage)
Grace Askew 5:30-6:30pm (Patio)
Band of Heathens 6:30-8:00pm (Main Stage)
Howlin' Brothers 8:00-9:30pm (Inside)
Old 97s 9:30-11:00pm (Main Stage)
Last to Know 11:00-12:30am (Inside)
SUNDAY LINE-UP
The Noseeums 11:00-12:30 (Patio)
The Far West 12:30-2:00pm (Main Stage)
Sammy Brue 2:00-3:00pm (Patio)
Robyn Ludwick 3:00-4:30pm (Main Stage)
Decker 4:30-5:30pm (Patio)
Ray Wylie Hubbard 5:30-7:00pm (Main Stage)
The Mastersons 7:00-8:30pm (Inside)
Shawn Colvin & Steve Earle 8:30-10:00pm (Main Stage)
Boris & the Salt Licks 10:00-11:30pm (Inside)