The last day of the Meadow City Music Festival began with a light audience. It was to be expected for a 10 am start on a Sunday morning in a church-going community. The festivalgoers who came later missed a couple of really great acts.
Setting the stage ablaze was Benzo III, a hot act that has been labeled hip-hop, but in truth is more song oriented with rap blended in here and there. Benito M. Martinez III started playing music when he was five. He played drums in punk and metal bands and found hip-hop as a teenager. A family man and grad student now in his twenties, Benzo has pulled together a top-notch band that is big-stage worthy, complete with two female dancers.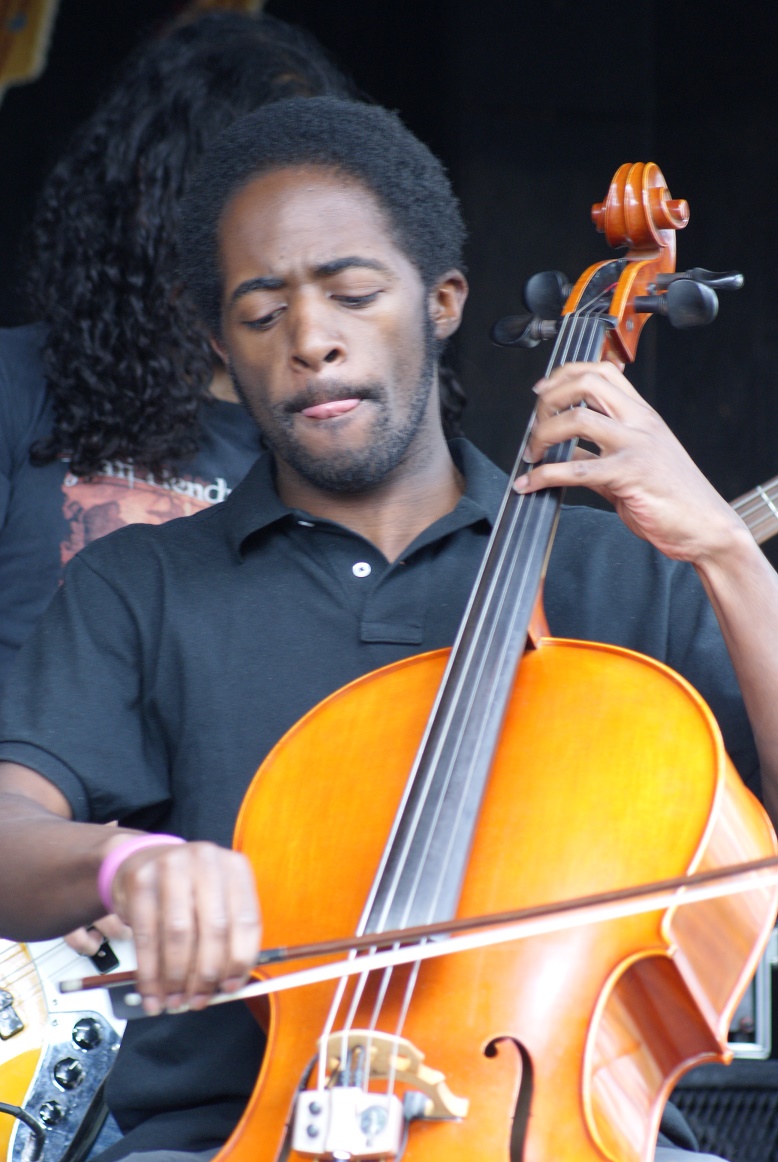 I'd heard a lot about this young performer but expected to hear straight rap. What came bouncing across the Las Vegas NM stage was a confident, positive performer with a powerful R&B voice. His band of sax, drums, bass, keys, synth, and guitar lays a solid foundation of soul, blues, rock, jazz, and R&B. These players are seasoned and versatile. The keyboard player stepped to the lip of the stage and bowed a cello for one number. Now in what hip-hop act would you see that? And it worked!
The two dancers were exceptional, performing down in front of the stage. They did an intricate jazz interpretation of "My Beautiful Disaster." Individually, they were great to watch, but together they did a counterpoint of each other that was phenomenal.
Benzo shared his new single, "Heart Beat," and the dancers did a great hip-hop choreographed dance. Very well done!
Benzo III has the whole package. There are great musicians. Benzo has a strong voice. He offers songs that are positive but never saccharine. They are always truthful and realistic about life. And the dancers…..All of that makes Benzo III a high-end professional show like Rhianna.
And Benzo III is humble and generous. The last song started out with Benzo singing, and then he stepped away to let each band member have a few moments in the spotlight.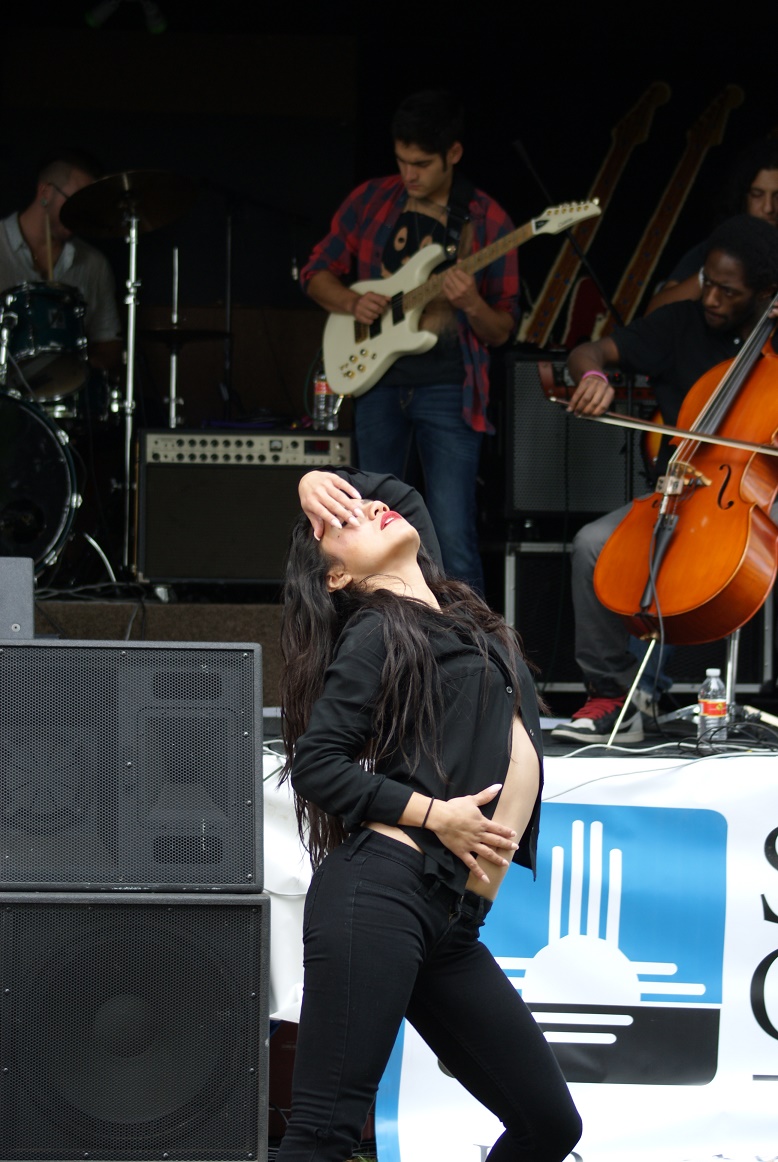 This year Benzo III won the New Mexico Music Award for hip-hop. Keep an eye on this young man and his band. He's going places.
The next act was Sim Balkey. I was eager to hear this performer and wondered what his full band would be like. Though he lives in the Las Vegas NM area, his sound is straight from Texas. His bio said he has "a distinctive voice, which quite simply, doesn't sound like anyone else in country music today. There's an edgy intensity that brings out the best in every song." I'd agree with that. His deep vocal register and his phrasing allow him to deliver a song with a breadth and heart. However, Balkey's repertorie isn't what you'd expect.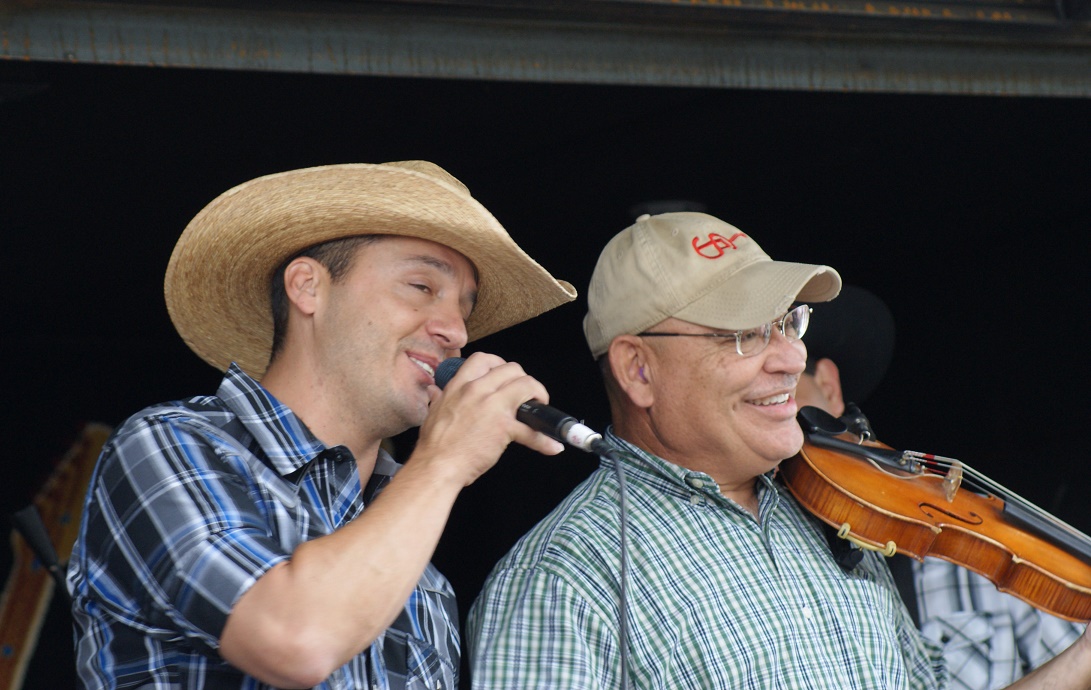 From the state, Balkey confessed he and his band did only covers at the Serf theatre the night before because it was a dancing audience. Today, he decided to mix it up with his originals and a couple of surprises.
He started out playing two of three tunes that were up for selection by Sirius XM radio. They were solid country sounds that left your toes tapping. He sang the title cut of his new CD, "Messing Around." Then he sang one from his first album called, "Around That Cooler," that has a line "a shot of life goes down much smoother around that cooler," dealing with home town acceptance. Later, he sang, "Forever Tonight," about second chances. Balkey's originals have more meat than most country songs however.
Balkey's band, The Honky Tonk Crew," was top-notch—bass, guitar, drums, electric guitar, and one heck of a fiddler player. Balkey and the band did Charlie Daniels' talking blues song, "The Devil Went Down to Georgia," allowing the fiddler to let loose. But that's not all Balkey and this band pulled out of their musical hats. Along with Daniels' tune, they did "Amarillo in the Morning," and an Eagles lead in to his own song, "How 'Bout We Do That Tonight," which is charting in the top 100 on Texas Regional Radio stations. But what blew me away was his final song--an AC/DC number called, "You Shook Me All Night Long." Not only was it a rock tune, but the lyrics were hot for a Sunday morning. The audience loved it!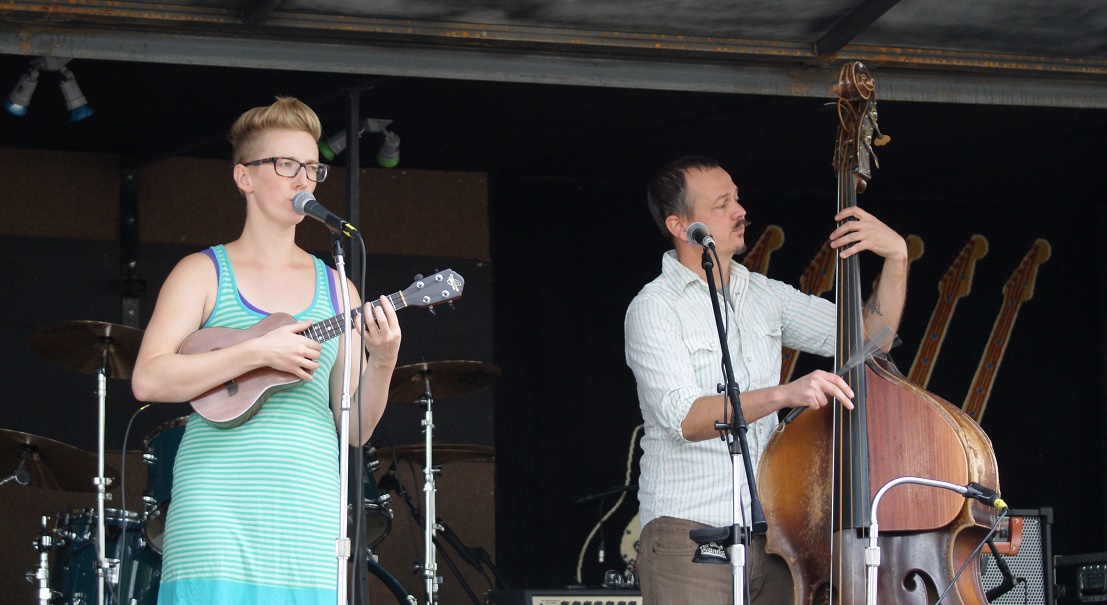 Next up was Sage and Jared's Happy Gland Band. Yep. You read that right. Sage Harrington and Jared Putnam are an indie folk duo. Sage plays ukulele, and Jared plays upright bass. Really good musicians and vocalists, this duo is sort of a sleeper act, meaning they appear to be rather nerdy young'uns who really are quite astute and skilled. Much of their repertoire is novelty tunes, but they slip in a few sweet bits in there.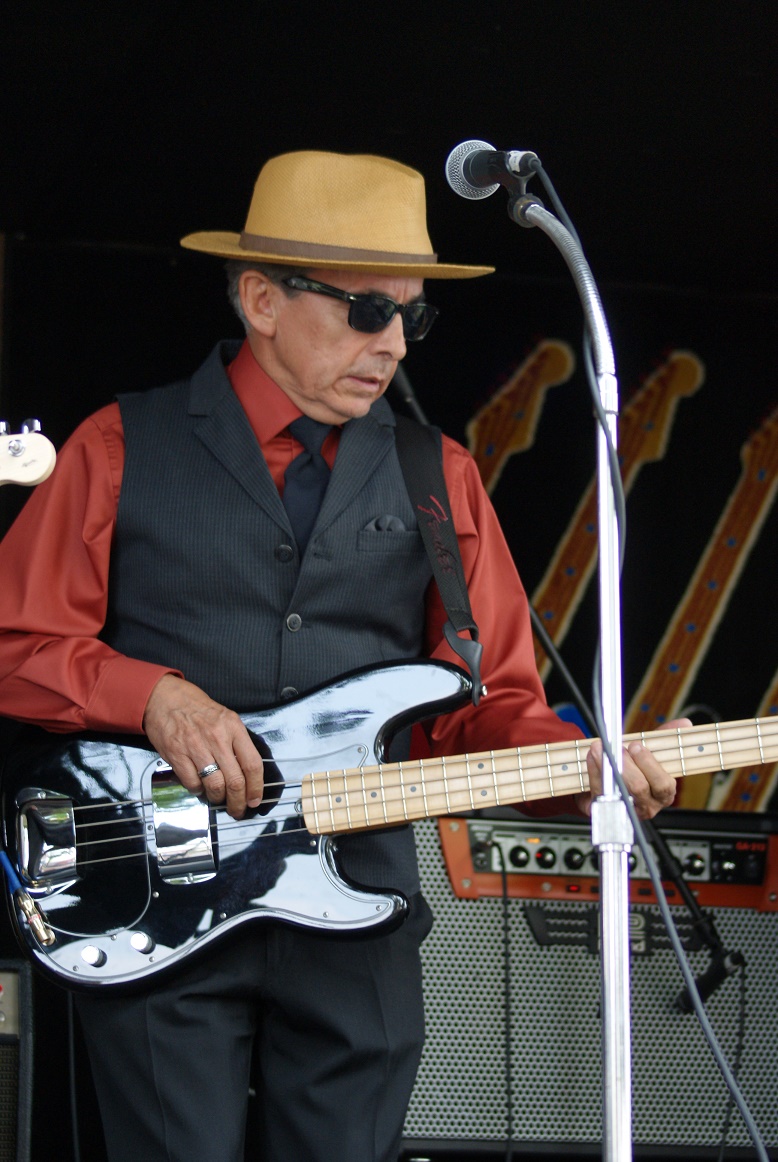 Sage and Jared's material reminded me of the Canote Brothers, from Seattle, who also do fun, quirky tunes. But those guys are so darn happy they warm up every stage they're on. When the Happy Gland Band began their set, they engaged the audience rather formally and a bit oddly. Sage's speech reminded me of Luna Lovegood's wistful breathiness. I wondered if this audience had ever heard songs like they played or how they spoke. They had fans there who knew their material but they were few.
There they stood with a uke and a bass and nerdy banter from the mic. So I sort of held my breath has they began. They did a tune from the Golden Era of Jazz with Sage's lovely voice---and the audience lapped it up like fresh milk. When Jared did his satirical "Die, Die, Die," the audience started grinning and chuckling. It didn't take long to win this audience over.
They sang the title cut from their new CD, "Flooded Away," a nice waltz with Jared whistling along, about a flood. They did "Soap Floats" and "Stroke My Ego," both the audience loved.
Sage and Jared ended their set with two very different songs. The first was Warrant's "Cherry Pie," and the other was "Blackbird." Both were well executed and left the audience wanting more. I think they won over brand new fans with their set.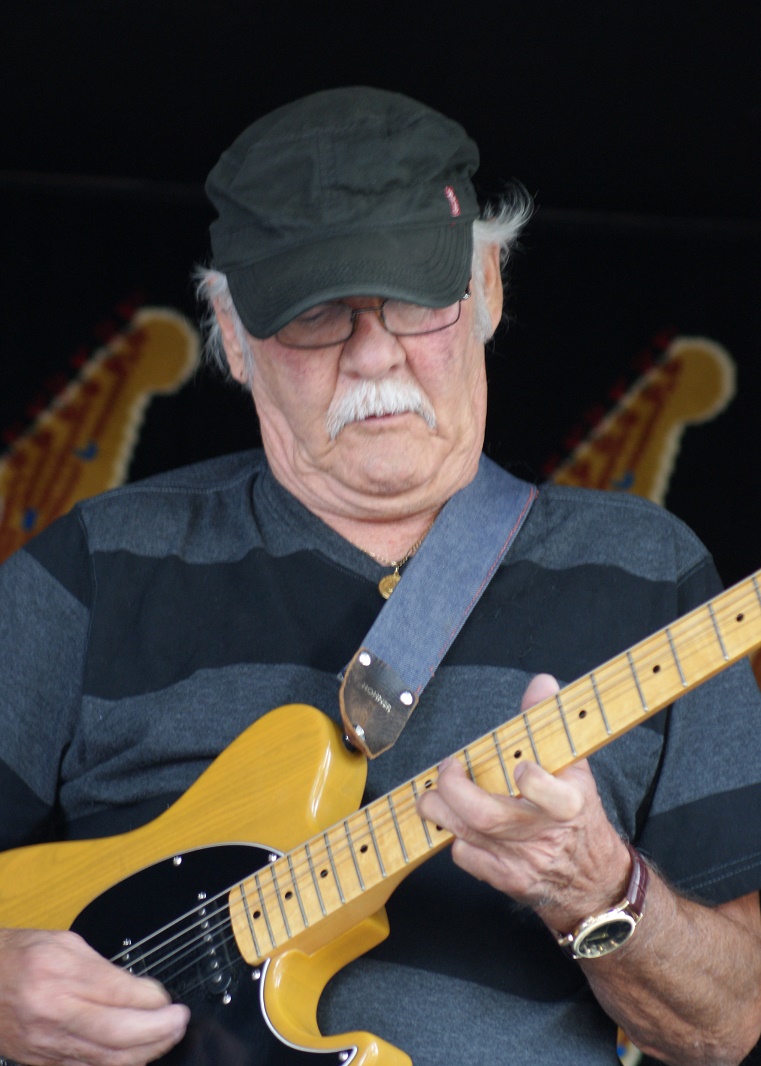 Following them was The Impalas. No, not the 50s do-wop group. The Impalas reunited during the first Musicians Reunited Concert of 2014. The current members have had varied musical backgrounds and many have played in bands with each other, since the 1950s to the present. The musical heritage of the Impalas includes songs that echoed in the Las Vegas clubs, bars, dances, proms and parties during the 50s, 60s and 70s. The band's repertoire includes classics from early rock and roll as well as classic songs in Spanish.
This five piece band was hot. I'm not kidding! Electric lead and rhythm guitars, bass congas, and drumkit, the band launched into favorites. They did a medley that included "Good Golly Miss Molly" and "A Whole Lot of Shaking Going On." Their voices are still strong even though they're in their 80s and their instrumentation was spot on.
Not only did The Impalas serve up rock and roll hits ("Wait Until the Midnight Hour," "Gloria," "Just My Imagination"), but they sprinkled in rancheras and even a cumbia or two. They even did a country tune where the conga player did a solo. Tasty.
Everybody was up dancing, including myself. I was grateful an older gentleman asked me to dance a ranchera. He was skilled and didn't mind taking a turn on the floor with a gringa.
Like Cascabel, everyone in town new these guys. And the band was throwing out dedication after dedication, something you don't hear very often anymore but certainly was a hallmark of the 50s. They closed their set with "La Bamba," bringing even the most reluctant dancer out on the floor.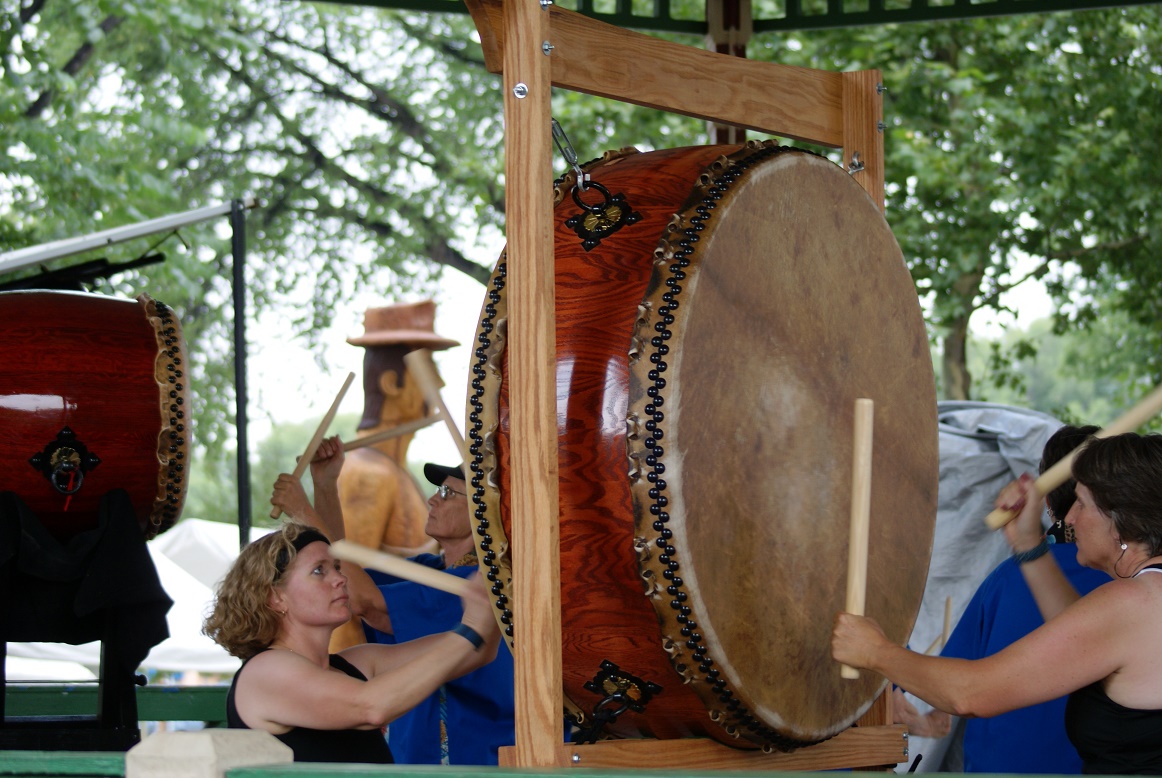 While all of the dancing was going on, in the gazebo, Josei No Seishin set up their Taiko drums. Josei No Seishin Taiko (which translates to Women's Spirit Taiko) has been playing together for just over two and a half years. Started by Robin Edward, there were six women initially. Robin trained in the US and Japan, bringing her love of Taiko drumming to women of Northern New Mexico. Today, there are a troupe of ten women (between 30 and 70+).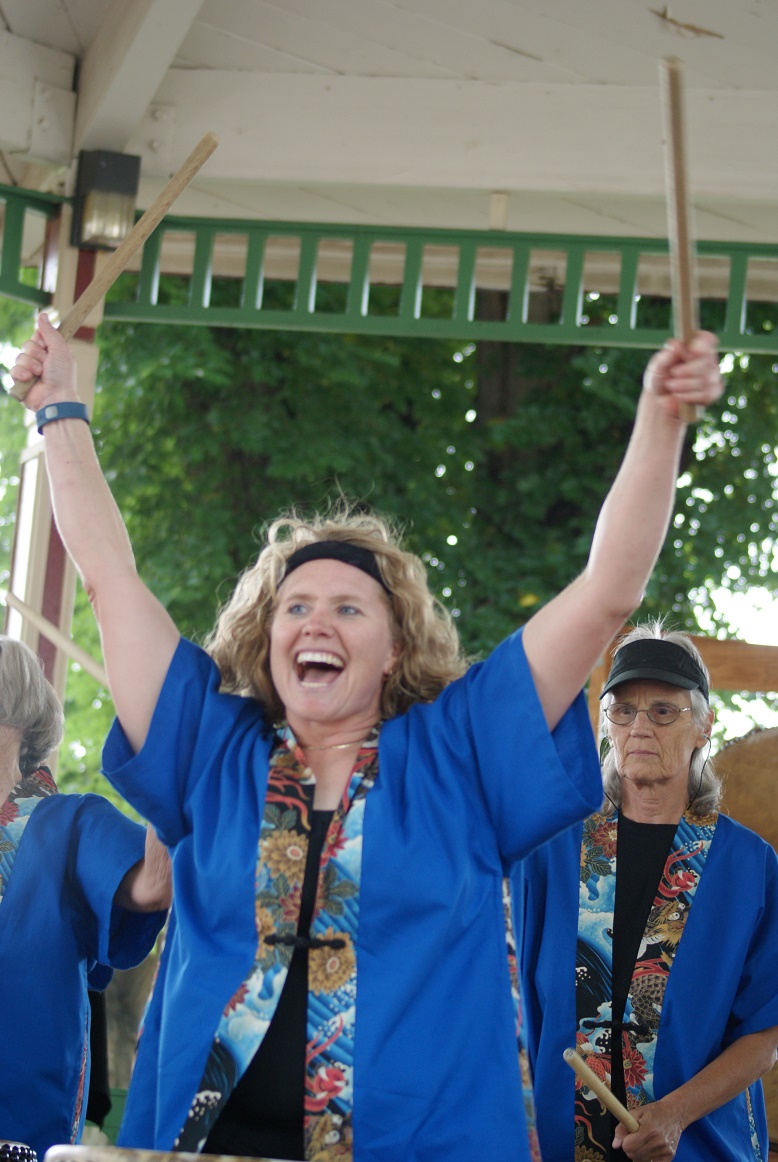 I've seen Taiko drummers before and these were just as skilled and choreographed. Robin Edward offered translations of some of the names of the tunes and some background of the musical form. It was well done. Having them set up in the gazebo was intended to make them more visible but people crowded around the front and sides, blocking sight lines of the drums. The best views were from the little rise behind the gazebo.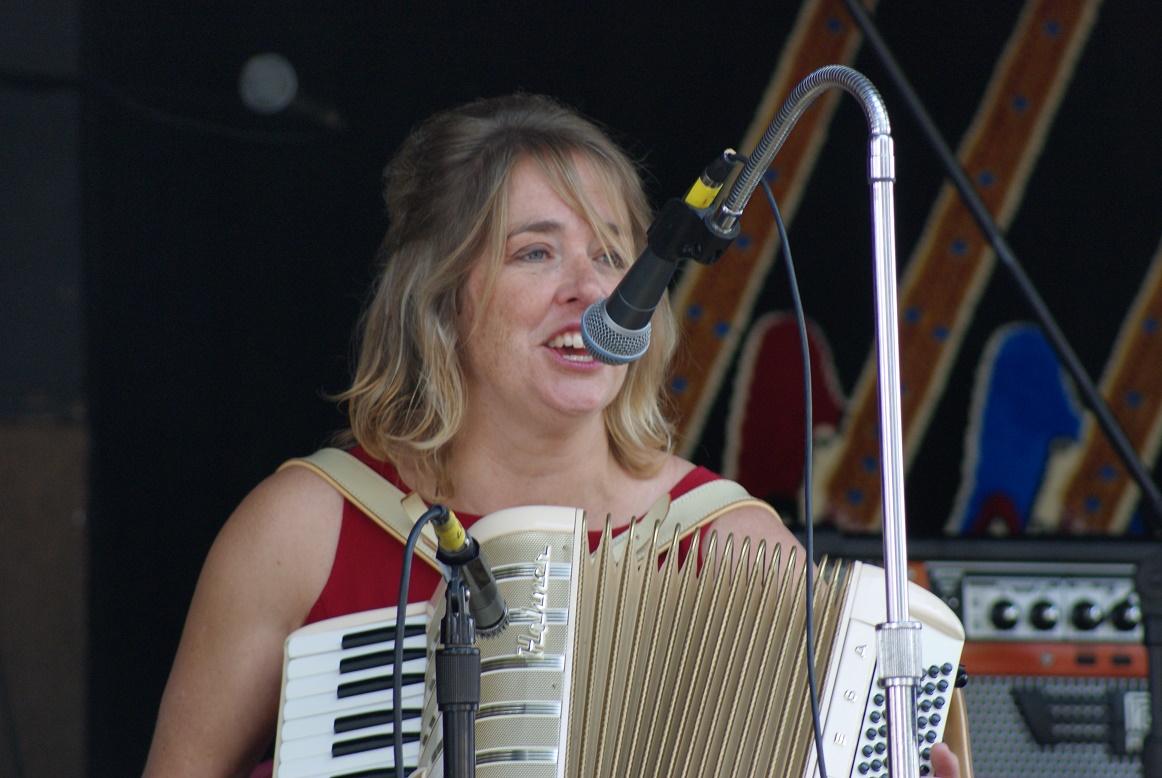 The last act was an encore set by Floozy. Their first number had Josei No Seishin doing a soft drum for a tune. This all-girl band was just as musically interesting as they were as the initial act of the festival on Friday night. They did tangos, country tunes like "Don't Let Your Babies Grow Up to Be Cowboys," a hot gospel tune ("I'll Fly Away"), and a few cuts from their new album. They did "All I Want Is Girls" and the title song, "His Name is Fabio," a funny tune about a washing machine. Floozy pulled out all the stops and kept the audience wanting so much more.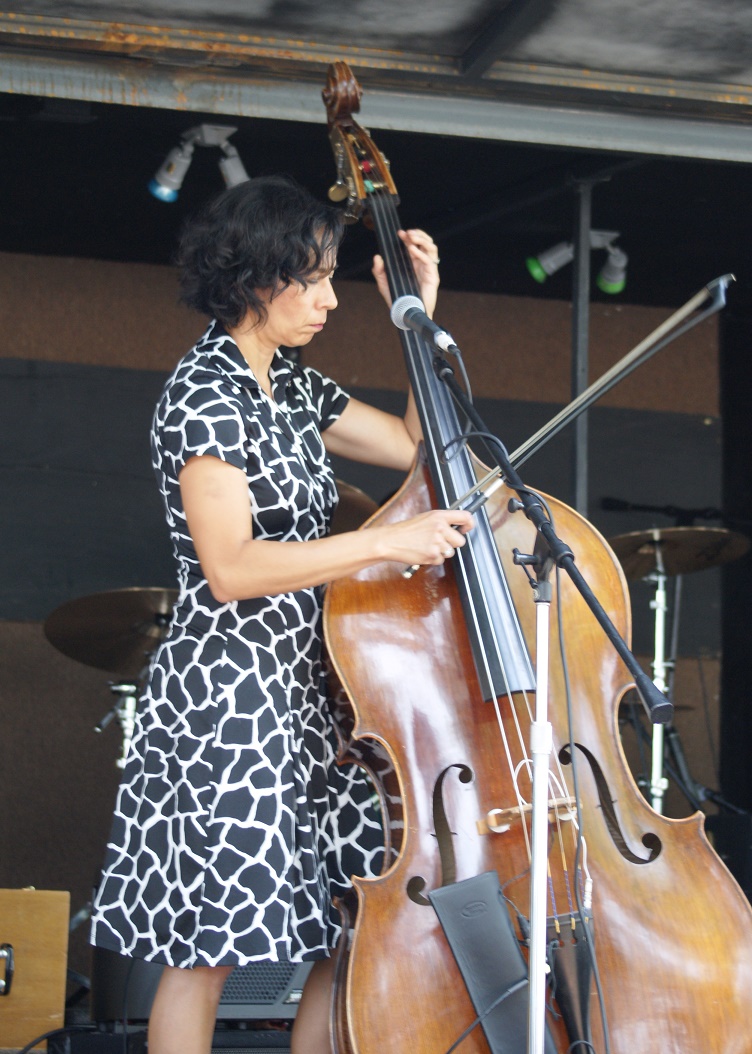 As festivalgoers packed up their chairs and headed home, there were smiles everywhere. The Meadow City Music Festival was a big hit, and people were already talking about coming back next year to hear new music.