Like Jennifer Grey from Dirty Dancing, I have emerged from my Labor Day cocoon called North Coast Music Festival. In its 8th year, NCMF returned to Union Park Chicago for a real good time. Union Park is far from the commercial grade Grant Park of Lollapalooza. It's more like the park that Will Smith sings about in Summertime, the 1996 classic Fresh Prince tune. It's the kind with the basketball courts and girls playing double dutch and the smells of the grill sparking up nostalgia. As summertime 2017 escaped our grasps, this weekend was the perfect chance for one last dance.
We got downtown Saturday through only one car accident on the highways from the farm up to Chicago. We live about an hour and a half away from Union Park. That day, the trip took us about two and a half hours but the weather was exquisite, the clouds were brightly moving across the Lake Michigan sky, and the excitement to get into the show overcast any of my road rage aggravations. We live about an hour and a half away from Union Park. That day, the trip took us about two and a half hours but the weather was exquisite, the clouds were brightly moving across the Lake Michigan sky, and the excitement to get into the show overcast any of my road rage aggravations.OK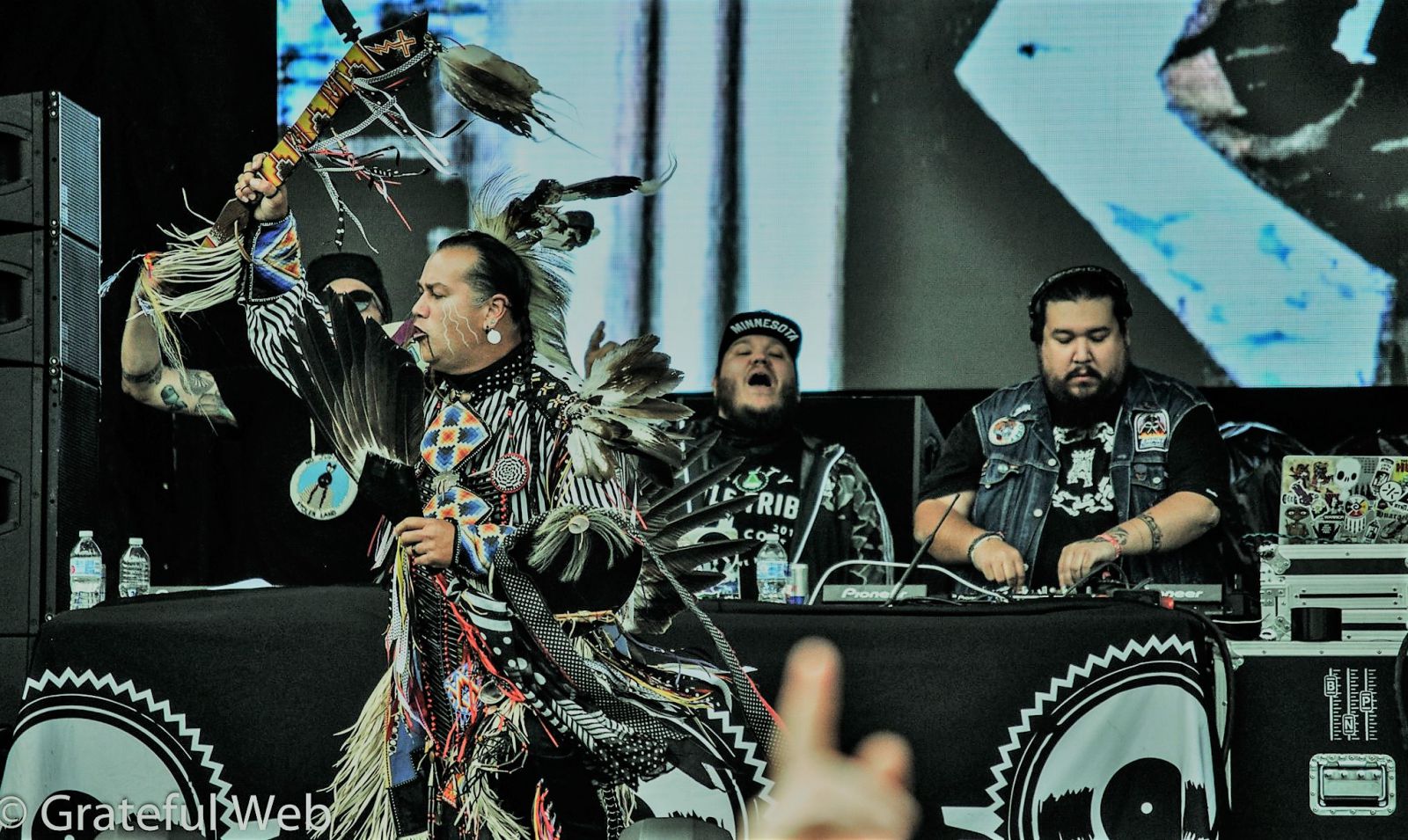 Friday night opened the party with Deadmau5 headlining. As we drove by looking for parking, the lines were there but not too bad, and the crowd looked colorful. I had my eye on the prize, Joe Russo's Almost Dead. We were lucky enough to get parked and get in before A Tribe Called Red finished their set. Montreal made magic with these boys. They tear the roof off traditional conservative ideas of Native Americans. Not only do they contemporize what audiences may have imagined the red man to look like, but they sling some sick beats too. From what I caught of the set, this time around they brought their traditional dancers, and the fly kids took a night off. The LED board was bumpin, and the crowd took note swinging arm in arm to what would be an awesome opening experience for our weekend at NCMF. Indian time syncopated the clock, the right time was right now with the right people. After they finished up, I jamboogied over to see the Russ Liquid Test at the Coast Stage. I caught his set at NCMF 2014 when he shared with the audience that it was his birthday. Well, today was my birthday too, so it's was nice to share the birthday love. Like attracts like.
Working five or more days a week, I was shaken like a bottle under carbonation, warm and dropped out the car door. I made special arrangements for this weekend, my birthday. I needed to lighten up! We live on a farm so as a special treat we were gonna be city dwellers for the weekend. We got ourselves an Airbnb, "a unique artist loft great location" for what would be considerably less than a hotel room for two nights. They too were spending their weekend at North Coast, and it felt like such a good mutual vibe right from the start. The smells of Union Park for North Coast were probably my favorite part of the festival. So many favorite parts of the festival like when.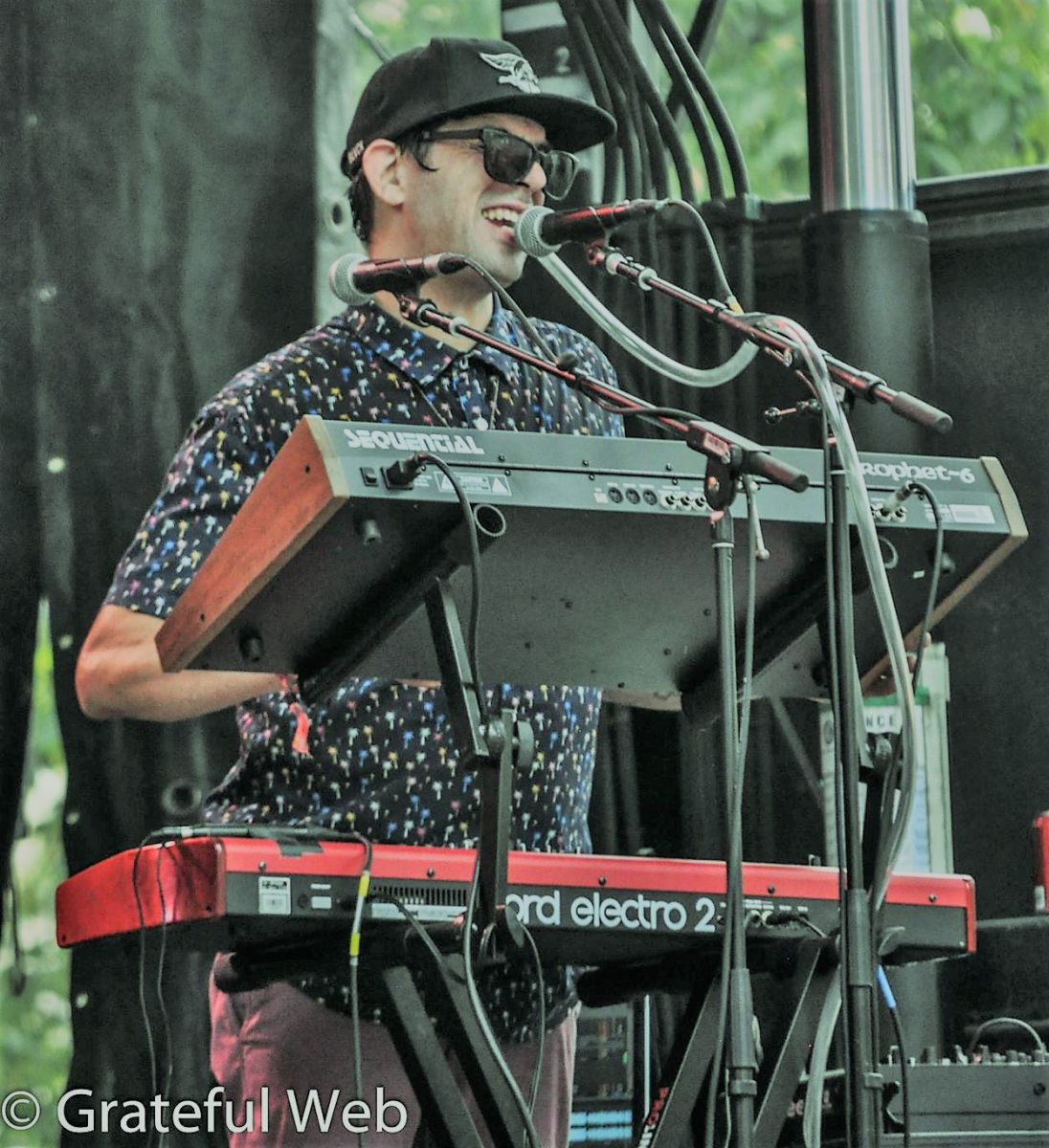 Russ Liquid unveiled his band to me. This is the first time I have seen the Russ Liquid Test as opposed to just Russ Liquid. I appreciated his musicianship/DJ style turned into an orchestral effort. On the new album 1984, he took his multi-instrumental electronic looping musical delight into a richer, thicker fuller sound true to his original style with a band. His roller skating melodies are performed with drums, guitar, keys, sax, talkbox tube and an entire gamut of funky effects. He brought Carlile on stage to do vocals that got the crowd pumped. I was never really sure if there was a drum machine being used because that drummer was like an octopus. He was on point. Russ Liquid's birthday is 8/31, just days before, so the party was on! A Tribe Called Red had brought the day from gray to sunny. Russ Liquid provided the rainbows with his colorful crowd.
Sung to the tune of Chicago - Saturday in the Park- "People laughing, People Smiling, a Grand Celebration…!"
The way the festival has four stages set up at rotating times makes the most music that a city park festival can have while still respecting city noise limits. I appreciated the tight set times and the efficiency with which the artists kept the party going. Once Russ was finished up, I heard the sweet sounds of lady power coming from the Skyline stage. Tank & The Bangas had spoken word on aisle 4, and her words pulled me in like a pike in Wisconsin waters to a hot dog on a fishing line. The flute trance was like Erykah Badu meets Sonja Renee and wouldn't you know it? It was her birthday today too!
People Laughing, People Smiling, A Grand Celebration! Singing a birthday song.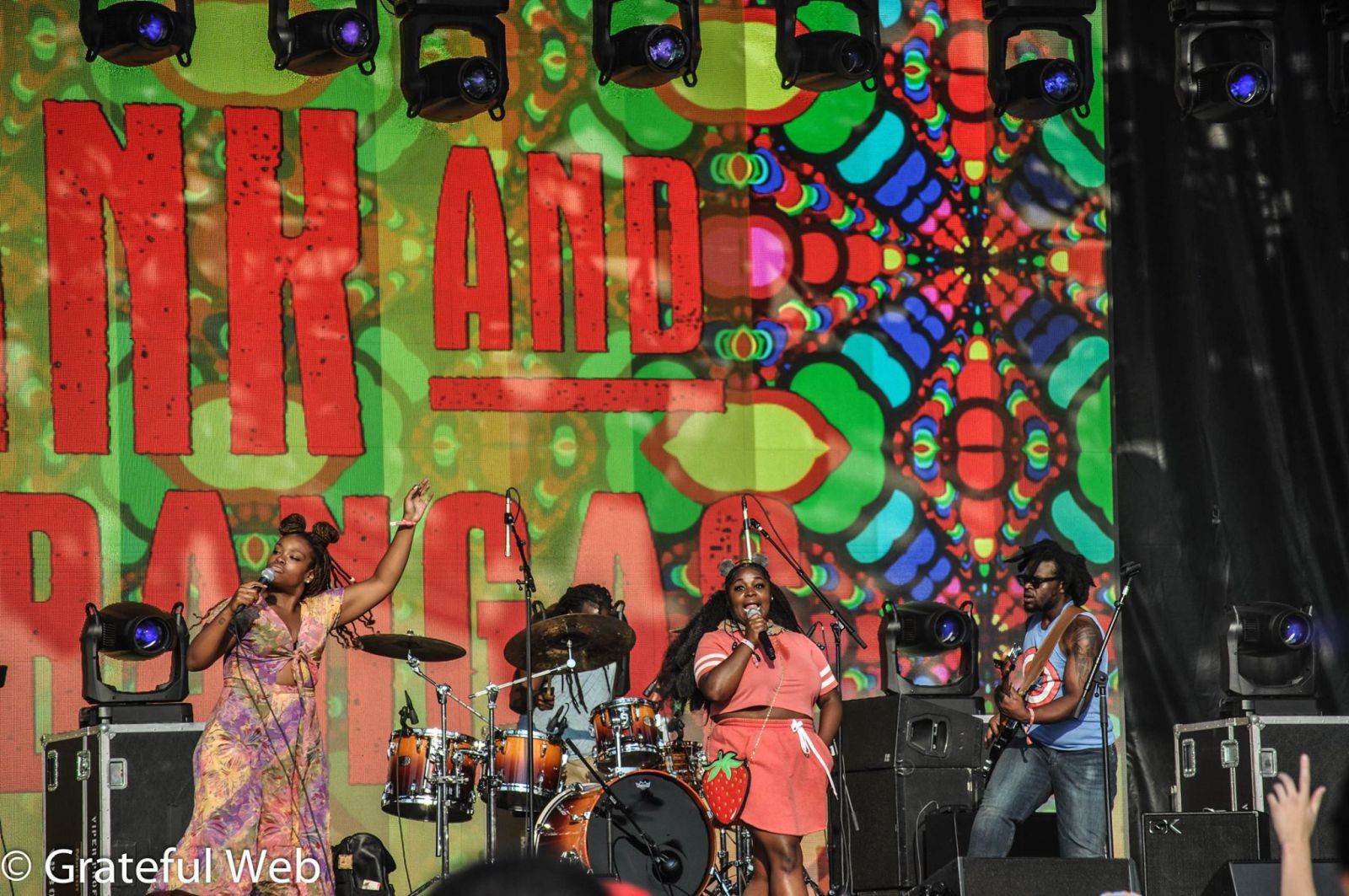 When she wasn't hypnotizing the audience with her words, Tank was leading the dance and taking it low. She talked to you like your friend that can always make you forget what the heck it is you were talking about anyway. Lyrics like, "He was beautifully broken but in a way that would make art with my heart" drew me in right away. She took me to birthday church. I was okay with being older. As my husband always says, "It's not the years; It's the miles." Off we walked to line up at the rail for Joe Russo's Almost Dead.
My favorite part about these electric heavy festivals is that there is no need to get there early. I dislike all the rail riding wars that seem to be so territorial. Why is there is always someone there that seems to be the unofficial ruler keeper or score marker? Like, your group showed up with three people and then just before the show started five more friends showed up, not cool man. No. There are no rules in music. It should be a free form flow. You move, you groove, you make friends. If you don't like who you are next to then move. You might not like the cards that you have been dealt, but you need to play them anyway. I digress, electronic heavy fests don't have that nonsense to contend with. They keep me young, and I like to think that I teach by example how to play it off legit. Or so I think, ha ha. Fake it till you make it, right?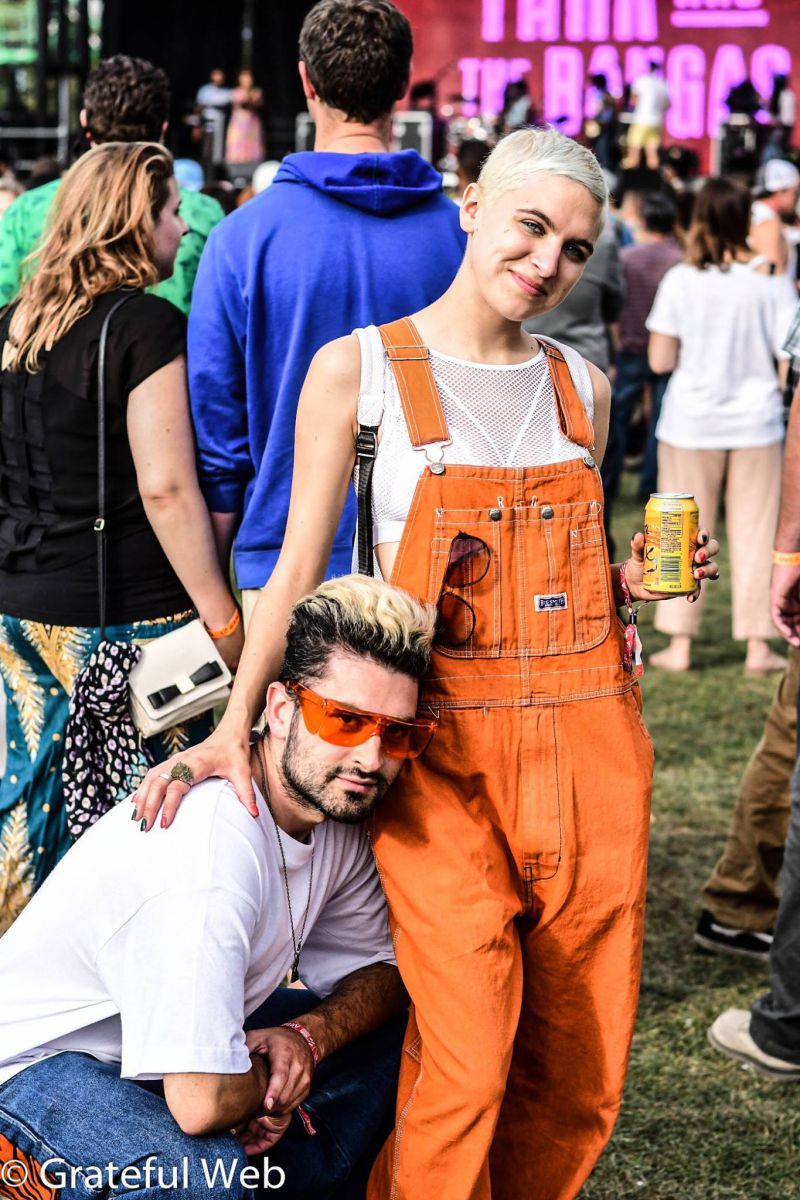 From the Skyline stage area, we could watch Manic Focus happening at the North Stage. Carlile, a native Chicago artist that was on stage for the Russ Liquid Test, was now on stage again with Manic Focus. That was very cool. Also cool was the fact that I had just been standing next to her watching Tank and the Bangas. Her orange overalls and style were right out of a United Colors of Benetton or Cross Colors ad. She seemed like Clarissa Explains it All or Claire Danes from My So Called Life. This made me feel 15 again. Yes! I admired her style. There was a swirl of Electric Forest official merch on display as the kiddos spun their light up poi and hula hoops. I was pleasantly surprised at the real instruments from both Russ Liquid and now Manic Focus. He also had a real drummer in place of a drum machine, or more likely in addition to- a saxophone, trumpet, violin, and then. Even from across the field when a 6'7" dude with a hoodie on up over his head came out you knew - there was another very special guest. Derek Vincent Smith, Mr. Pretty Lights himself came out on stage with Manic Focus, and the crowd went nuts. Whatta Chicago style all-star block party this had shaped up to be! The mixes were walking the dog, Chicago Blues style and the feeling was living easy, a sweet farewell to the long summer days.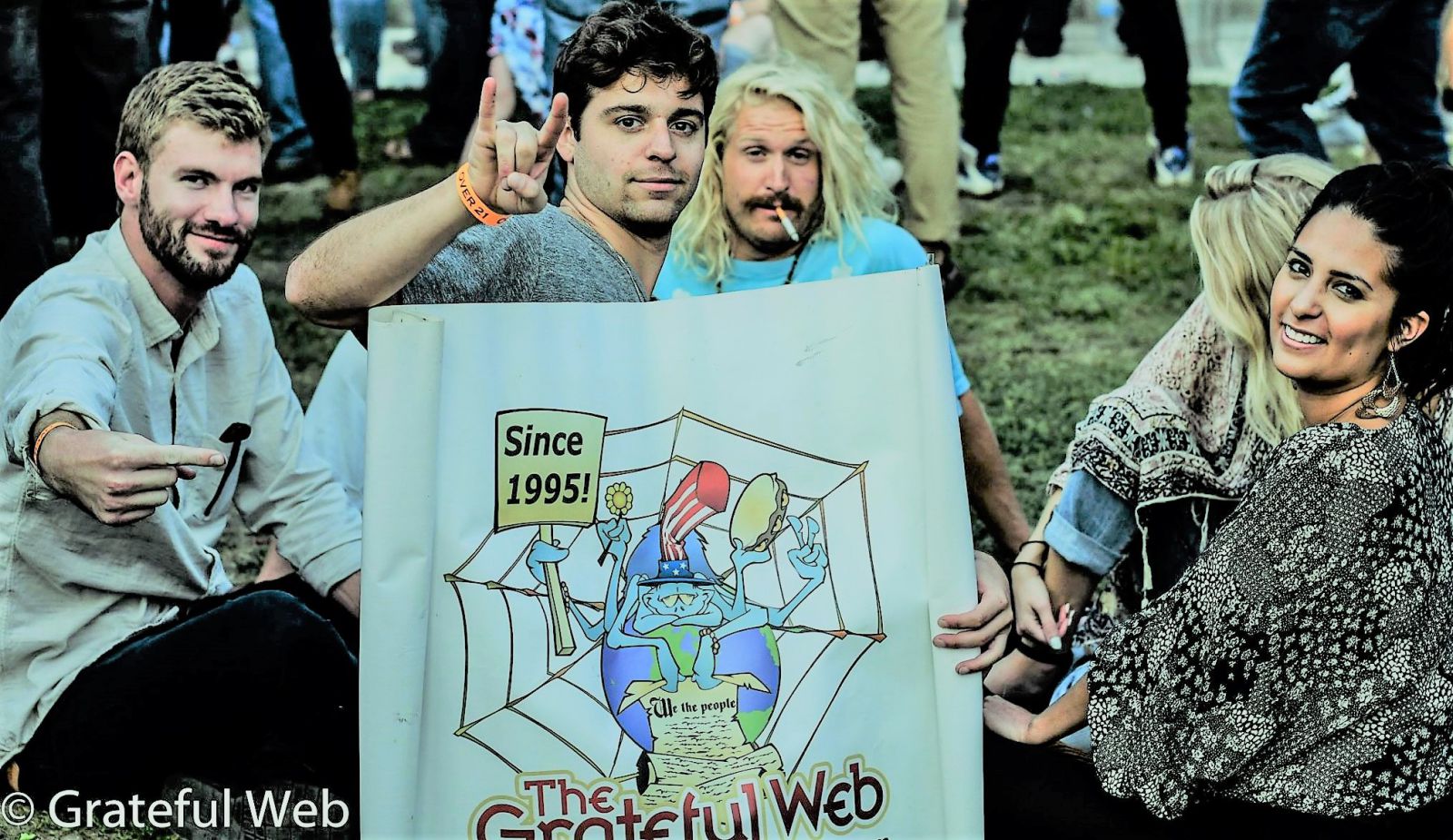 As the crowd swelled for JRAD, we spread out amongst our favorite player sides. I always tend toward the keys side. Most audience members are almost band members, right? Marco Benevento, Tom Hamilton, Joe Russo center stage, Dave Dreiwitz, and Scott Metzger came right out and hit perfect levels as they ripped into The Music Never Stopped. Of course, Joe Russo had his drum tech out to mess with the bass drum mic. We all love a good perfectionist. From there you could see that what sounds like the improvisation of some favorite classics was entirely reimagined as they brought out the peanut butter. Gotta have some to enjoy the jam, right? They are funky, fresh, and bringing that energy that is faithful to the original ideals. They jam but keep it tight. Perhaps a reimagined ideal that doesn't include the long days of LSD that the Dead had going in say, 72? There is something to be said for the energy they bring to my favorite classic tunes.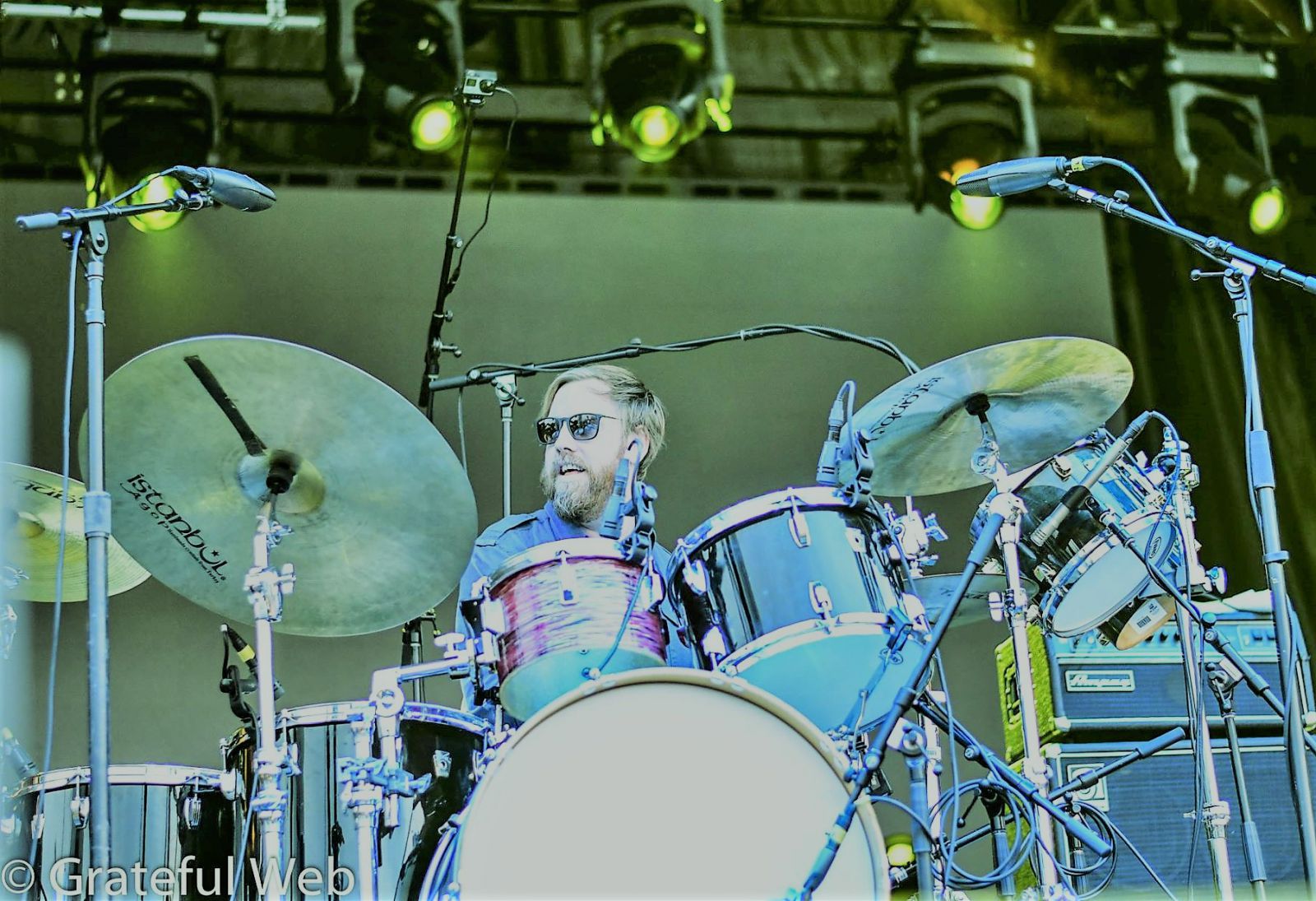 They twirled into Brown Eyed Women and an excellent high energy Help on the Way. It seems Help on the Way> Slipknot is a favorite combo of JRAD. It got me thinking, For my money, this is the Dead show I want to see. If not for the fact that Kreutzmann and Mickey Hart are still taking us to space, the drums-lead funk machine that JRAD has going on is so groovy.
"I was blind all the time; I was learning to see."
They kept it lit as they went into Throwing Stones until the rain came. Not much of the crowd fled as they kept on for the better half of the 30 minutes left in the set. Unfortunately, I had some expensive equipment I was nervous about damaging, so I didn't get to stay in the huddle. They did their unique brand of JRAD jam from Throwing Stones into Not Fade Away back to Throwing Stones and again into Not Fade Away. It kept the crowd chanting from all ends of the park under overhangs still loving the band through the raindrops. They closed with Mr. Charlie as the rain let up and the band had an absolute blast on stage. I must say, Dave Dreiwitz is one of my champions. I love watching him keep a great time for the band while looking like he is not very gifted in the dancing department. His smile says it all, gotta get that goofy grin smiling right back to him; he is just a joy to watch in JRAD. The communication on stage was evident as they winked, nodded, and gave the a-ok sign to each other which just makes ya happy. You know that all systems are a go, and we were ready to rock.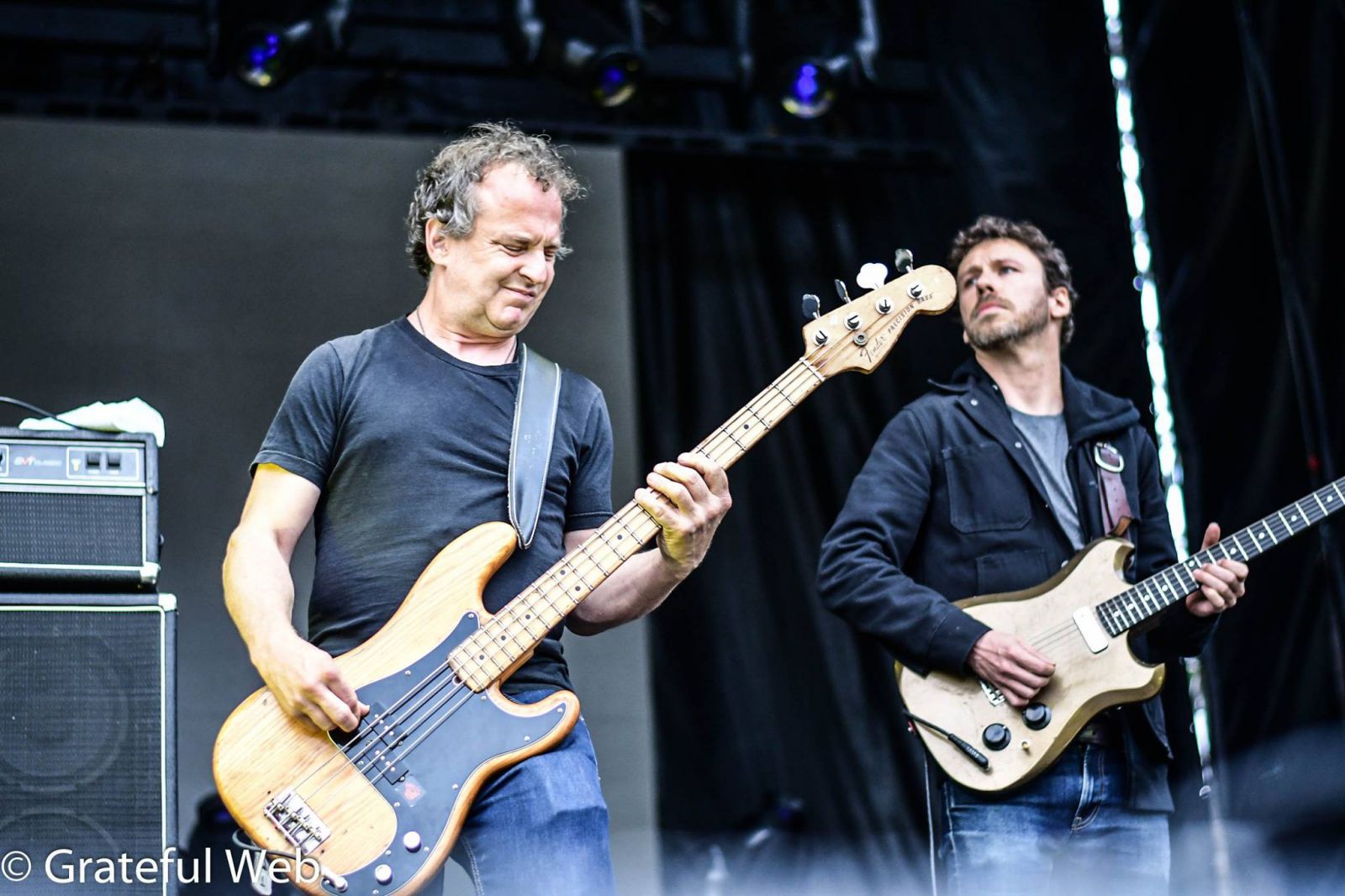 "Give you little warning before I let you go.
Jubba jubba, wolly bully, looking high, looking low,
Gonna scare you up and shoot ya, Mister Charlie told me so."
Like a well-oiled machine, the lights went down on the Skyline stage, and the lights came up on the North stage where STS9 raged. We took a minute to dry out and walked back over closer to the stage where JRAD had just finished up. Someone had taken the initiative to write out, in empty bottles cans and garbage, "FUK LITTER" I had to wonder what the guy working on it was doing as he strategically took certain pieces of litter out - not to throw away, mind you, but to correct the circle encompassing the art and possibly to change the lettering - change the spelling? Not sure what was going on there but a valiant effort was attempted, and I appreciated it. I think, even more, I would have appreciated someone just picking it up and throwing it out in the proper receptacles, but that may be a generational difference. Fuk Litter! I hope someone Instagrammed that. Spread the word guys, Litter ain't cool.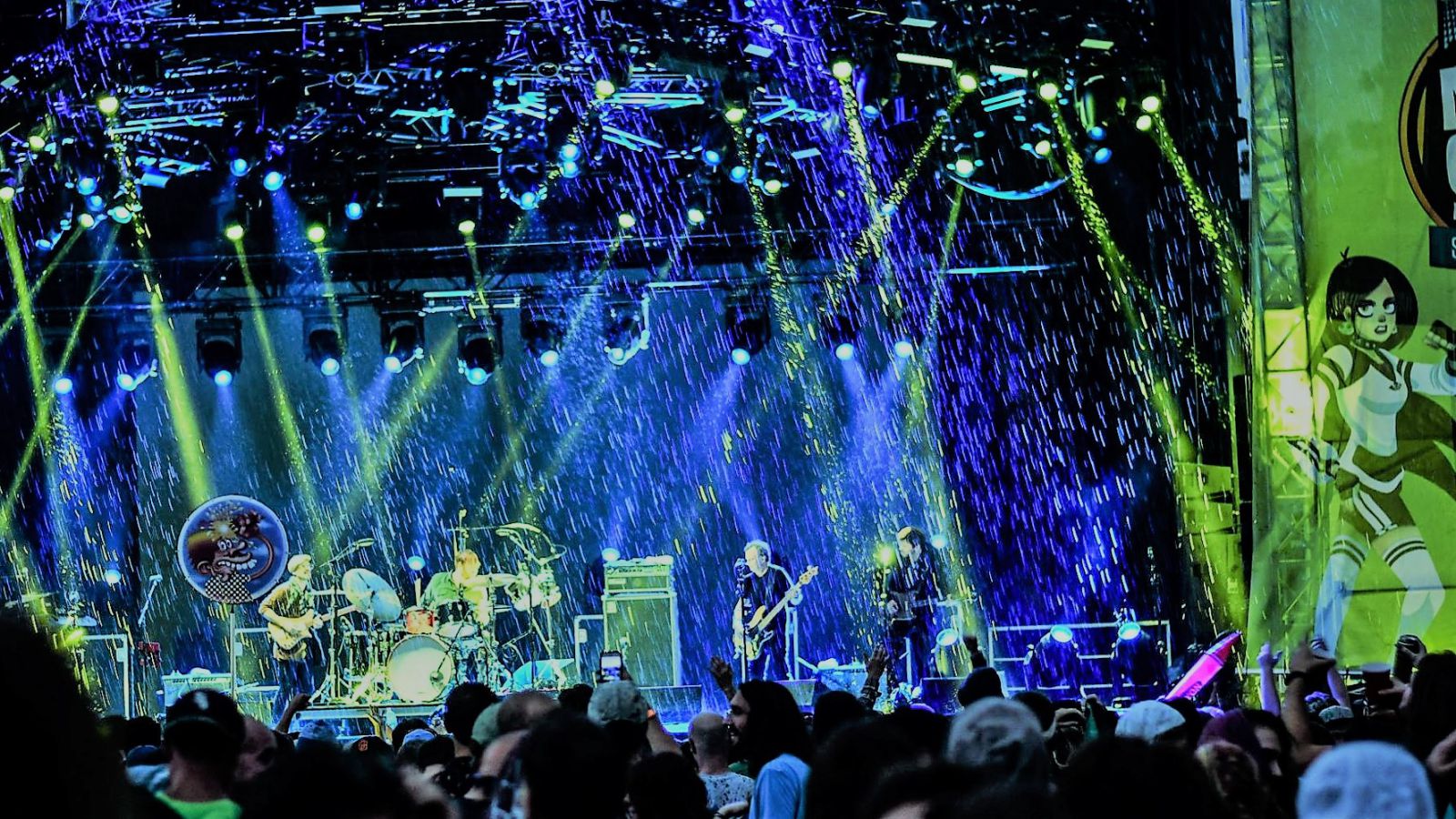 Up next was Damian Marley, my surprise hit of the weekend. It's been awhile since I saw a Marley show, be it the Wailers, Stephen, Ziggy or Damian. Philosophically, I wondered what would set the youngest Marley apart. They all encourage the marijuana agenda, they all play reggae. What would make this show worthy of a headlining spot tonight? Does he even smoke weed or does he vape? I wondered if he dabs. It's been years since Welcome to Jamrock came out. I wondered if he had new material or if he would reach back for that favorite album. While I awaited what would happen, the security guards had a minor emergency. They lit the flashlights and gave the urgent whistle, the medics appeared immediately and rushed the upright chair into the crowd. They brought a guy in a White Sox jacket out of the crowd as they shook him saying, "wake up. Wake Up!" Man down. Oh no. Two girls followed the EMTs and asked white sox fella, "what did you eat?!" "what's the matter?" The one girl says to the other girl, "what did he take?" She replied, "Cheese Fries. Oh! And some water?" The girls became increasingly upset. "Where did you get those cheese fries from!?" In a moment, the White Sox guy became conscious and asked for his hat that had fallen from the chair on their way out of the crowd. He came to quickly and said, "Damn. There musta been something in my cheese fries." He was fine, but they took him out of the crowd and off to the med tent. Only in Chicago- what looks like an overdose- turned out to be a Cheese Fries overdose. Mmmmm cheese fries.
Damian brought his Jamaican style but tailored it specifically for Chicago. The Irie vibes helped us make new friends, and his mesSAGE was bookended with Jamrock tunes. It was a bit of a best hits set as I was refreshed with songs that through the years that I forgot I loved: Make Dem Burn, Medication, Road to Zion, and that kick back to a summer day past, All Night. With hits that kept my soul singing, I remembered that Damian is not too dubstepy; he is the kind of Marley that I can get down to anytime. That energy would be awesome to see indoors come colder days ahead.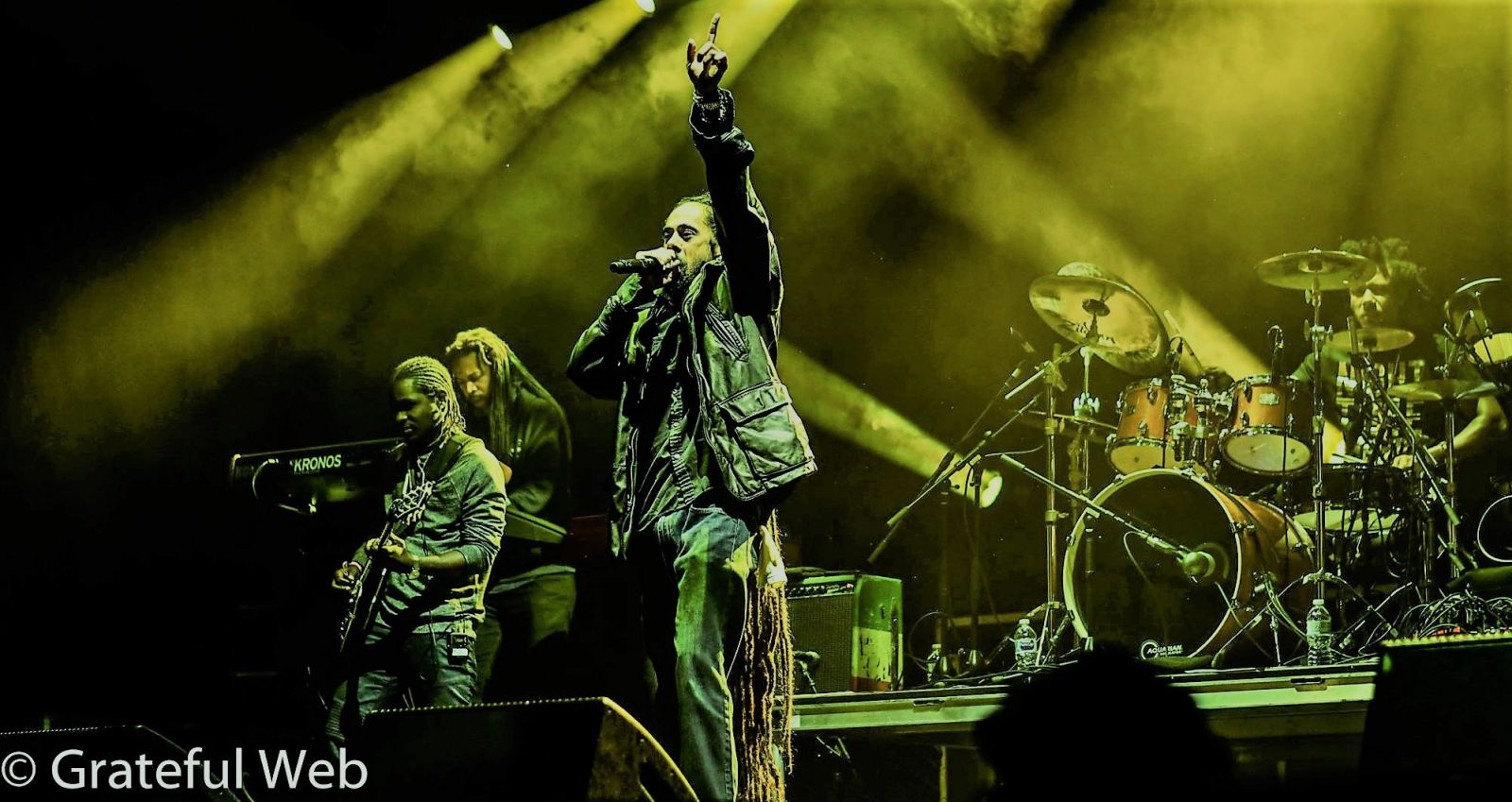 Sunday morning, Labor Day weekend in the City of Chicago- the choices for brunch were outstanding. The bacon is plentiful; the eggs are cheesy or runny or seasoned like a lamb - the food of Chicago bears mentioning. The food of North Coast Music Fest had been taunting my sense of smell all weekend. It is in your nose, mouth, eyes and telling you to keep eating. I salivated all thru the baseball diamond, from 1st thru 3rd base. Sweet Jeebus the ongoing menus as you walked the food vendor row was incredible! The service was second to none, friendly and accommodating. The food practically levitates into your mouth. Chicago food is magic. Just watch out for those cheese fries.
I digress. Sunday had all the buzz of a city that gets one more day to enjoy summer. Monday off for Labor Day meant Sunday Funday. Tipper was tipping the scales for the kiddos, headlining the Coast Stage. The sparkly galaxy girls were out in full force. Word on the streets was that Carnage killed it from over near the silent disco and next to the basketball courts that were filled with art installments. The Coast Stage was cozy and provided a good spot for the raver kids to get their cuddle on. At about 5 pm when the party was in full swing, Chance the Rapper even showed up to sit in with The Cool Kids. For Chicago, by Chicago. I might not be the biggest hip hop fan, but I am a huge fan of Chance the Rapper. He is a Chicago hero & might even be our savior. With his Grammy acclaim, he donated a bunch of money back to the Chicago School District. It was like Jesus himself came out to our church on Sunday.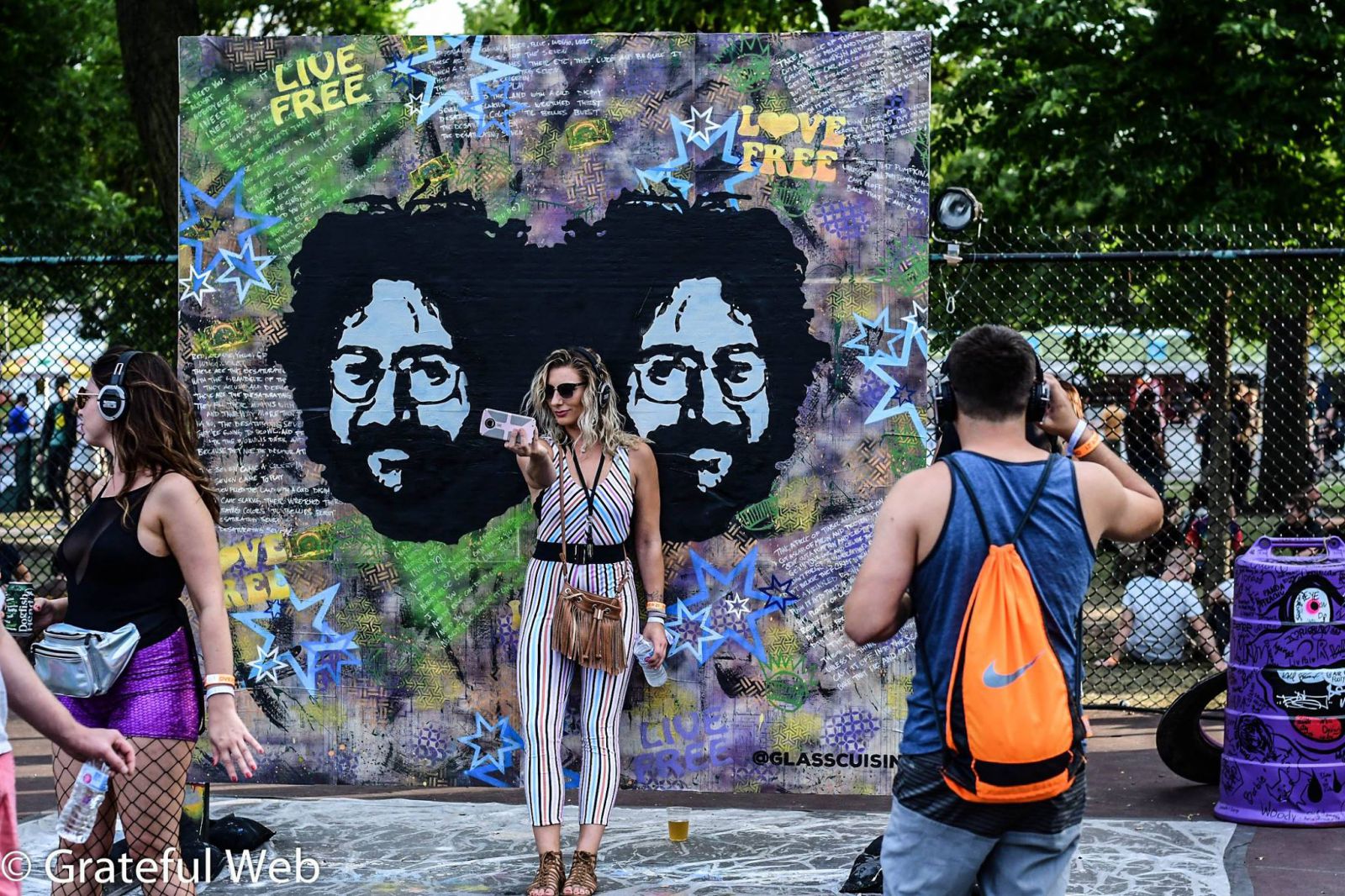 From the other side of the baseball diamond, Electric Guest was just finishing up with that Sunday swing song, This Hand That I Hold. Next up was Hippie Sabotage. If you've never heard of them, ask your local Burner. They will tell you the story way better than I can. It was a delicious blend of tye dyes, electronica, mosh pits and cuddle puddles. This is the Age of Aquarius my friends. With all this goodwill and brotherhood happening, I awaited the last birthday gift I had arranged for myself. I got to see Primus and Ween with my legacy friend Lindsay. She arrived just before Les Claypool took the stage alongside his pig and horse mask. We were locked and loaded - ready for the main event, Primus.
Like the cool burst of a sun ripened raspberry in your mouth, the summer's sweetness was gushing for our final descent into NCMF 2017. Plenty of other writers will give you the play by play of the last three hours of North Coast. I, too, wrote down the set lists and played the "what will they play next?!" game but here is the softer side of what went down on Sunday night closing out North Coast Music Fest 2017. It's been years since I saw any reincarnation of Primus, Les Claypool's Frog Brigade, or Oysterhead. I had a grunge phase. I sure did appreciate what Les was able to achieve with his bass style, but it just didn't do it for me anymore as I got into bluegrass and other genres. I recall the vibe being a little unsettling and even angry the last time I saw him play. That vibe was not there for this show at all. It was a polished version of Les. He gave us just what the doctor ordered with frills and fun as he marched in circles and let his freak flag fly. It just felt more story time and more like a giving version of this incredible artist. I can not imagine what the fame monster feels like. I would assume that everybody wants a piece of you. This version of Primus in front of us was ready to give it to us, not forced because of any precursors or undesired conditions. He flowed from a best of setlist - Wynona's Big Brown Beaver, Mr. Krinkle, My Name is Mud, Jerry Was a Racecar Driver. When he let out the yodel - the electricity turned up in the crowd. The leaps from the crowd got higher with each anticipated bass lick. I might have even seen the Primus front man crack a smile. Even a punk rock guy can conduct a cuddle puddle at NCMF.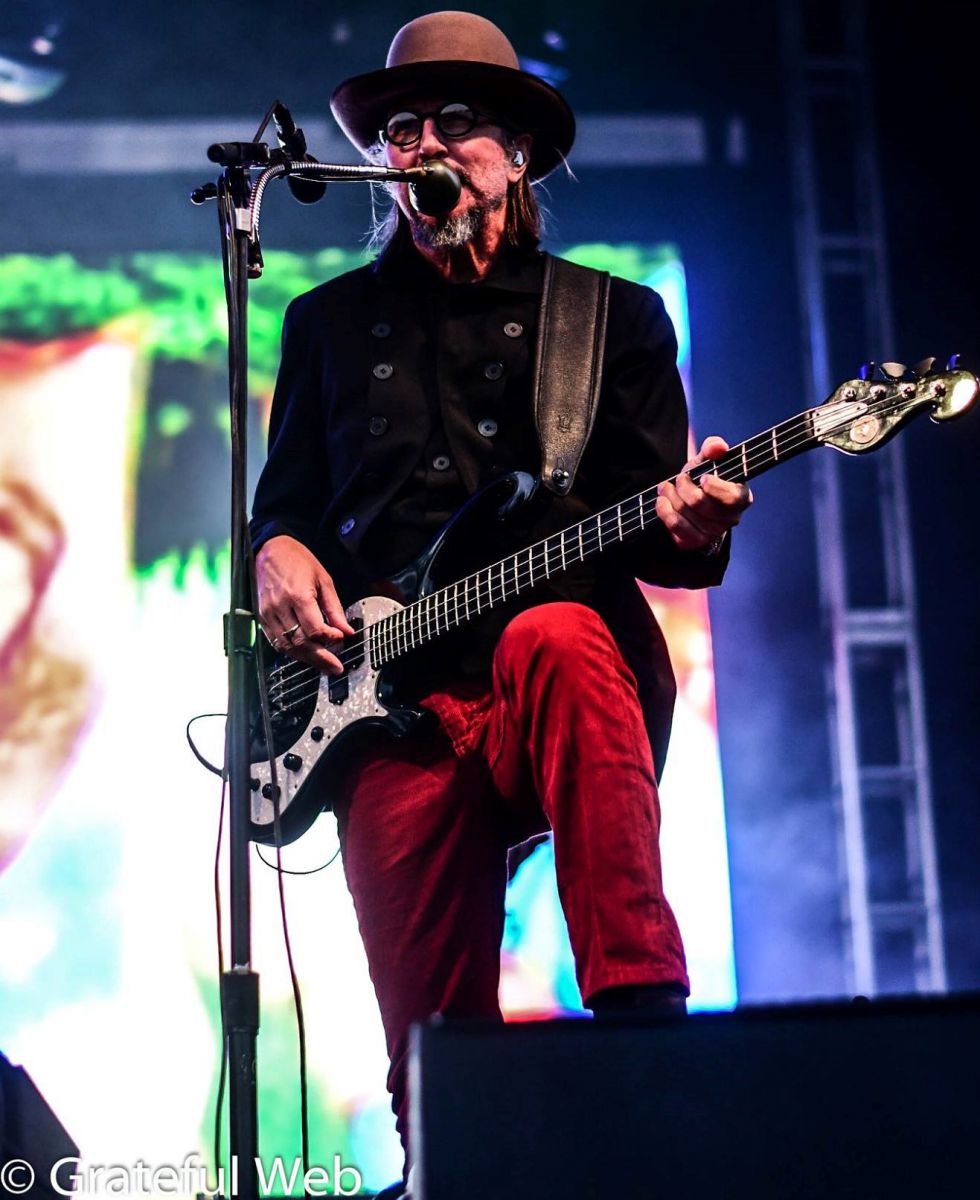 "Nachos? Steamy. Jerry was a race car driver. Never did win a checkered flag but he never came in last."
And the piece de resistance, Ween. Sure enough, 8:15, lights down North Stage, lights up Skyline Stage, and out parade the boys of Ween. I have been seeing Ween longer than I have been a VW driving farm living organic hippie. My husband knows and can somewhat deal with this about me. Bless his heart. Ween. Whether you have been to Brown town or not, we salute you. They are my Hendrix fix with a Sierra Mist. They smell like whiskey but taste like the night air as you had to pee behind your buddy's garage. Taste the Waste. The thing about a Ween show is that I am left perpetually unsatisfied. Every time I see them, it is not enough.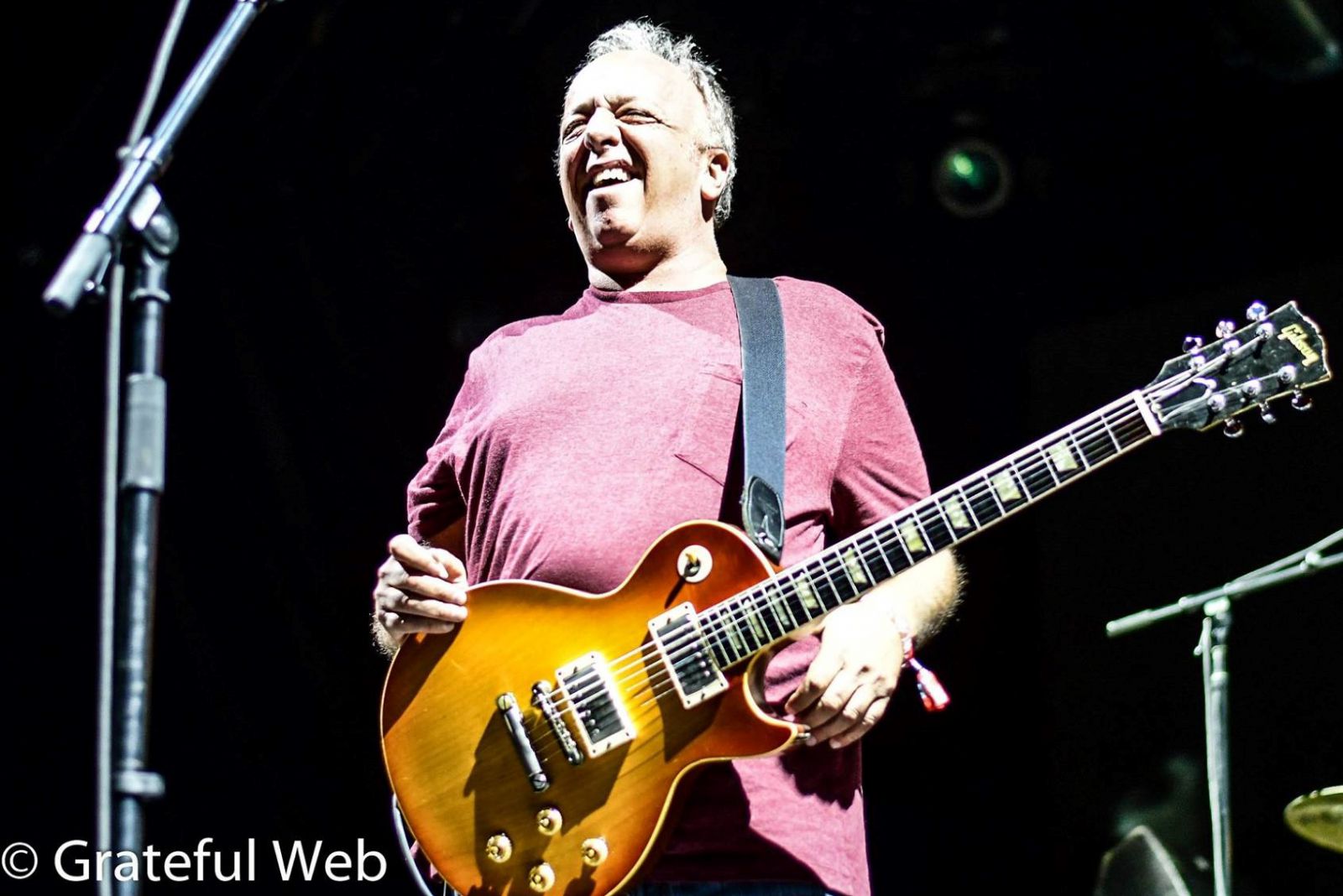 This time around, again, Gener was ON POINT. Poppa Gener is on top of his game big time. They opened with Exactly Where I'm At, ironically a song I used in the courting phase with my husband. They went on to keep it happy and light with Flutes of the Chi, and when they played Take Me Away I had to run. Run. Run. The time had come to put away the journalist hat and just enjoy the show. Gener pulled out the megaphone and into the Ween vault we dug. I remember getting a bootleg when it was super cool to burn discs. No more cassettes, my friends. We had moved into the days of discs. This particular bootleg I got was to be burned for each Ween fan friend with the title, "____ loves Ween" ← fill in friend's name here. It included Zoloft, monique the freak, and Gabrielle long before they studio recorded them. After Gener's megaphone Stallion pt.1, um, yes...Gabrielle, by Ween, went full throttle.
"I don't mean to be so insecure but you know it's beecuzz I loooooove you."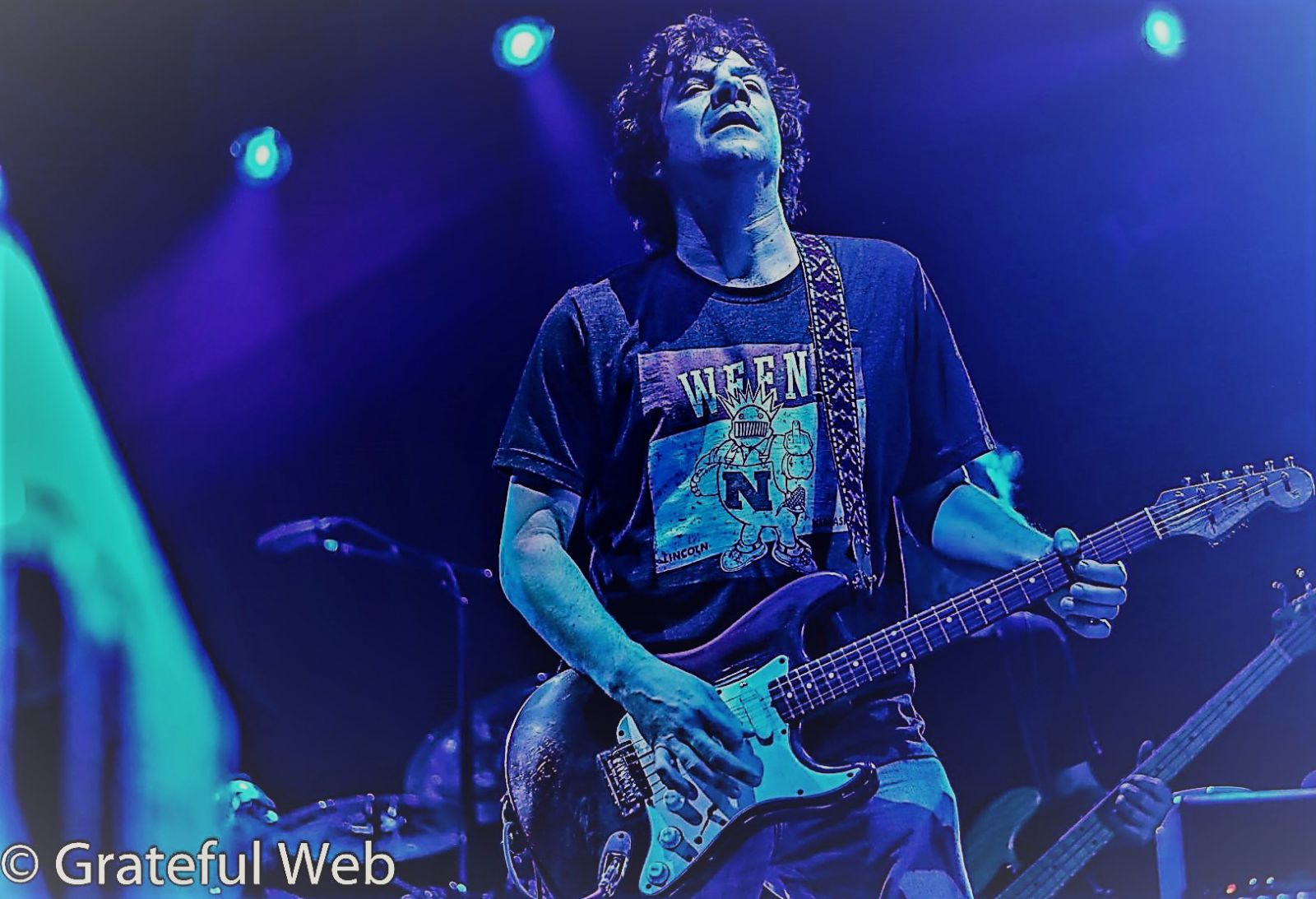 At this point Deaner was going nutz, singing along and dancing too, if that's what you call his leg kicking thing he does. Plus Dave Dreiwitz on bass, what a banner weekend for Dave! Some guy in the crowd let out an "It's fucking Ween!" Glad he showed up today. That was when they started singing about the weasel. A common theme in Ween songs, the weasel, would be a good story to ask any of the band members about. What is the Weasel? How did you get to intimately know the weasel? I'd love an interview. Ah, hem. Just saying. From there was a potential highlight of the show for me, the song that stayed in my head till five days later, Big Jilm. My friend Lindsay was unsure of herself as we had tread into music before Chocolate & Cheese. Before long, she too joined in with the very deep lyrics of Ween.
"Do do do do do do do do Big Jilm!"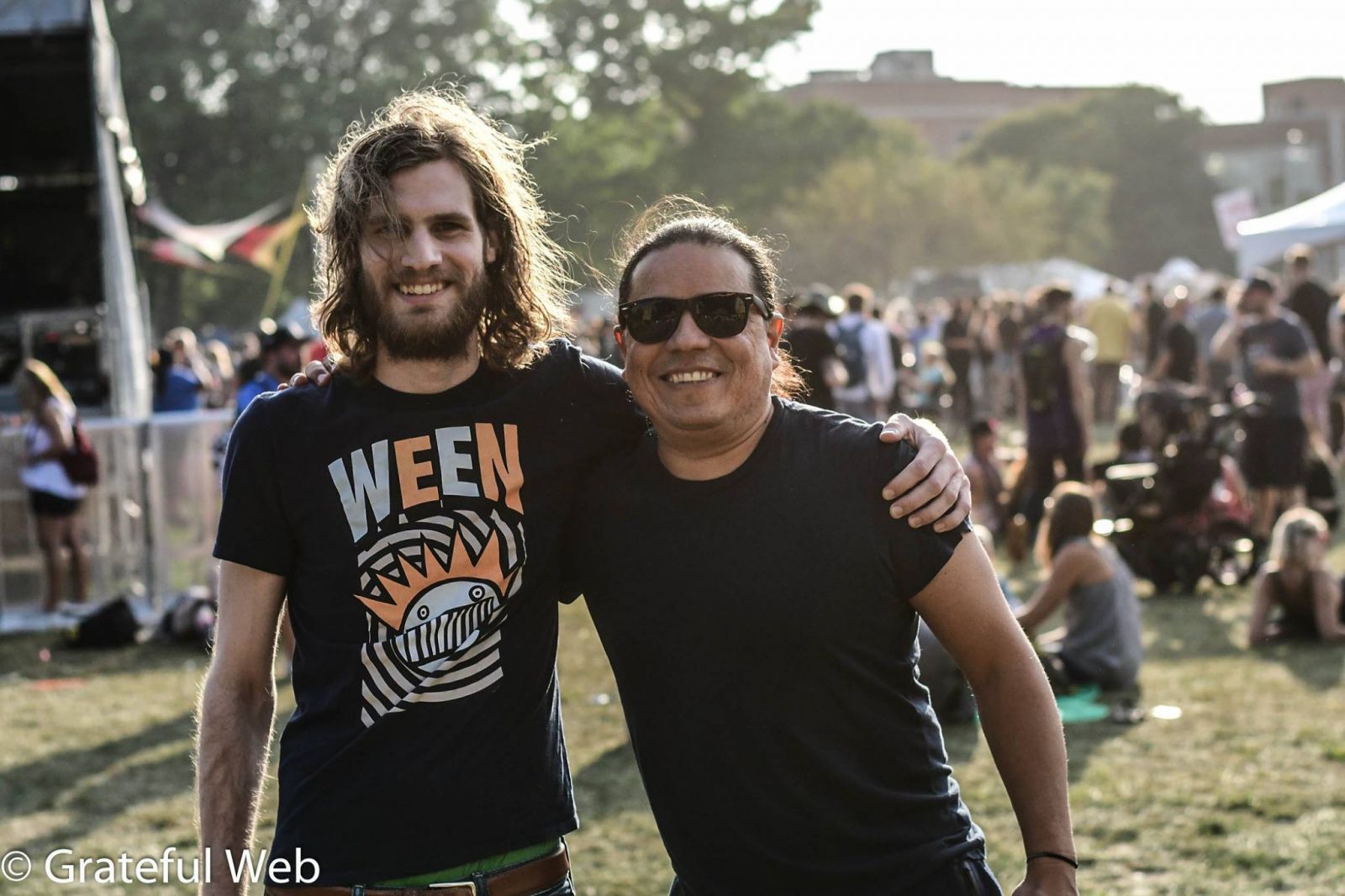 It's a Ween thing. I hope you understand. On that note, after they teased Rush and Deaner gave us an awesome falsetto "Don't write him off as arrogant!" they bust out Golden Eel and then brought out Les Claypool. It was a subdued version of Ween to play with bass legend Les Claypool. Of all the choices, they played the Mollusk together. It was almost like a lullaby with Deaner and Les serenading each other sharing the mic. North Coast 2017 was the year of collaborations and amazing guest star appearances. All this sultry sit in smoky love with a heart of gold. Upon reflection, I ponder, did Ween play Sweet Texas Fire as a homage to the Harvey victims? All joking aside, beyond the show going shenanigans, Deaner has anted up a good amount of money to the Harvey victims. He remembers well what Hurricane Sandy did to New Hope PA in 2012. He steam cleaned the butter biscuit Paul Bunyan style.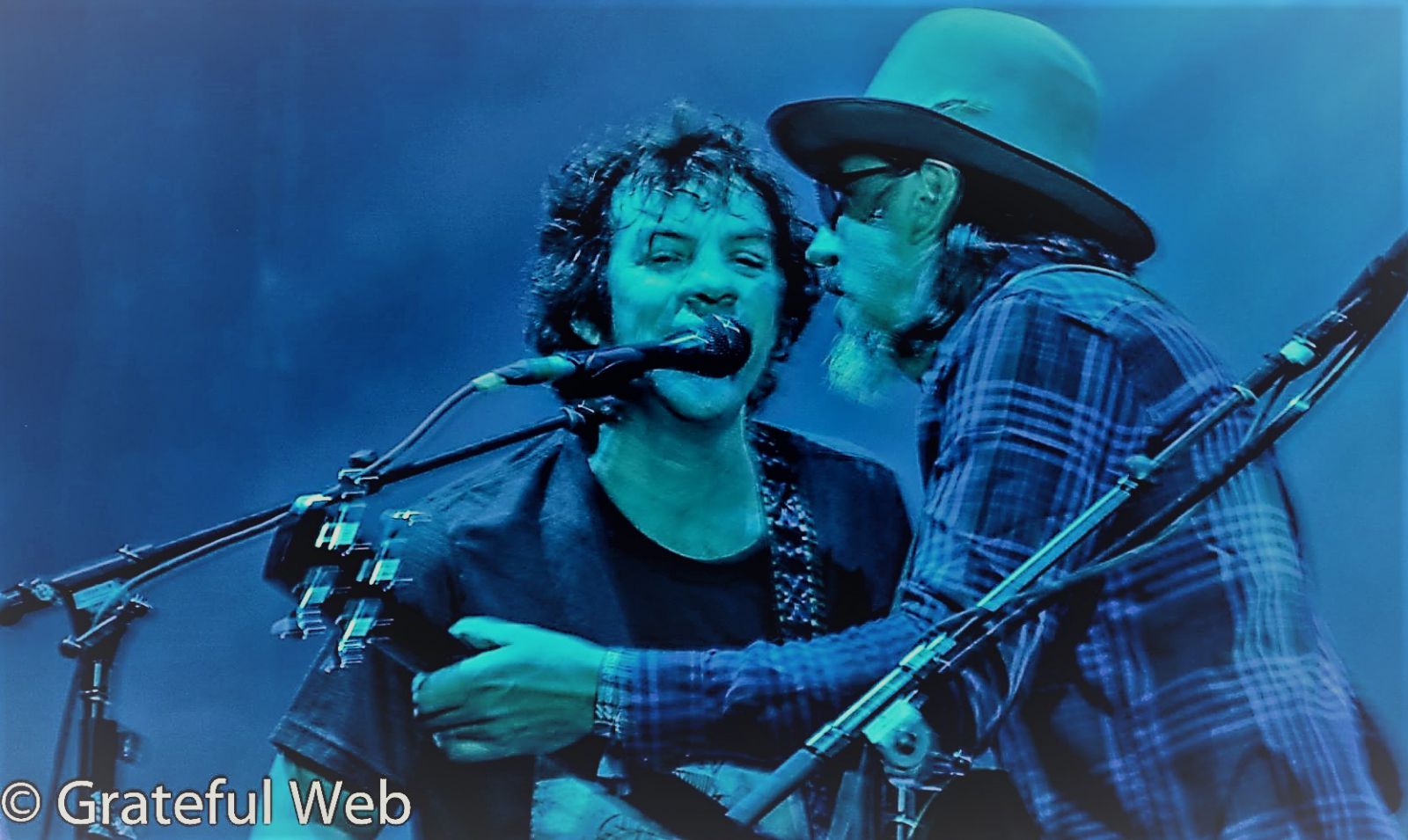 And on and on it goes...the inside jokes were growing by the minute. They were so cheeky. Boys Club was so damn cheeky I ran out of cheeks to give. They settled into it at this point. You know they are sitting in the saddle and ready to ride when Deaner simmers down to have a smoke. As with most Ween shows I have seen, they played Buckingham Green. I don't quite get it. My husband, the Ween newbie, said to me, "It's a spiritual thing." I had to agree. You can see Gener getting into character and the team on stage forms this spiritual gangsta mob. Poppa Gener and Daniel Son, Deaner bring back butt rock to its roots. It's Slurpee and silky chocolate milk. At that moment, they filtered out of Buckingham Green and had a huddle. Gener told the audience that they want "To make the right choice... something to please everyone... to hit our target demographic..." and into Roses are Free they rolled. Now, this pleased my husband greatly. He loudly proclaimed, "Isn't this a Phish song?!?! Oh, my Gawd! They are covering Phish!!" He did that just to irritate me. I couldn't punch him in the dick because there were children around. Also because I love him and his baby maker dearly. He knew it, and I hope he enjoyed that tender situation. It was hilarious. With children on shoulders, Chicago swayed back and forth to the closing moments of summer's last stand.They followed Claude's lead to Your Party.
"There were beverages laid out for the party. There were candy and spices and tri-colored pasta. The meat carved was drawn from succulent juices. Served on platters of the purest gold. We had the best time at your party - the wife, and I thank you very much."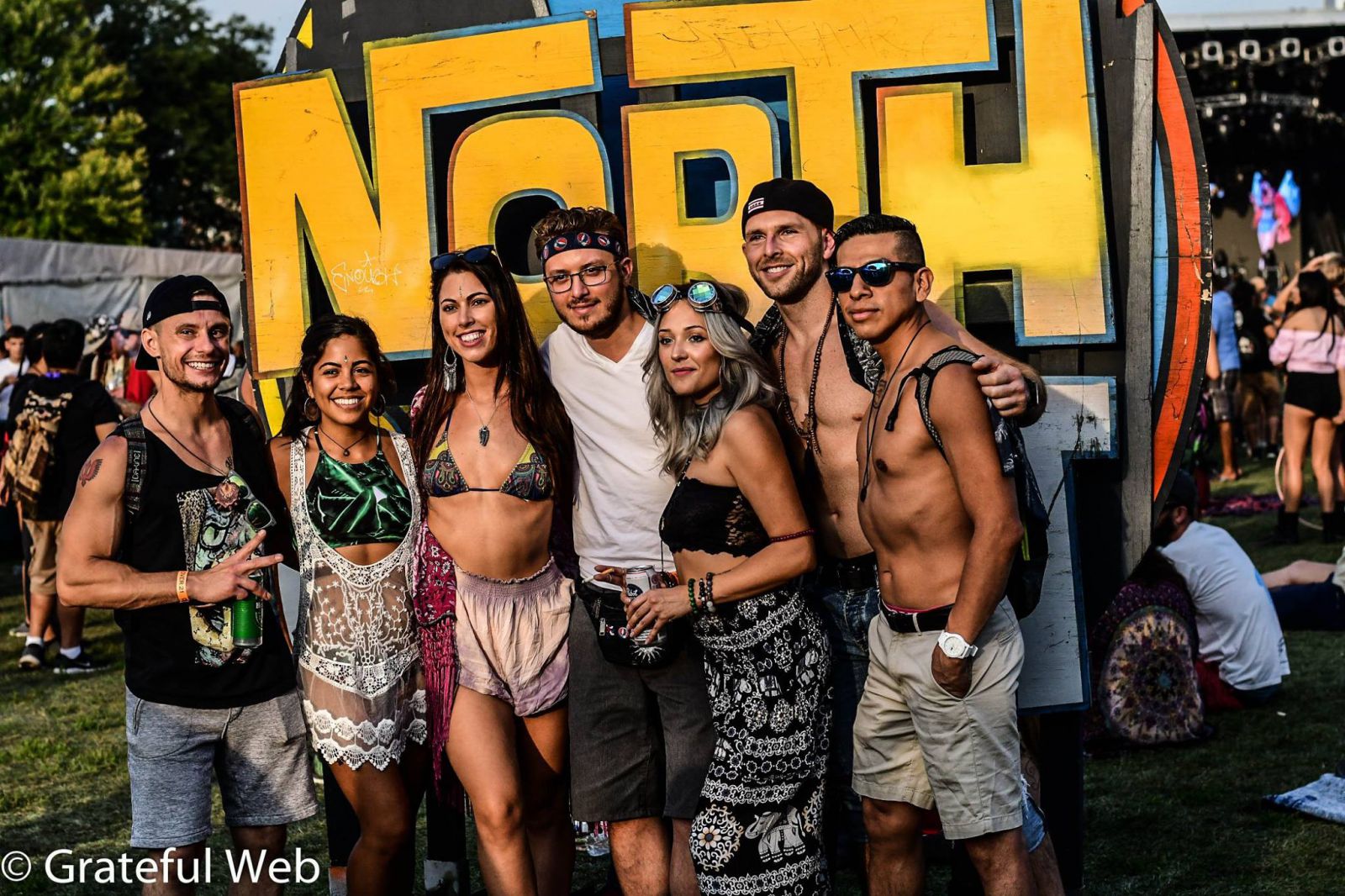 Gener loved it. So were we. So were we. North Coast Music Festival was truly a Transdermal Celebration for the city and made for a screamer birthday weekend for me. Thank You! Check out more photos.