Whenever anybody puts the word "jazz" in front of the word "guitar", certain universal indicators will emerge regardless of whom or what is being talked about. Generally "jazz" and "guitar" as a pairing will conjure another indicatory-laced meaning: "solo". Inevitably, whenever somebody is playing jazz guitar, they are playing solo-oriented music. But what is the status quo of jazz anyways? Is there one? Not anymore. Too many purists, progressives, and modernists will have different ideas or definitions on what the quintessential essence of jazz is exactly. Something that perhaps everybody in the "jazz" community, musician or critical could agree upon is that jazz is music of substance, that draws attention to an improvisatory spirit. Since the beginning of jazz music contextualized as American music, few musicians have achieved such levels of experimentation, innovation, and musical progression as guitarist Pat Metheny.
Dropping the name Metheny in a room of jazz nerds could prove dangerous. You'll generally be bombarded with praises, factoids, and opinions on what his best bootlegs or lineups throughout the years were. It's because Pat Metheny's four decades in music have shown the guitarist redefining the idea of genre, style, or mode. He has fused so far beyond fusion that there's no point in trying to encapsulate the Metheny sound. His most consistent project, the Pat Metheny Group, has been touring actively since 1975 well into the 2000s. With and without the Group, Metheny has won 19 Grammy Awards, had 3 gold albums, and integrated groundbreaking synthesizer technology into his guitar work decades before other artists would. He even occasionally breaks out a 42-string guitar known as Pikasso, which has grown coltishly rare to find him playing live. Anybody who loves progressive and experimental jazz music must have something important to take away from Metheny's music.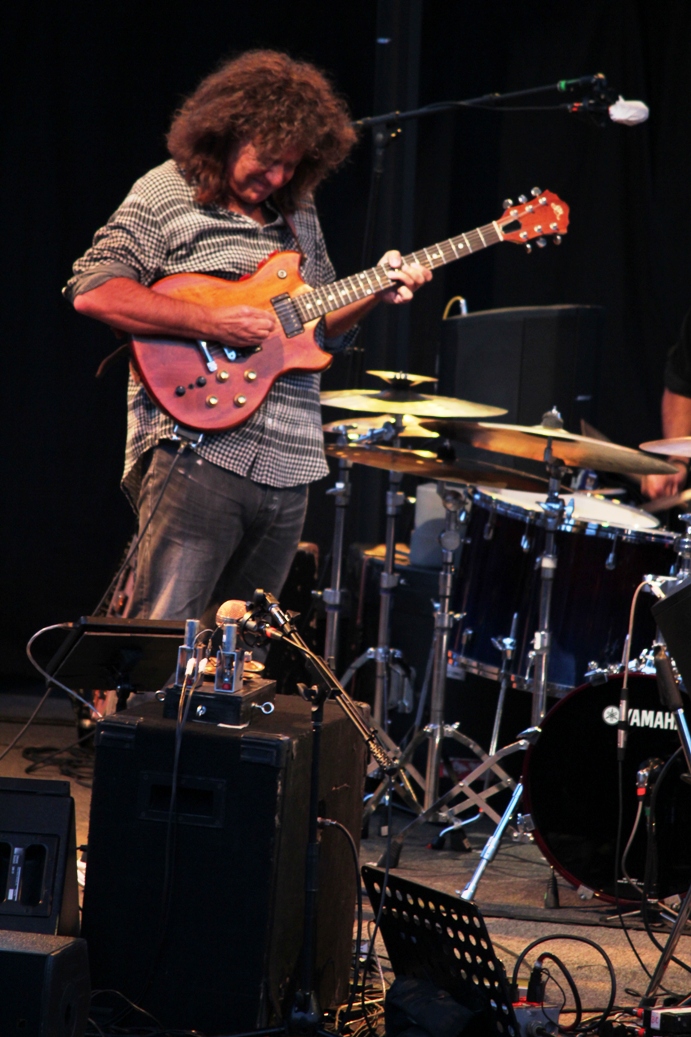 I have been trying to catch a Pat Metheny show for years now, and have had a few opportunities regrettably pass by for one reason or another. When he announced his brand-new band and lineup as "Pat Metheny Unity Band", I knew it would be a show not to miss. His quartet features long-time collaborative drummer Antonio Sanchez, bassist Ben Williams, and legendary sax-man Chris Potter. Both Potter and Sanchez were familiar with the many modes of Metheny, and bassist Ben Williams was brought to Metheny's attention by fellow bassist and friend Christian McBride. When he had his new band brought together, it was undoubtedly time for some fresh original material from the new quartet. Along with the new lineup came a new self-titled album with eight original tracks. With nearly forty U.S. dates announced from September through October, Pat's Unity Band is busy-busy.
One of the most exciting and low-key places to catch a concert during the summer months in Denver is undoubtedly the Botanic Gardens at York Street. Located in the heart of historic residential Denver, the Gardens are surrounded by multi-million dollar historic landmark estates, all displaying the true character of Old Denver. The walk into the Gardens itself is scenic, as these are neighborhoods I rarely make my way around. The Botanic Gardens is a grassy amphitheater with seating on all four sides of the stage. The venue seems to seat around 2,000 people and many folks make it an hour before door-time just to sprint and claim their spot right in front of the stage. First come/First serve is taken seriously at this venue, especially since they'll host such popular and sought after acts to play at the intimate space. The venue is surrounded by the sprawling Botanic Gardens that make for a great pre-concert walk through or a secluded place to get your personal space together in the middle of the show. The best part of this venue (besides the music of course) is that you can bring your own cooler with no alcoholic beverage restrictions; a nice change from paying 8 bucks a beer at Red Rocks.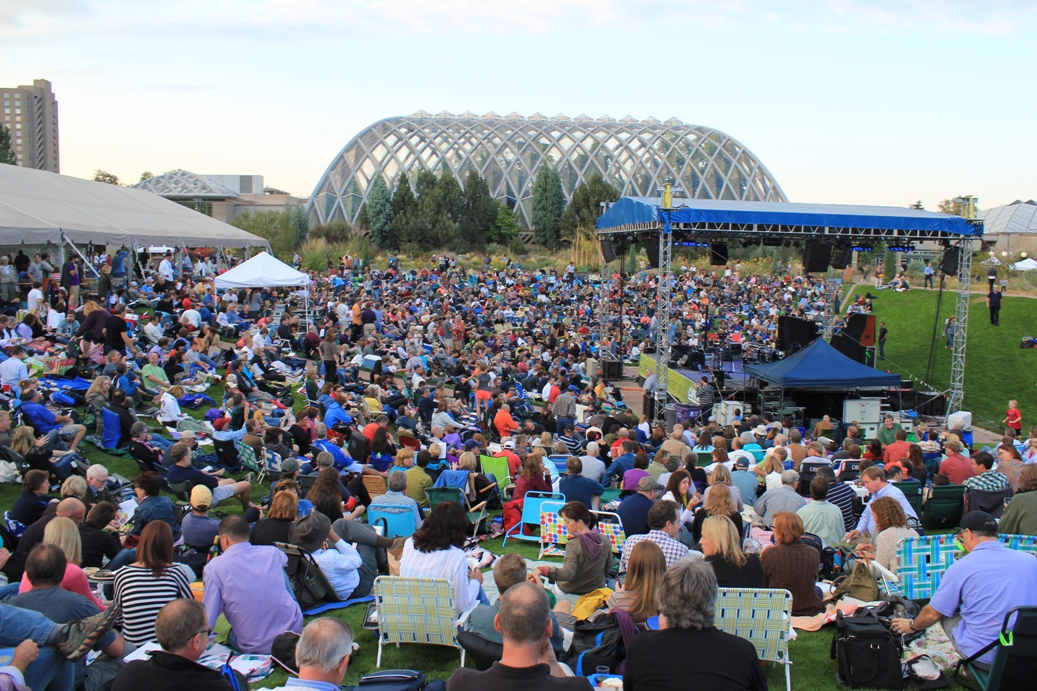 After a relaxing dinner with cocktails on the lawn, Metheny began promptly at the 7PM show time. The first tune was a solo acoustic by Metheny, which served nicely as a personal welcome to his new project and served the nature of the intimate evening well. When the full Unity Band emerged, it was clear why Pat loves playing so much with these guys. Their success as a unit comes from their collective musical empathy with Pat to abolish the idea of style or genre, and effortlessly free-flow through many different modes of jazz and blues music. Metheny's legendary 80/81 album came to mind as I listened to the Unity Band. Though thirty years apart in age, the band's adventurous spirit seemed quintessentially similar to the heart of classic Metheny music. Most of the set was comprised of songs off of the new album. It didn't feel like an "album promotion" performance, since all of the new tunes fit very nicely into his repertoire of forwardly progressive improvised music. Every band member got his duet with Pat in the middle of the performance, with Antionio Sanchez's duet being the highlight of the three and indeed the evening. Sanchez's drumming is so supple and versatile that he could play with anybody in jazz, but the fact that he continues to collaborate with Mentheny shows in his adventurous spirit and playing.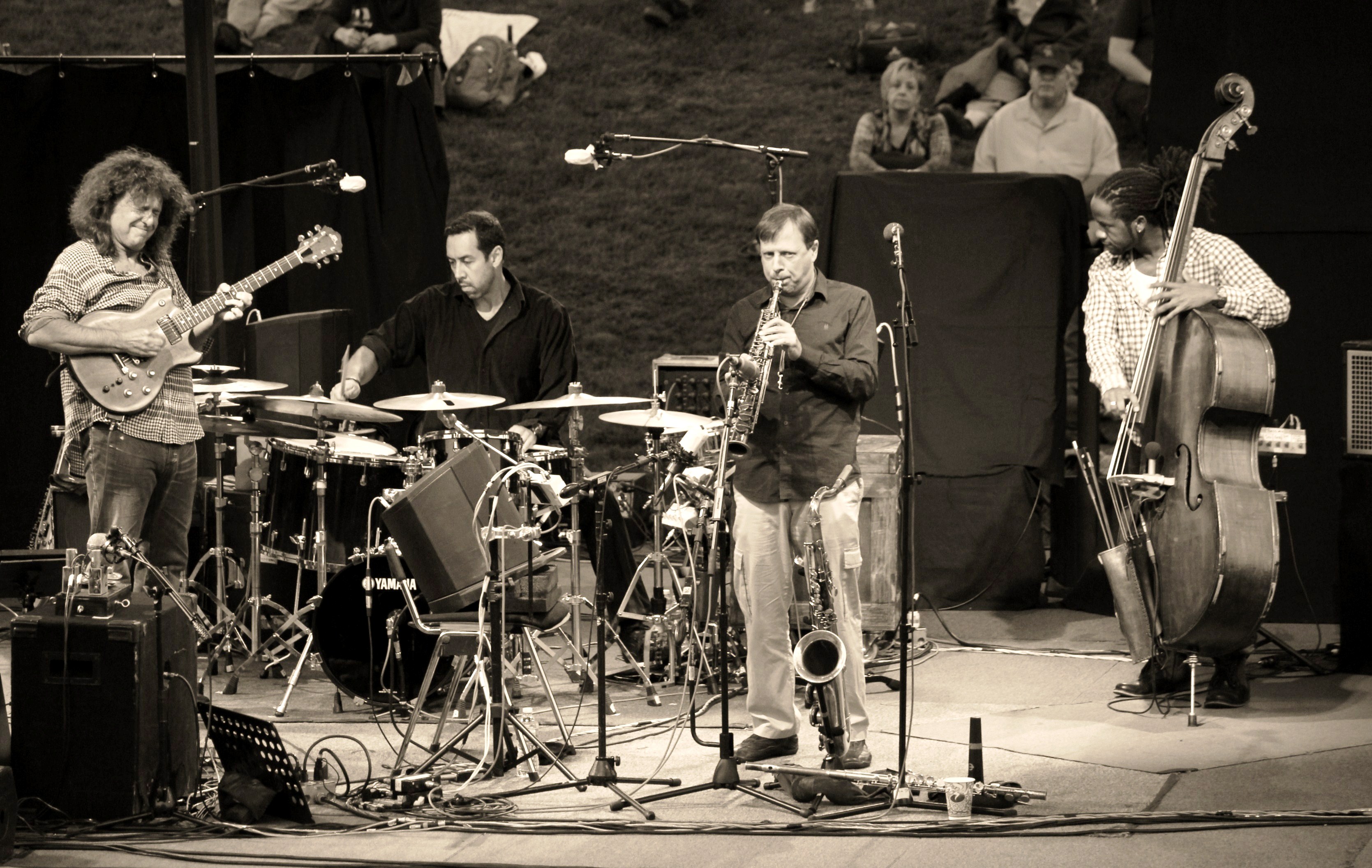 My one complaint about the show was that venue staff on behalf of Pat Metheny's tour were super uptight about photographing the band. Though Grateful Web held an official photo pass, we were shuffled to the back of the crowd to take photos at a distance. In some ways its an understandable request given the sit-down, "hear a pin drop" nature of the show. But I've been to other Botanic shows with significantly more relaxed photo policies. You have to wonder why Pat's tour was so reluctant to have quality, close-up photos of their performance? Photographer Jon Prins still came through with some quality shots for Grateful Web, despite logistical complications.
It's great to see Metheny performing so frequently with age not pertaining to any wear-and-tear. If anything he's only refined his sensibilities to something slightly more approachable than his most experimental stuff. His new album will undoubtedly be well received by the jazz community and a worthy addition to his catalogue. If every show on the tour is as good as the one at Denver's Botanic Gardens, the catch as many as possible. It's not often you'll get to see such jazz legends playing in what looks to be smaller venues across the map. Hopefully the Unity band will continue to tour and continue creating engaging instrumentals. Be sure to catch Metheny on tour and check out the Unity Band's debut album.