One of America's most revered current touring outfits, the Grammy Award-winning Tedeschi Trucks Band with the legendary Los Lobos in tow, delivered a thrilling rock, blues, and soul performance at Sacramento's venerable Memorial Auditorium on May 21.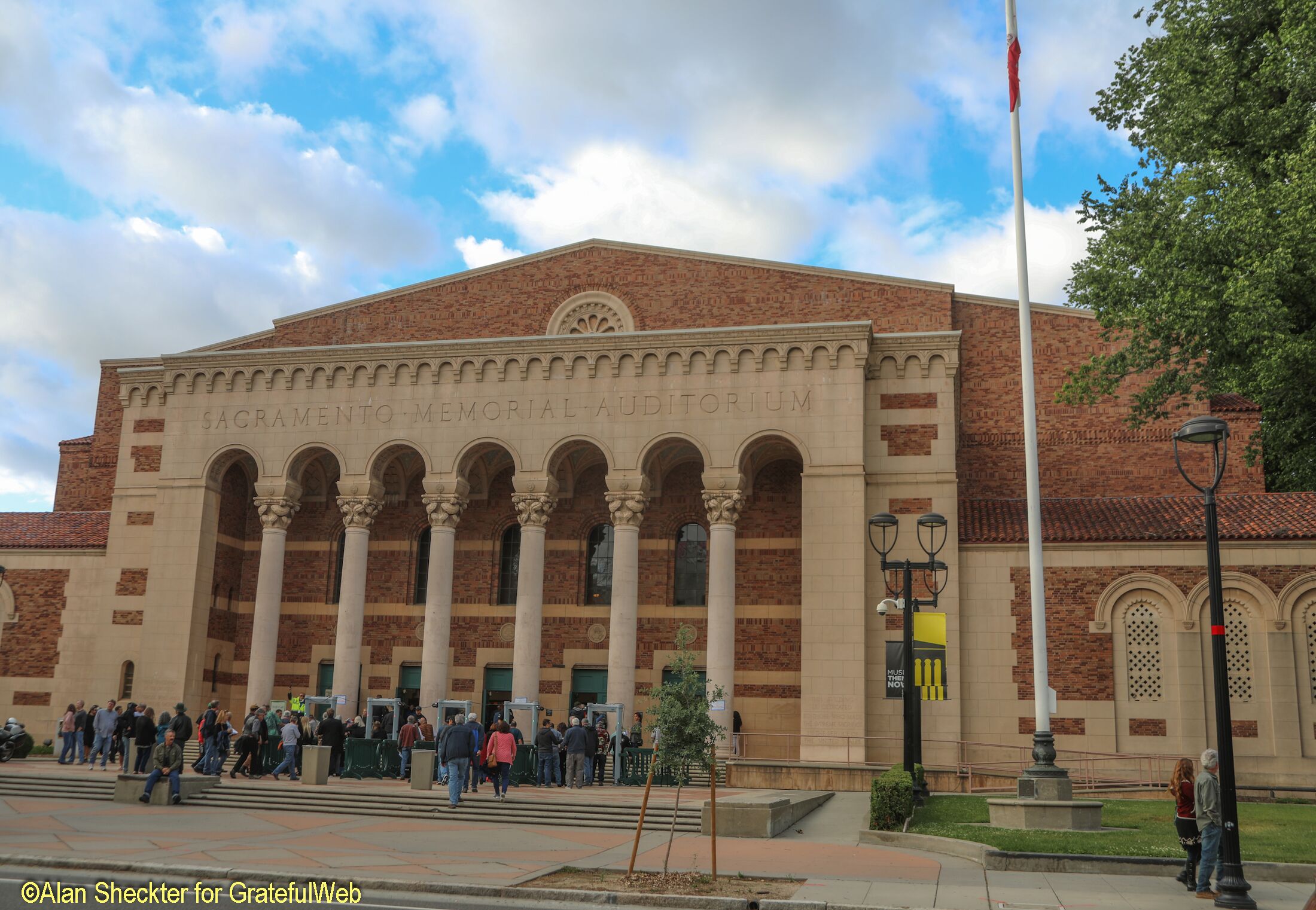 Following a splendid hour-long set from Los Lobos, that little old band from East L.A. that "has been doing this shit for 45 years," co-founding member Cesar Rosas said with a smile, the husband-and-wife team of Susan Tedeschi and Derek Trucks presided over their 12-piece ensemble's marathon set that was all at once dazzling, exhilarating, intense, and classy. The show spotlighted Trucks' seemingly effortless scintillating blues and slide-guitar passages alongside Tedeschi's raw and raspy, emotional vocals and ample guitar licks.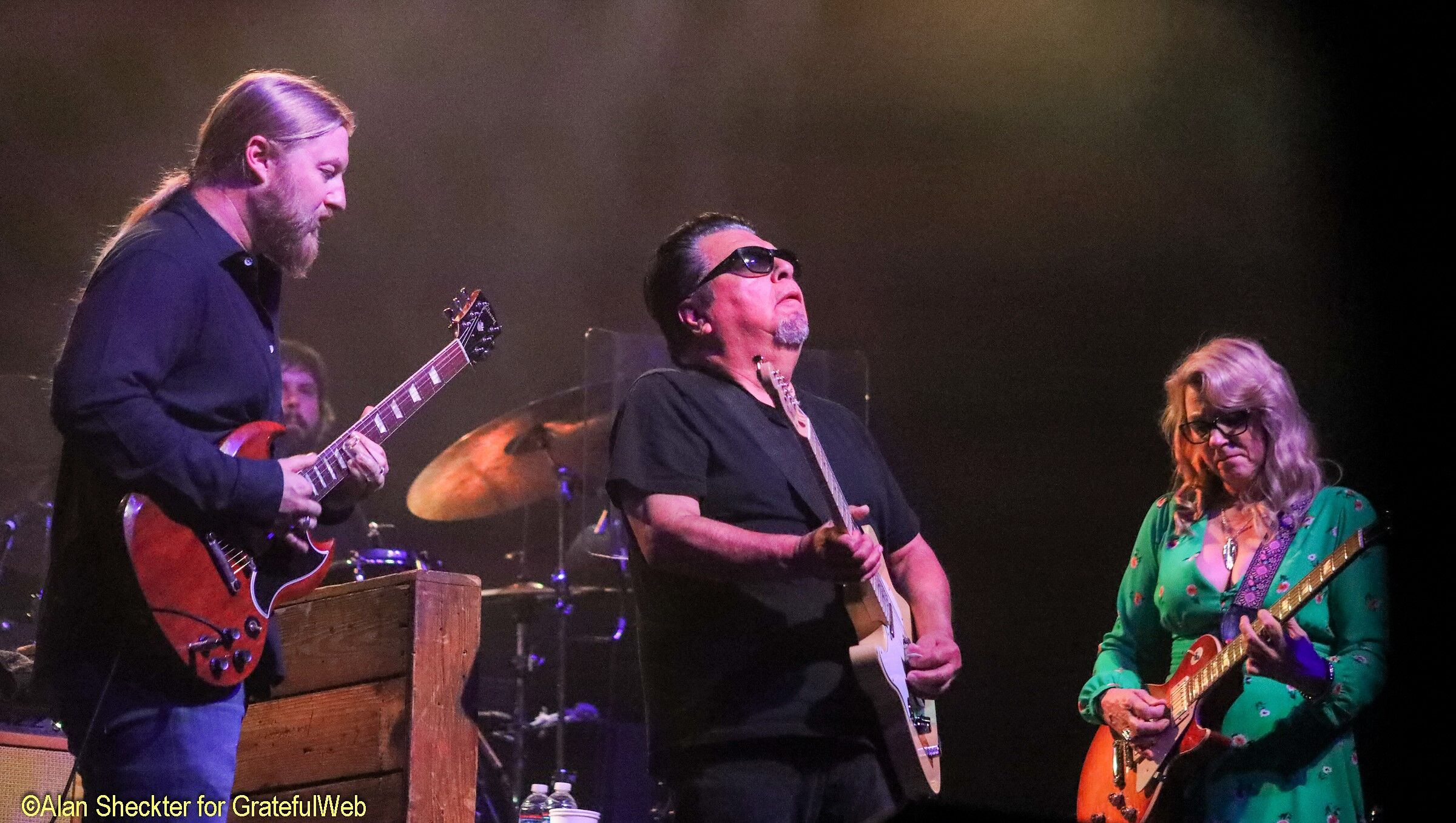 The ensemble's six-piece horns-and-more section were certainly a strong ingredient to the mix and included at different junctures as called for by different songs, trumpet, trombone, and saxophone, shakers, tambourine, and backup vocals. Though Tedeschi delivered most of the lead vocals, "backup vocalist" Mike Mattison delivered smooth, expressive lead vocals on several tunes. And Trucks let his guitar do his singing, marked by several super flourishes of rock and blues, with plenty of world-class slide passages.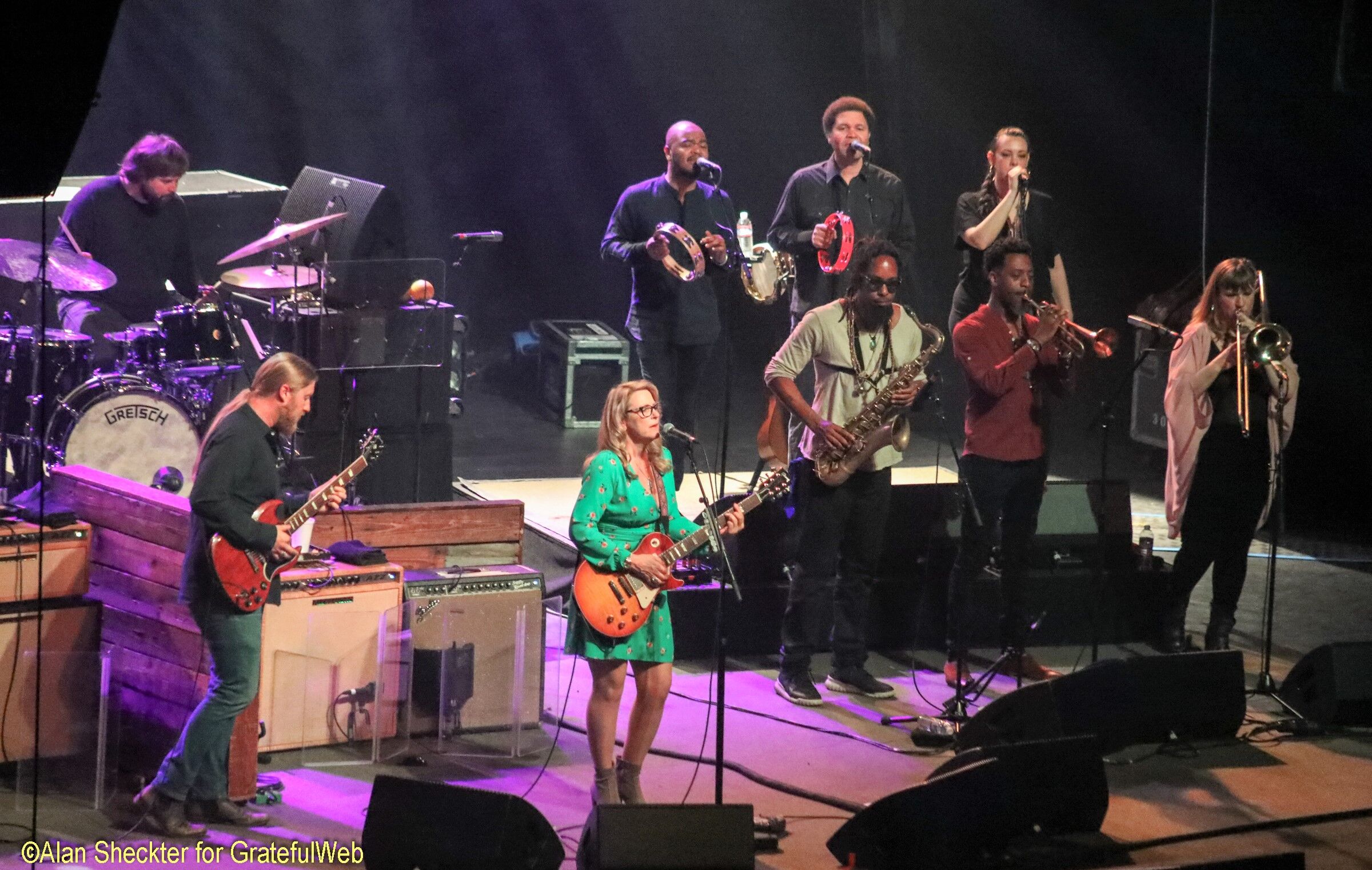 Highlights included a 19-minute poignant-jazz-to-mightily-impassioned "Midnight in Harlem" and a jewel of a blues performance of Elmore James old "The Sky is Crying," which included peak moments of Trucks' slide, Tedeschi's raucous vocals, and extra guitar mastery courtesy of Los Lobos' Cesar Rosas. Immediately thereafter came a 20-minute "Leaving Trunk" -> "Volunteer Slavery" that included extended jams featuring Los Lobos' David Hidalgo on guitar and Steve Berlin on baritone sax.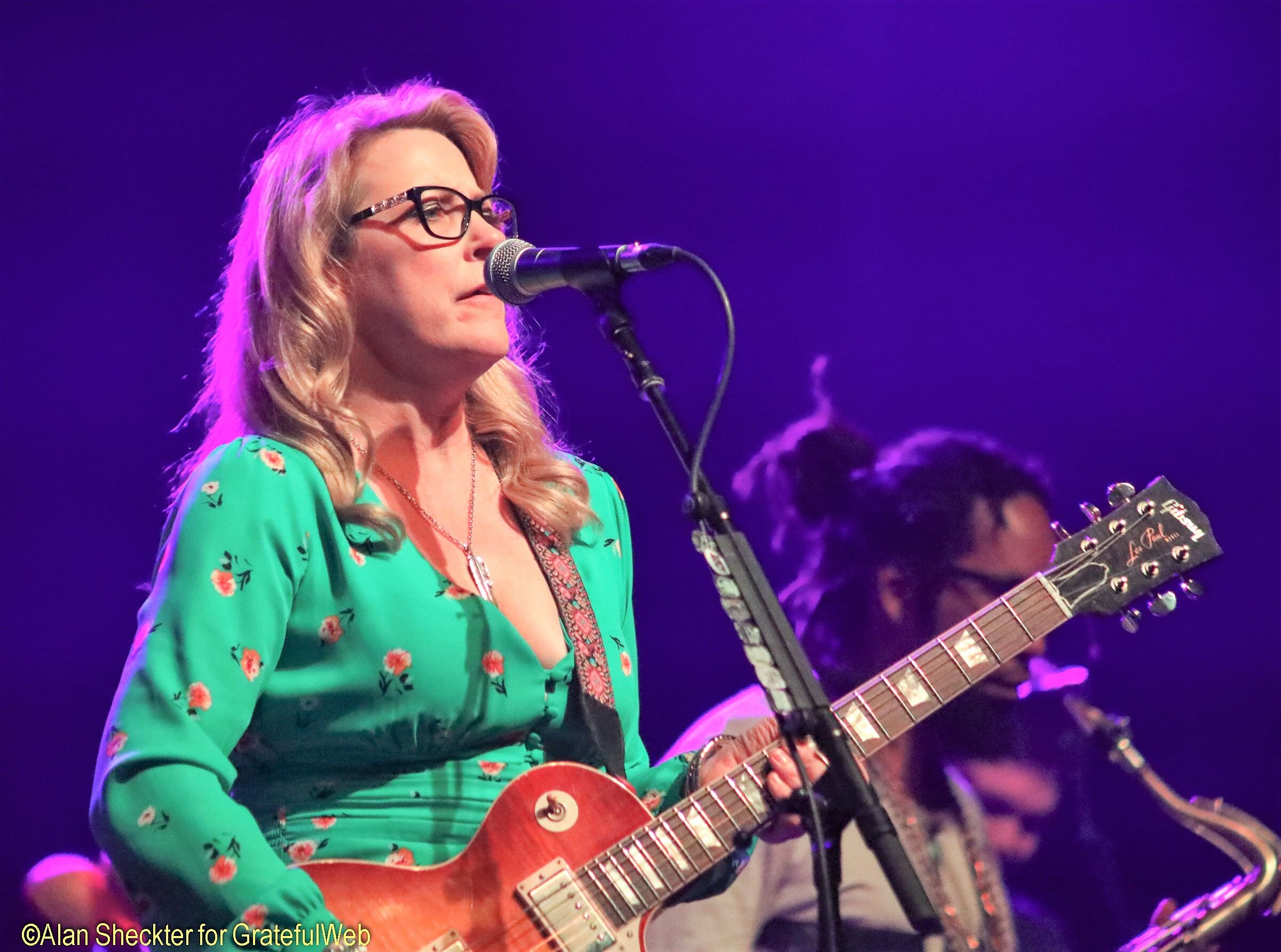 The Tedeschi-Trucks Band displayed the personnel, skills, and muscle to deliver powerful, quintessential versions of any blues, rock, and/or jazz tune of its choosing – as demonstrated by the jammed-out treatments of Derek and the Dominoes throwback "Keep on Growing," Bob Dylan (and The Band's) "Down in the Flood," Willie Nelson's ballad "Somebody Pick Up My Pieces," the Tedeschi Trucks' rock-orchestra version of "The Letter" by the Box Tops, and set closer "Show Me" from the Joe Tex catalog. Another such gem served as the encore: the Ashford and Simpson-penned "Let's Go Get Stoned," recorded way before such notions were socially acceptable in the mid-60s by such luminaries as Ray Charles, The Coasters, and Ronnie Milsap.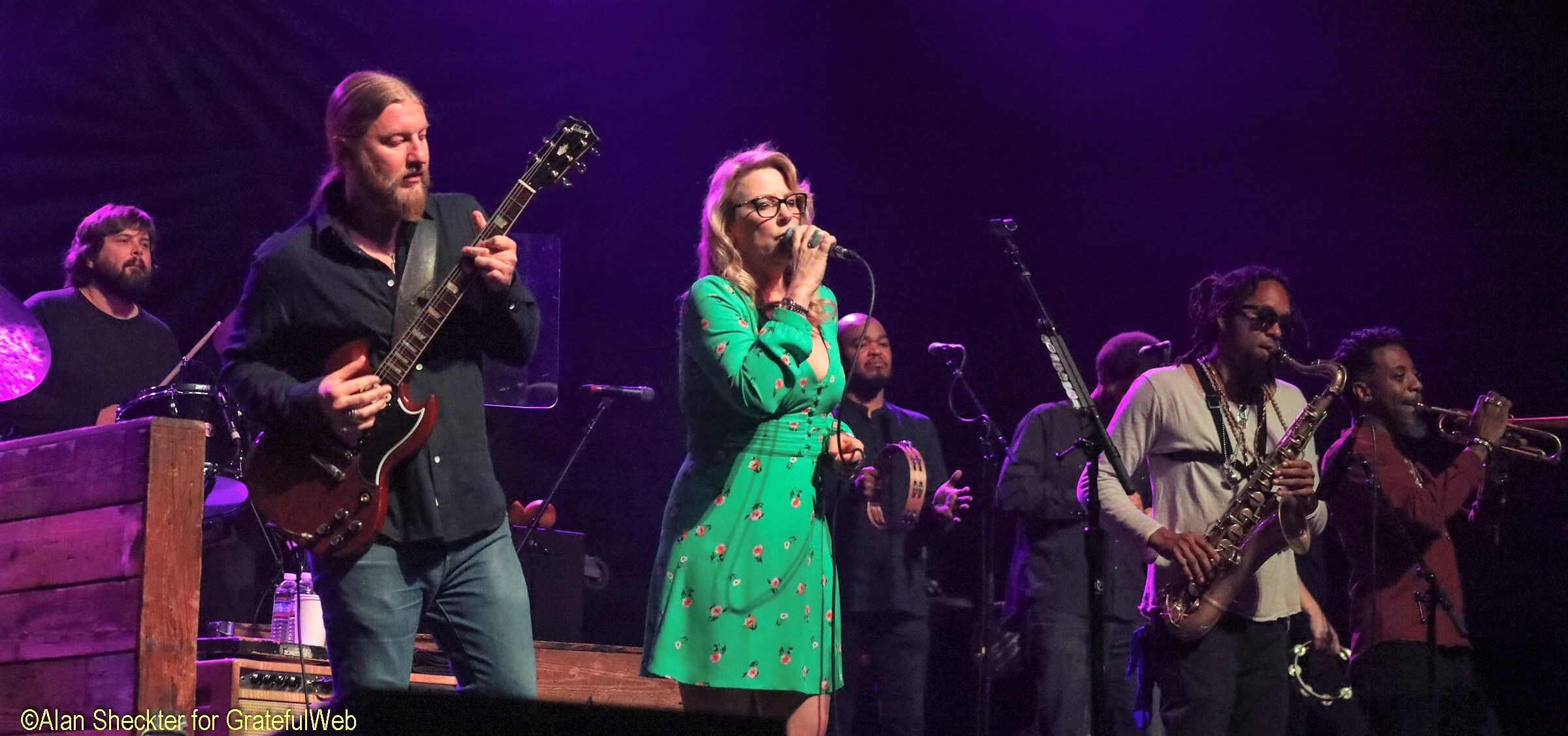 The band also offered some live pieces of music from their new project, "Signs," specifically the funky "Signs, High Times," epic/lengthy and bluesy "Shame," and the slide-filled "When Will I Begin," all of which the band performed at a live set recorded on May 15 in Los Angeles for "Jimmy Kimmel Live."
Still not yet 40, Derek Trucks (nephew of Allman Brothers Band drummer/co-founder Butch Trucks) first appeared on the radar of many after he first sat in with the Allman Brothers while he was just 13, and then joining the band for 15 years. And some got their first infusion of Susan Tedeschi in the 1990s when she began leading her own band, or when she was part of the Lilith Fair in 1999, B.B. King's Blues Festival tour in 2000 or with The Other Ones in 2002.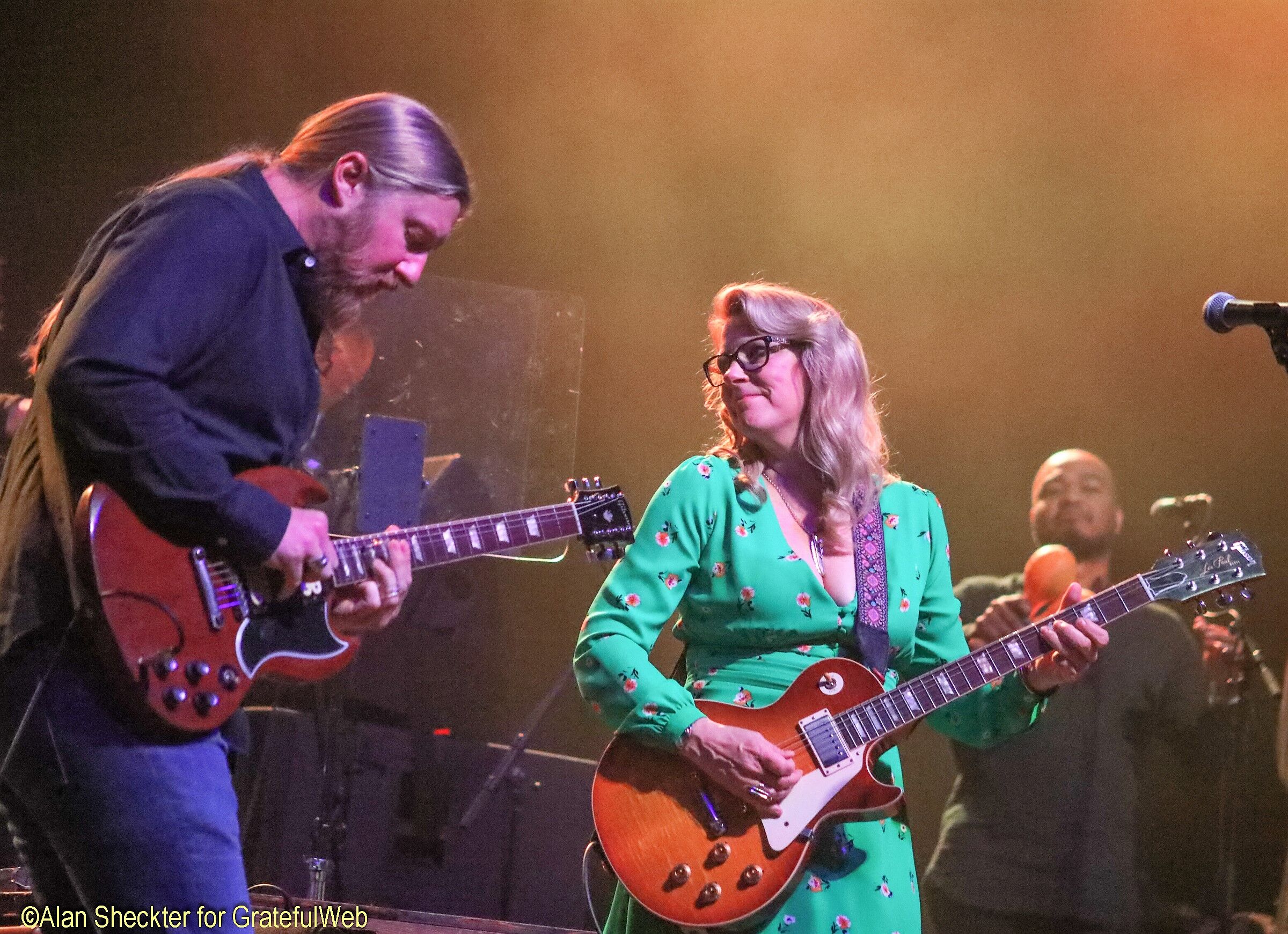 Certainly, the loss of long-time Tedeschi Trucks Band and Derek Trucks band keyboardist and flautist Kofi Burbridge in February 2019 still stings. Moving forward, however, keyboardist Gabe Dixon did a commendable job while putting his own keyboard stamp into the band's mix. New bass player Brandon Boone also turned in a fine performance.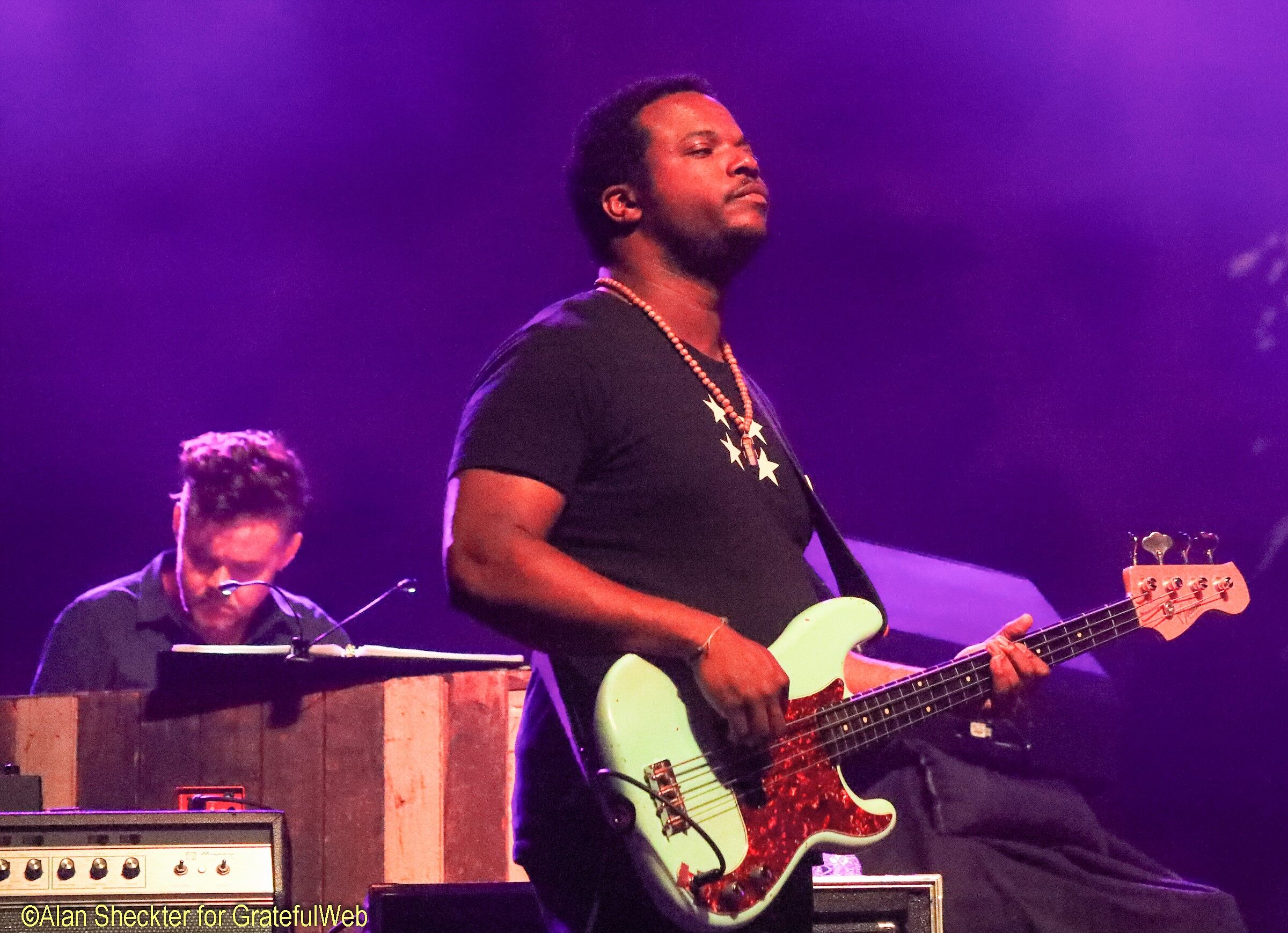 At 45 years, Los Lobos' longevity is been matched by few, but even more impressive is the core four members have been static since the early '70s: Hidalgo, Rosas, Louie Perez, and Conrad Lozano, along with "latecomer" Steve Berlin, who joined Los Lobos in 1984.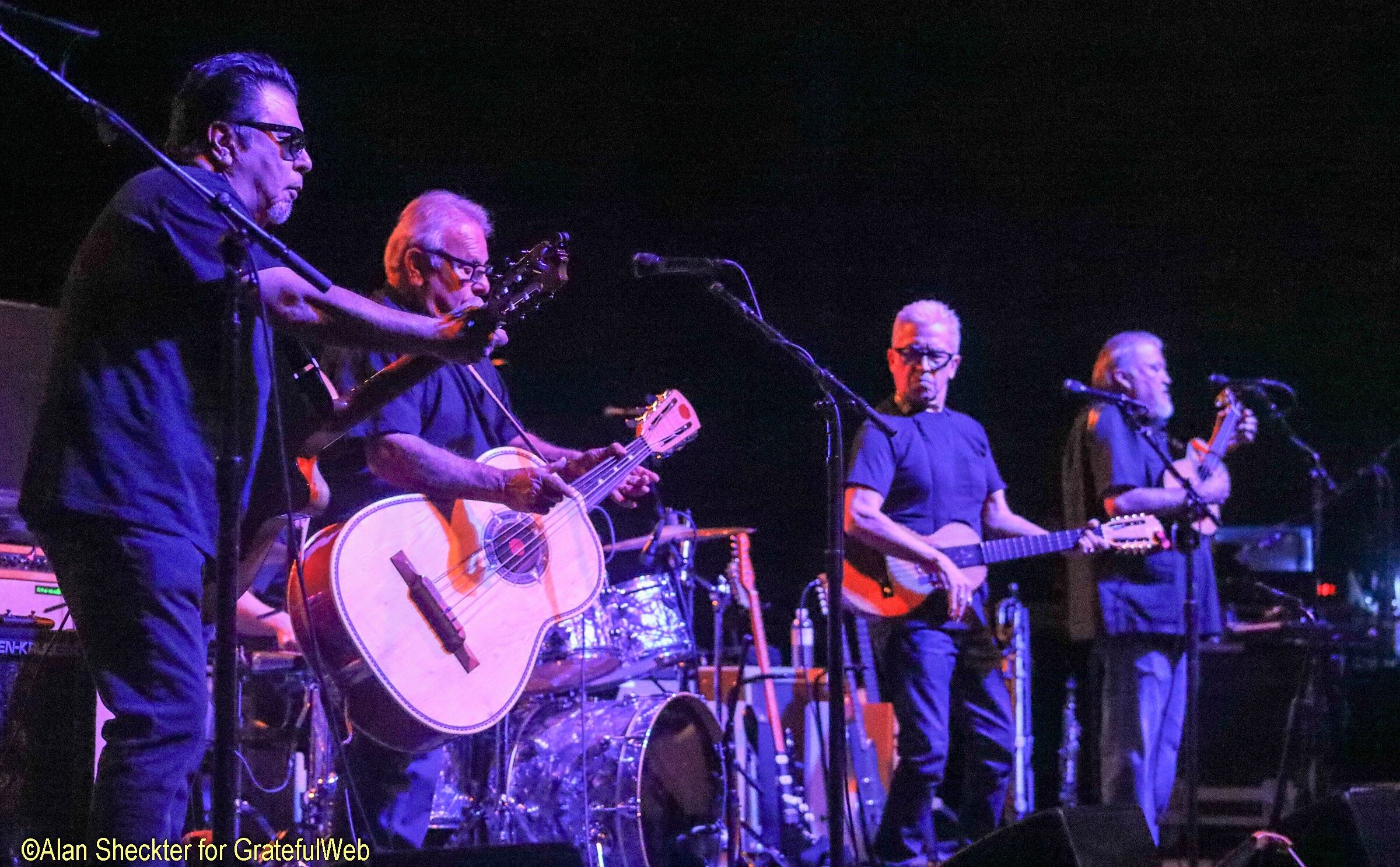 Los Lobos, on stage precisely at 7 p.m., weaved their way through a set that began with several acoustic quick-quick tempo and distinctly Mariachi-flavored numbers, including "Canto a Veracruz," with Rosas on guitar, Lozano on Mexican guitarron, and Perez and Hidalgo on ukuleles. Little by little, the band sprinkled in bolder, more rocked out electric Tex-Mex sounds – and instruments – till they morphed into an exuberant hard-rock/rockabilly/blues force, yet never straying far from their conjunto roots. Los Lobos' set included "Evangeline," "Chains of Love," "Chuco's Cumbia," and their signature take on The Grateful Dead's "Bertha," a crowd-pleasing set closer.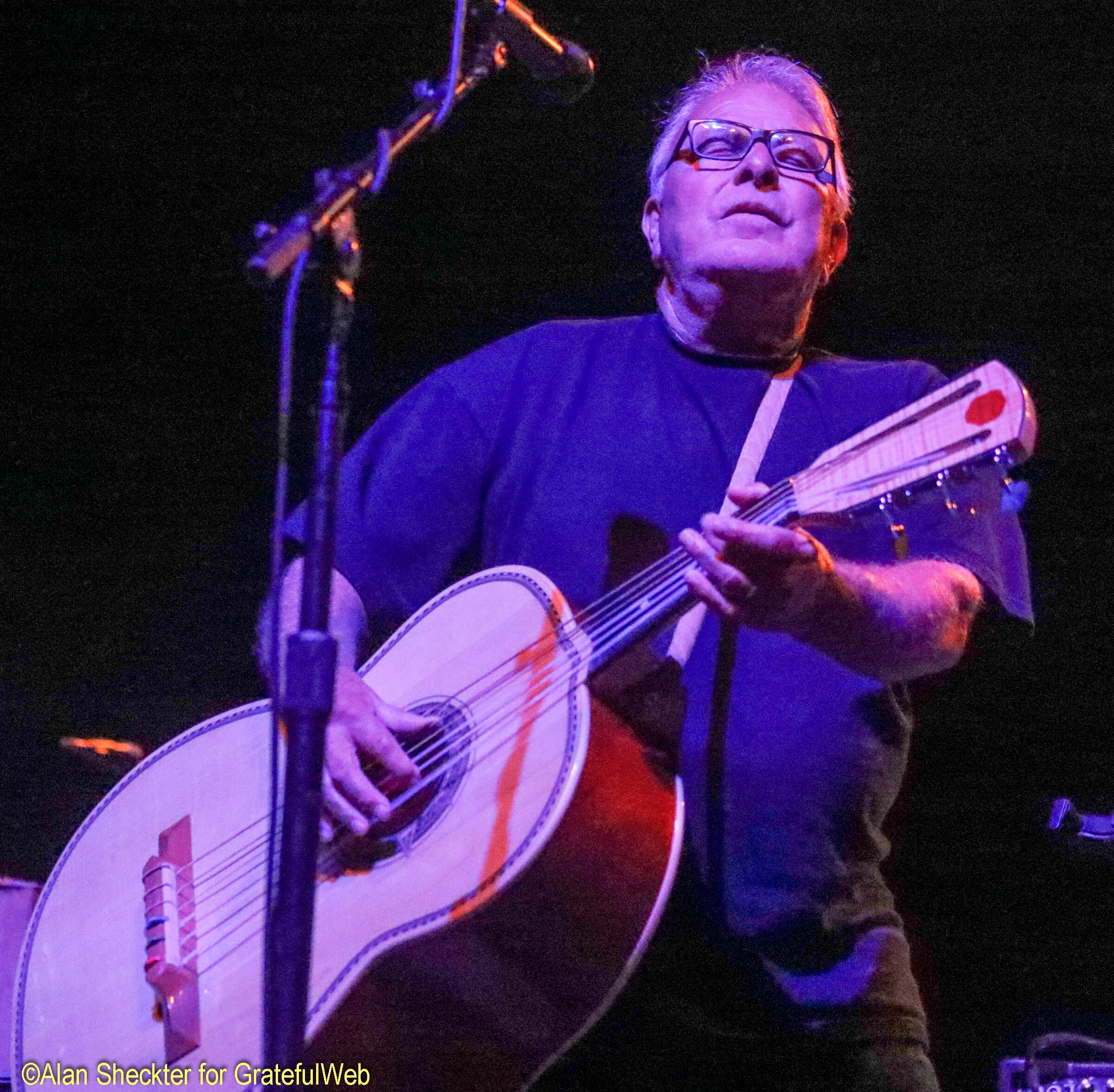 Originally opened in 1927, Sacramento's 3,850 seat Memorial Auditorium has had many an-illustrious event transpire under its roof and with this particular show, Tedeschi-Trucks Band and Los Lobos re-christened the hall at this, the first pubic event after a year-long a $16.2 million renovation project to improve the acoustics, lighting, seating, stage floor, and dressing rooms.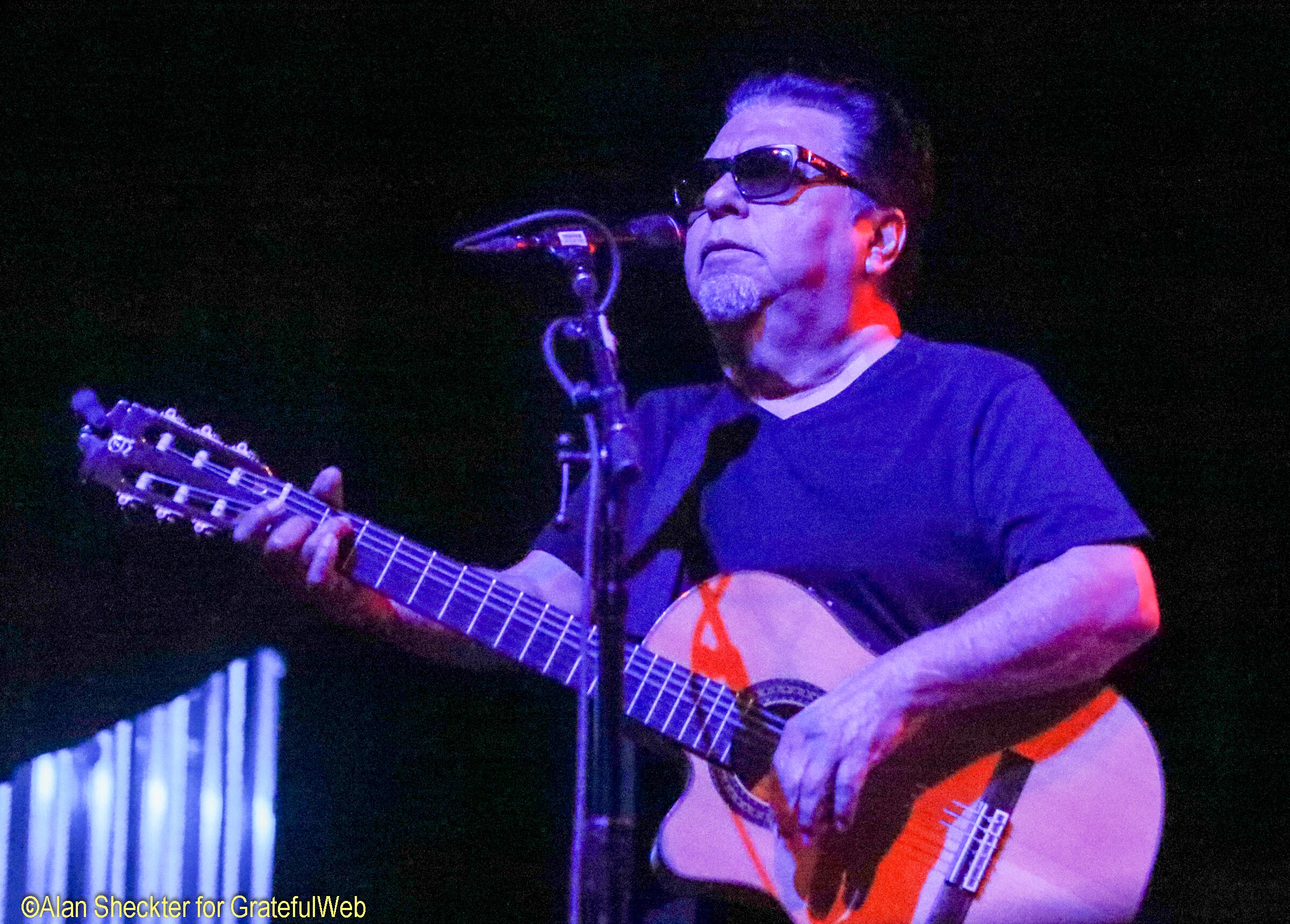 Posters on one of the promenade walls feature entertainment that appeared way back when, including the October 11, 1955: Louis Jordan and his Orchestra and The Drifters; March 4, 1965: Peter, Paul & Mary; May 2, 1959: The Coasters, Ernie Freeman and his Orchestra; May 22, 1965: Rolling Stones and The Byrds (May 22 poster date; show appears to have taken place on May 23); March 10, 1968: The Grateful Dead and Cream; June 15, 1968: The Doors; and December 22, 1970: The Grateful Dead and New Riders of the Purple Sage.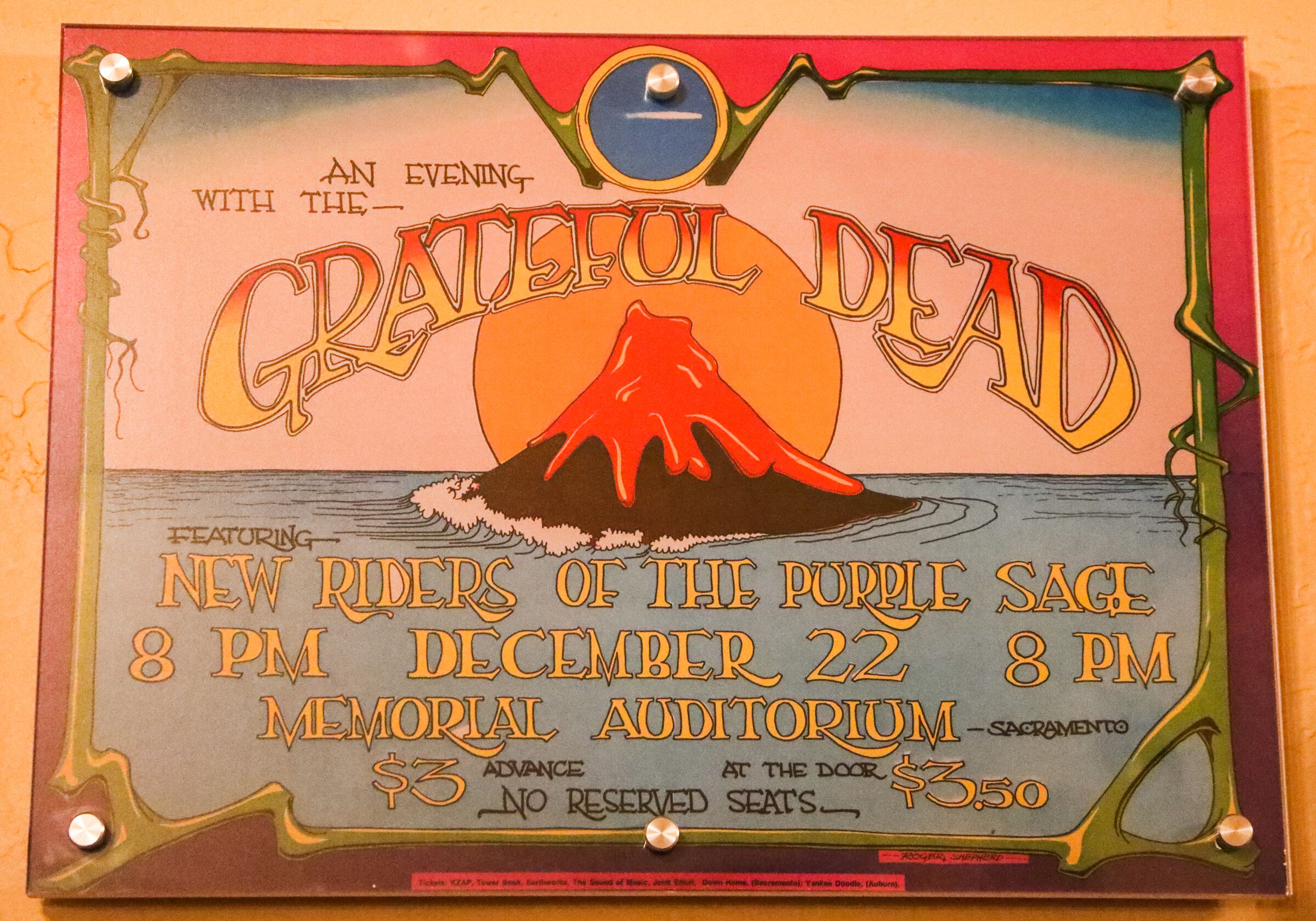 Tedeschi Trucks Band set: Laugh About It; Don't Know What It Means; The Letter; When Will I Begin; Part Of Me; Down In The Flood; Keep On Growing; Somebody Pick Up My Pieces; Signs, High Times; The Sky Is Crying (w/ Cesar Rosas); Leavin' Trunk/Volunteer Slavery (w/ David Hidalgo & Steve Berlin); Shame; Midnight In Harlem; Show Me Encore: Let's Go Get Stoned