Anyone that knows anything about soul music knows that it's not a genre or a categorization, but a feeling. Sometimes Rhythm and Blues, Motown, or Funk will all get associated with soul music, but usually isn't a defining element of a specific sound or mode of playing. It is what it describes: coming from the soul. So when you take an artist like Victor Wooten, soul would not be the first "buzz word" that comes to mind. Virtuoso, multi-instrumentalist, genre bending, five time Grammy Award Winner. These things might come to mind first. However, when leaving last Thursday's Boulder Theatre performance by Wooten and his thoughtfully assembled ensemble band, the first word that comes to mind was soul.
Many know Wooten from his "breakthrough" project alongside his brother Roy, Howard Levy, and bandleader Bela Fleck. While Bela Fleck and the Flecktones may have been where Wooten first got his well deserved international respect and renown, its plainly obvious to anybody that has followed and supported him that the Flecktones are one of many dozens of projects that have had the pleasure of playing with him. Just the fact alone that Wooten's style blended with a banjo-man led ensemble to create such a truly original fusion sound speaks of his brilliance.
While Victor Wooten has had many instillations of his band, this most recent lineup is truly a blend of other virtuoso musicians that each brings their own musical journey to the table. Take his two drummers, JD Blair and Deirco Watson, both influenced by different styles of playing (with Blair being more rooted in the Herbie Hancock world of experimental funk-fusion and Watson's less-than-straightforward powerhouse style) but never stepping on each other's feet. Then there's his friend Dave Welsch, a fantastic bass and horn player who before this ensemble has never performed in a professionally touring live band. Victor also recruited recurring collaborator Anthony Wellington to this lineup to contribute his jazzy styling. Anybody who is a Wooten die-hard has seen and heard the Bass Extremes project with collaborator Steve Bailey. He's another bass man whose style is so wild and inventive that it got him a chairman position at the esteemed Berklee College of Music in Boston. On top of all of these truly brilliant musicians, the icing on the cake is Krystal Peterson's vocals. Confident yet unassuming, boundless in terms of range and style, her presence gave this particular lineup the melodic edge that not many lead vocalists could achieve given the power of the other musicians onstage.
With little knowledge of any of the other players minus Bailey and Wellington, I went into the show with high expectations. Though not completely sold out, the entire theater was bustling with high energy and happy patrons. The entire crowd was happily discovering the brand-new material coming out on two different albums this fall. Usually new material means time for a bathroom break. This time around it meant rediscovering the collaborative talents of this one-of-a-kind lineup. The band played solidly for a one set performance of nearly two-and-a-half hours. With much of the show being new songs, most of the material from last Thursday will reveal itself on the road with the rest of the Wooten Band's extensive tour and their final product with the new album out soon.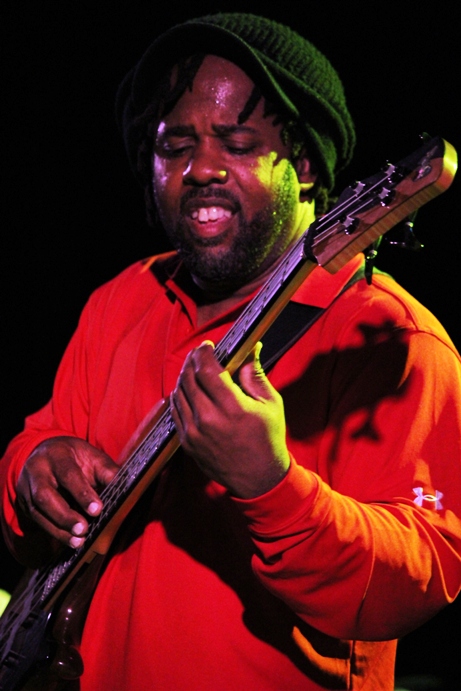 The most pleasurable element of the performance was watching Victor interact with his old friends. Every player got a solo with Victor and alone, giving the musicians a chance to display their style free of the full band's musicality. Particularly memorable was a jam between Wooten and Blair where the two of them journeyed off into a scat-ish vocal jam consisting of both men hollering each other's names back and forth. "Hey JD!", "Hey Victor". Things finally solve themself when both agree, "That was pretty funky". It's that sort of free form approach toward music that makes a Wooten show such a token experience. Even Peterson's more ambient vocal moments, that subdued the jazzy pace briefly, fit in beautifully and stretched the abilities of the bass-laden project to the fullest.
After leaving this show, I couldn't wait to sink my teeth into all the new material coming out this year; one album featuring vocals on each track, from Peterson amongst other vocalists, another album being only instrumentals. This alone should testify to the musical potency of Wooten and his band. Still bringing together fresh material to please his audience in new and exciting ways. Check out the tour schedule for the Victor Wooten Band who will be on the road extensively through the better part of the year. It's a chance to see seven outstanding performances in one. Players that have likely graced the stage with splendid solo performances are tied into one killer project that's only going to get better as they keep working out the new material on the road. Colorado fan's can also check out Wooten at Telluride Jazz Celebration this August. Thanks for making Colorado an important stop on your tour and can't wait to see what comes next!