Grateful Dead cofounder Bob Weir refuses to stay stagnant, and his latest occasional side project, the Weir & Wolf Bros trio, set up camp for a three-night, hometown residency August 1 to 3 in Marin County's idyllic Mill Valley. Reports that tickets for these performances at the 300-capacity Sweetwater Music Hall sold out in 30 seconds are probably not exaggerated. Grateful Web was lucky enough to attend the first show of the run.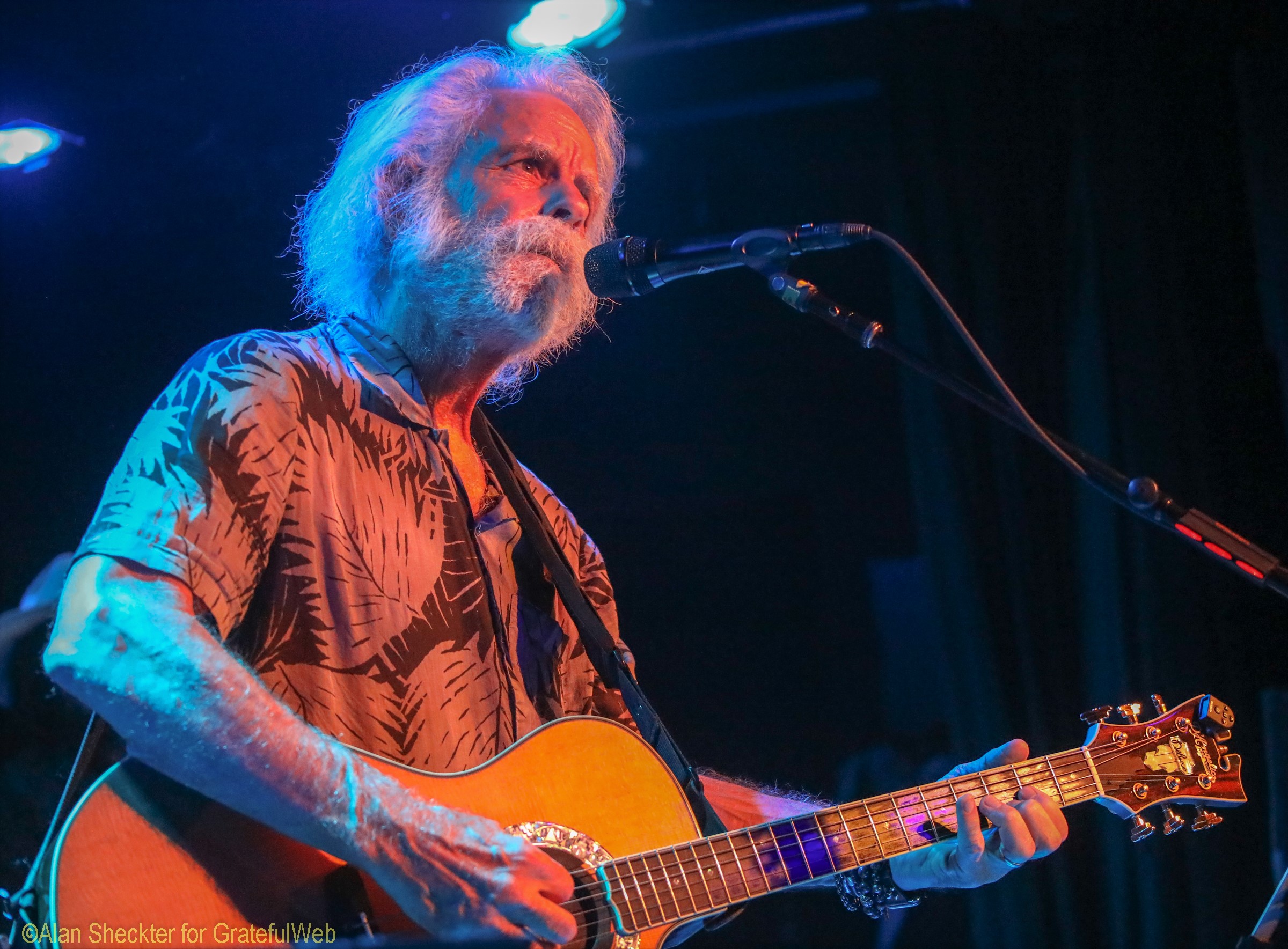 Bob Weir & Wolf Bros.' method of music is to reproduce Grateful Dead/Bob Weir catalog standards in new, slow-to-mid-tempo arrangements that has Weir deftly handling both lead and rhythm guitar duties while accompanied by longtime accomplice Jay Lane on drums and Don Was, an acclaimed record executive performing as a fine stand-up bass player. The result is, while not a large band/ensemble sound, a more intimate mix and allows the listener/viewer to watch Weir work and gain new/additional respect for what he can bring to the stage.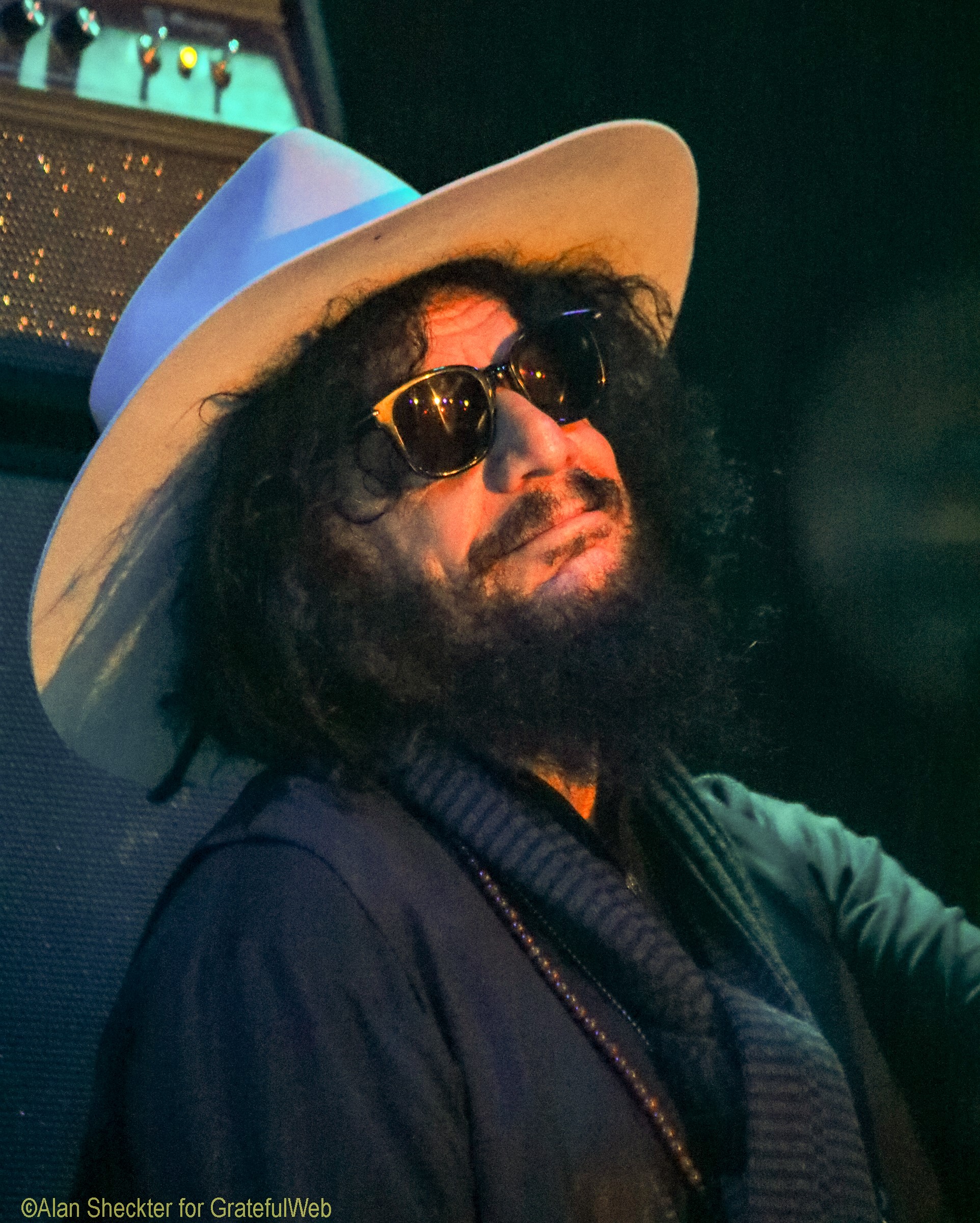 Weir & Wolf Bros. represents another in 45-year line of Weir-led Grateful Dead offshoot bands including Kingfish, Bob Weir Band, Bobby & the Midnites, Rob Wasserman and Bob Weir, RatDog, and the Blue Mountain record/Campfire Tour. This was the first Weir & Wolf Bros. concert since a one-set offering at the BeachLife Festival at Redondo Beach., Calif on May 3.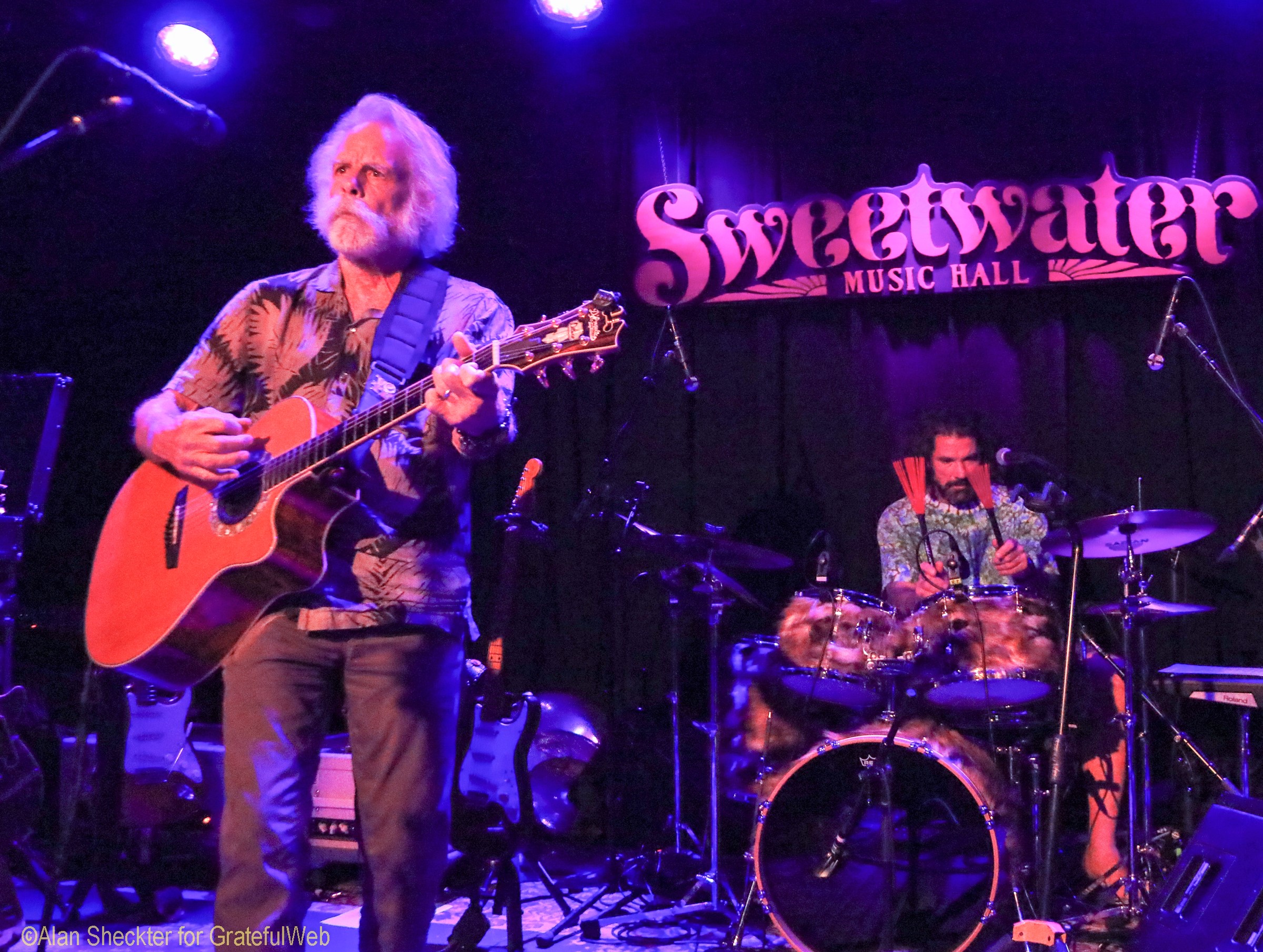 And with Weir front and center with only bottom-end players behind him, you have to admire Weir's determination – and guts – at letting himself be a vulnerable figure onstage, in which any mistakes would be more perceptible than if he was among a band of, say six (i.e., Dead & Company). There weren't many mistakes per se on this night, though he did start, stop, tune, and restart "Cassidy," and a few times Weir seemed to be thrashing at the guitar in order to wrestle from it all of the sound for which he sought. But in the end, the quality of musical output within the intimate, friendly confines of the Sweetwater ruled the night. Indeed, Lane delivered some crafty drum passages (and some backup vocals) and Was, while never dominating, was consistently strong.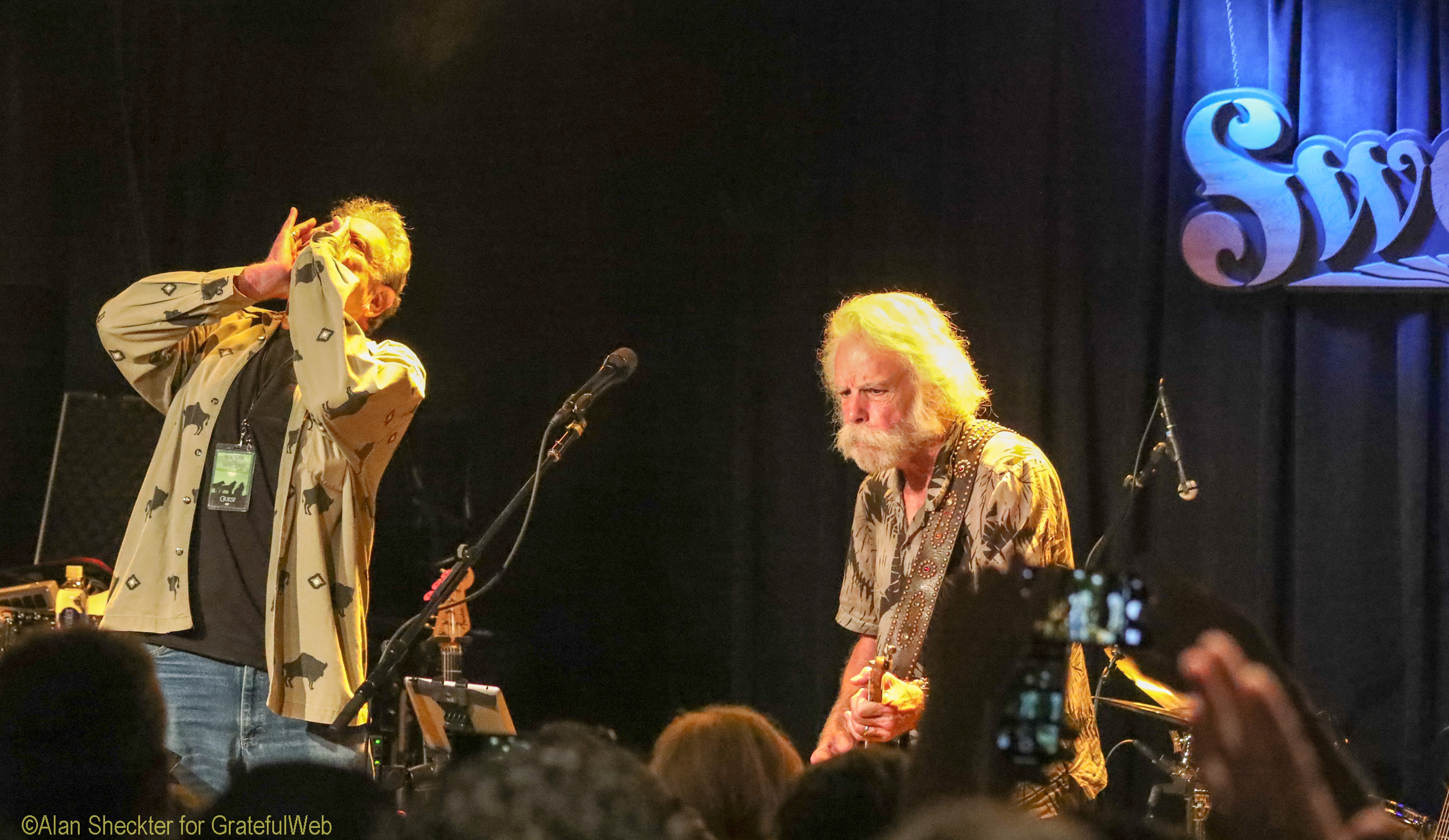 Steve Parish, the most prominent of all Grateful Dead roadies who these days acts as "Road Scholar" for Moonalice, warmed up the audience with one of his caustic but funny monologues, with subject matter that included some warm sentiments, followed by a stern warning that the audience better stay quiet, as ongoing chatter in the back of the room near the bar is often an issue at the venue, and once prompted Weir to yell "Shut the Fuck Up," which begat official Sweetwater "STFU" T-shirts.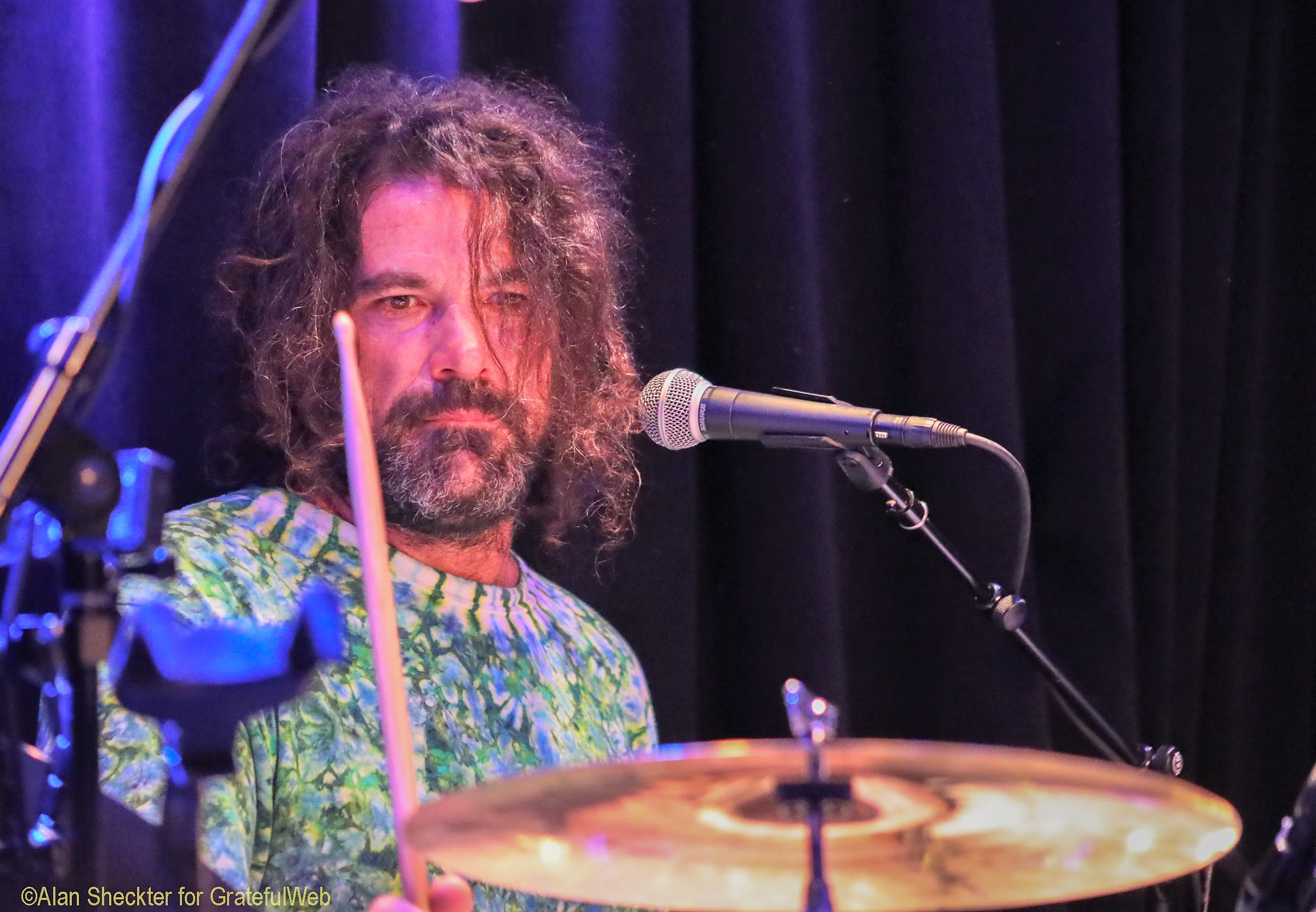 "This band could be playing in a theater; they could be playing in a bigger place," Parish said. "This is a real special thing they're doing tonight. And they're doing it for each and every one of you with so much love. Don <Was>, what a wonderful guy he is. He seriously gets the whole thing that all of you love so much. He loves it with every sinew of his body. ... Now Bobby's the same way but Bobby expects that you guys want to listen to him tonight. He doesn't want to have to say, 'Shut the fuck up.' I know that's very hard to do because I know you have the tendency to talk about stuff. But if you hear your neighbor talking, Parish joked, I want you to take a red flag – this gentleman is going to come out and give everyone a red flag, and you stick it in the top of their head and then we'll come out to talk to them."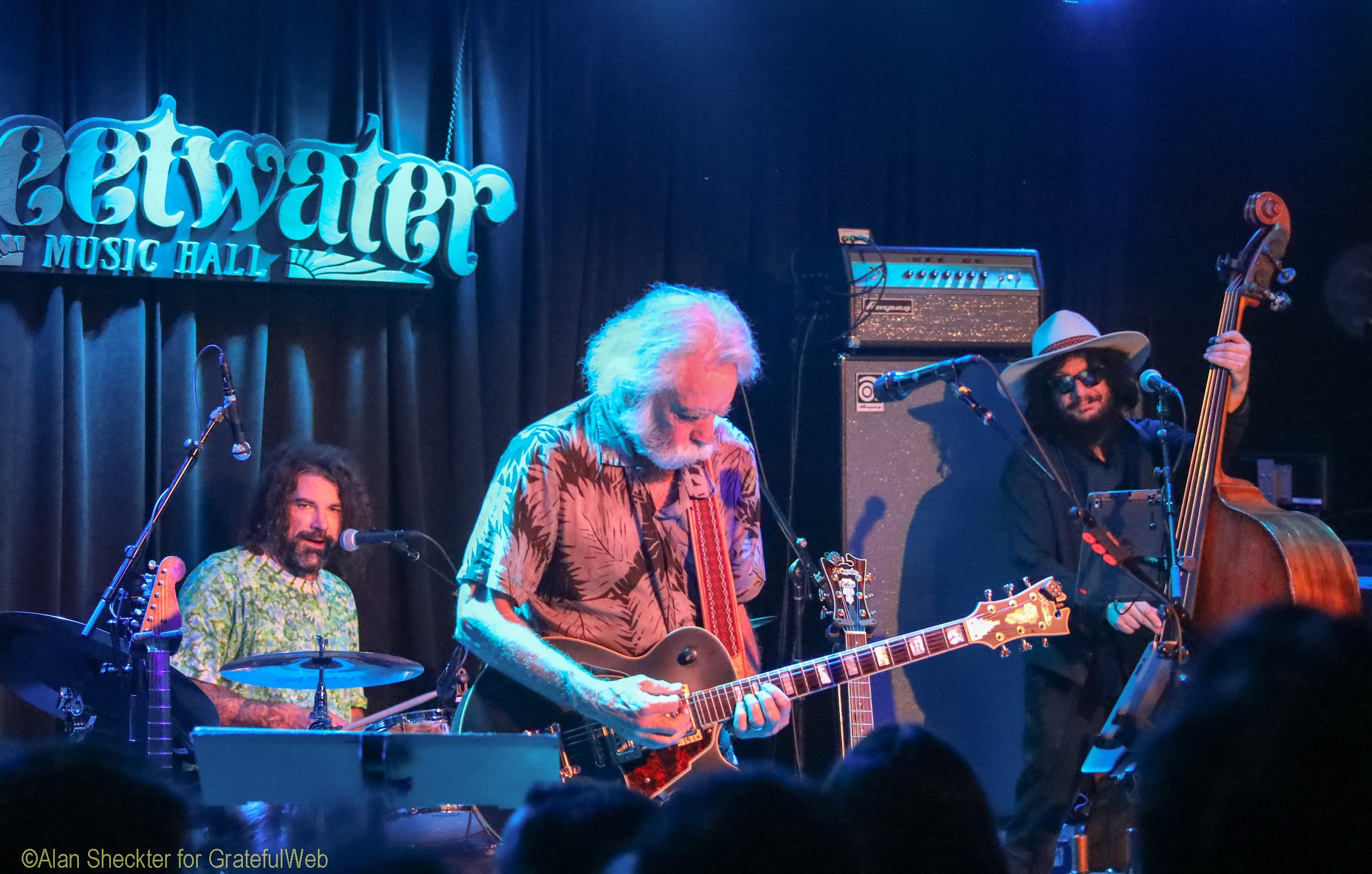 To begin the musical portion of the evening, Weir led the trio in a crisp, earnest version of one The Grateful Dead's all-time standards, "Friend of the Devil," followed by the beautiful "Only a River" one of the standout ballads from Weir's 2016 "Blue Mountain" project, which worked well with this trio. Next up was Bob Dylan's "When I Paint My Masterpiece," which Garcia first adapted for the Jerry Garcia Band before it became a Weir-sung staple in the Grateful Dead live catalog. The trio moved on to "Bombs Away," a light, breezy Weir-Barlow pop song The Dead never covered. Two Grateful Dead concert standards followed – Weir (and Barlow's) "Cassidy," from Weir's first album, "Ace," which led to Garcia/Robert Hunter's "Tennessee Jed." Both of these songs were a challenge for a three-piece rather than a full band, but Weir and Company worked competently at keeping them afloat. The first set ended with a definitively-Weir Grateful Dead standard set-ender, "Music Never Stopped" which was wrapped around "Easy Answers," a tune written by Wasserman and adopted by The Grateful Dead in the early 1990s.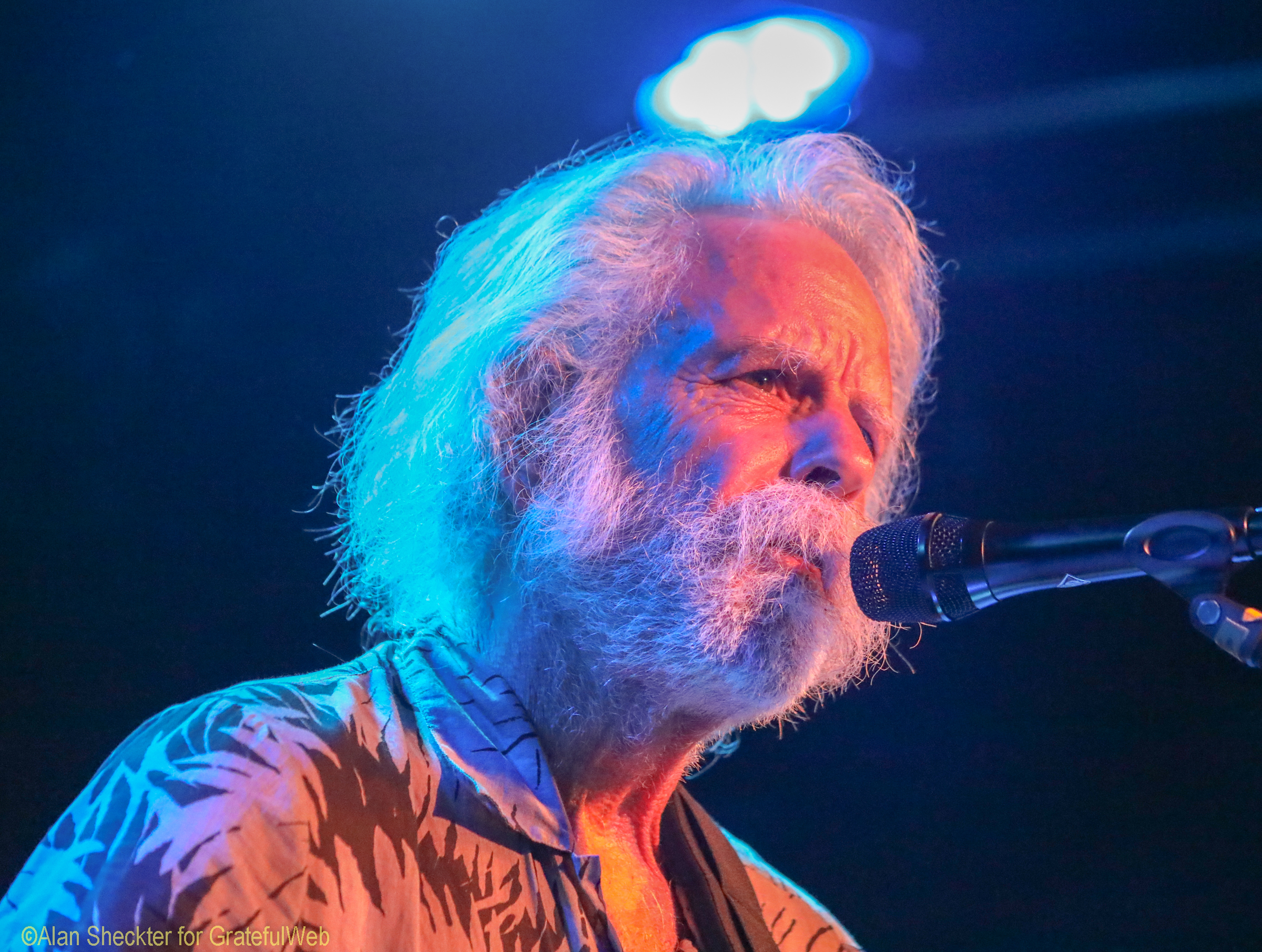 Adding to the evening's atmosphere was, as many in attendance realized, the birthday of The Grateful Dead's beloved Jerry Garcia, who would've turned 77. While people in the audience were demonstrably cognitive of that fact, validation came from the stage as well. To the surprise of many, Parish, at the start of the second set, along with Weir who strummed mildly on guitar, led the audience in a cheerful, upbeat version of "Happy Birthday" for Garcia.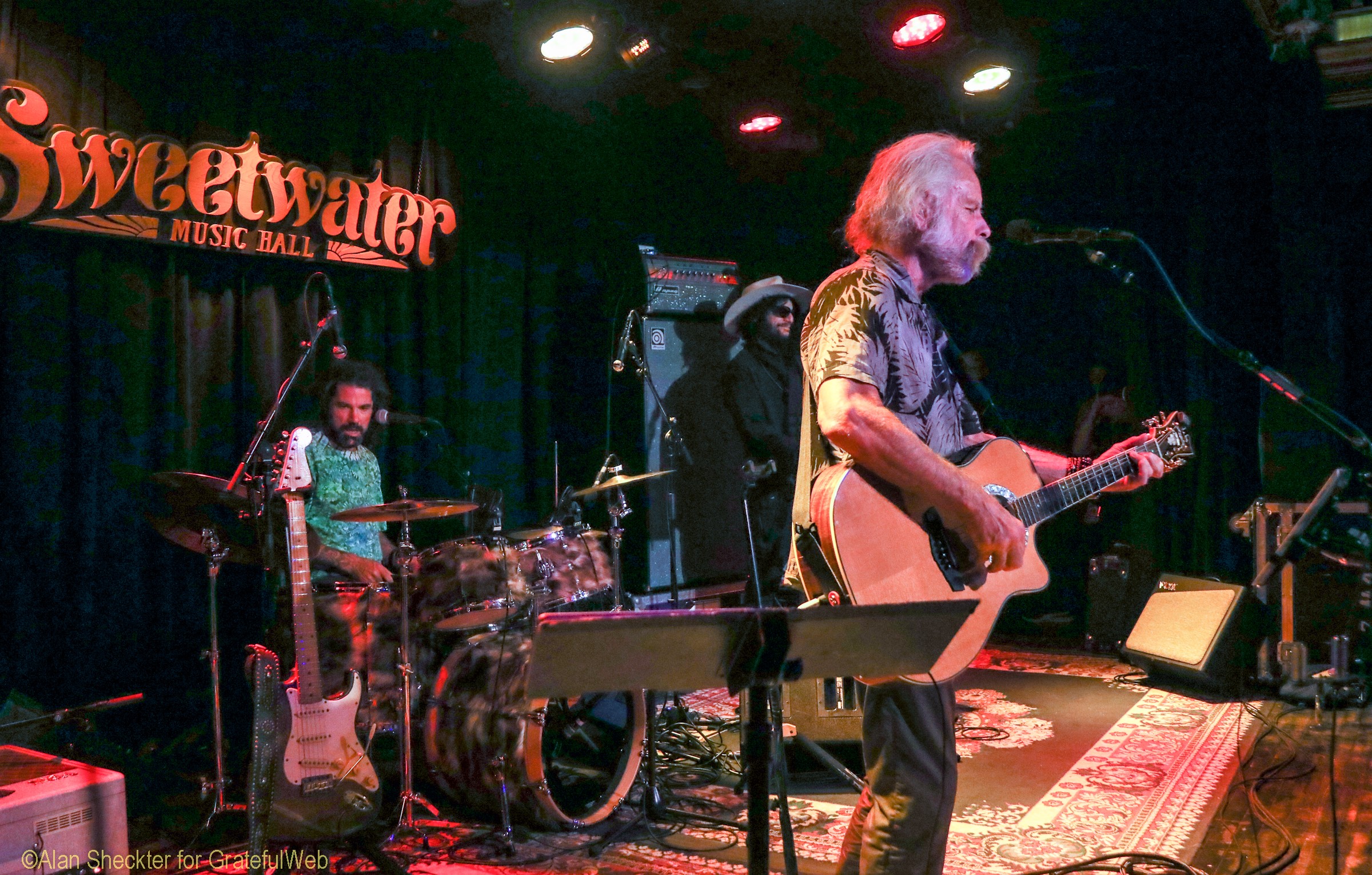 The second set began in earnest with two Grateful Dead "Garcia songs," "Eyes of the World," on which the trio achieved a fine groove on the complex piece of music, and the timeless ballad, "He's Gone" (maybe for Garcia but we really never know), which Weir, Lane, and Was skillfully delivered. The set moved onto RatDog's inventive "Two Djinn," followed by two big Grateful Dead favorites, the shuffling "New Speedway Boogie" and the touching Garcia ballad, "Standing on the Moon."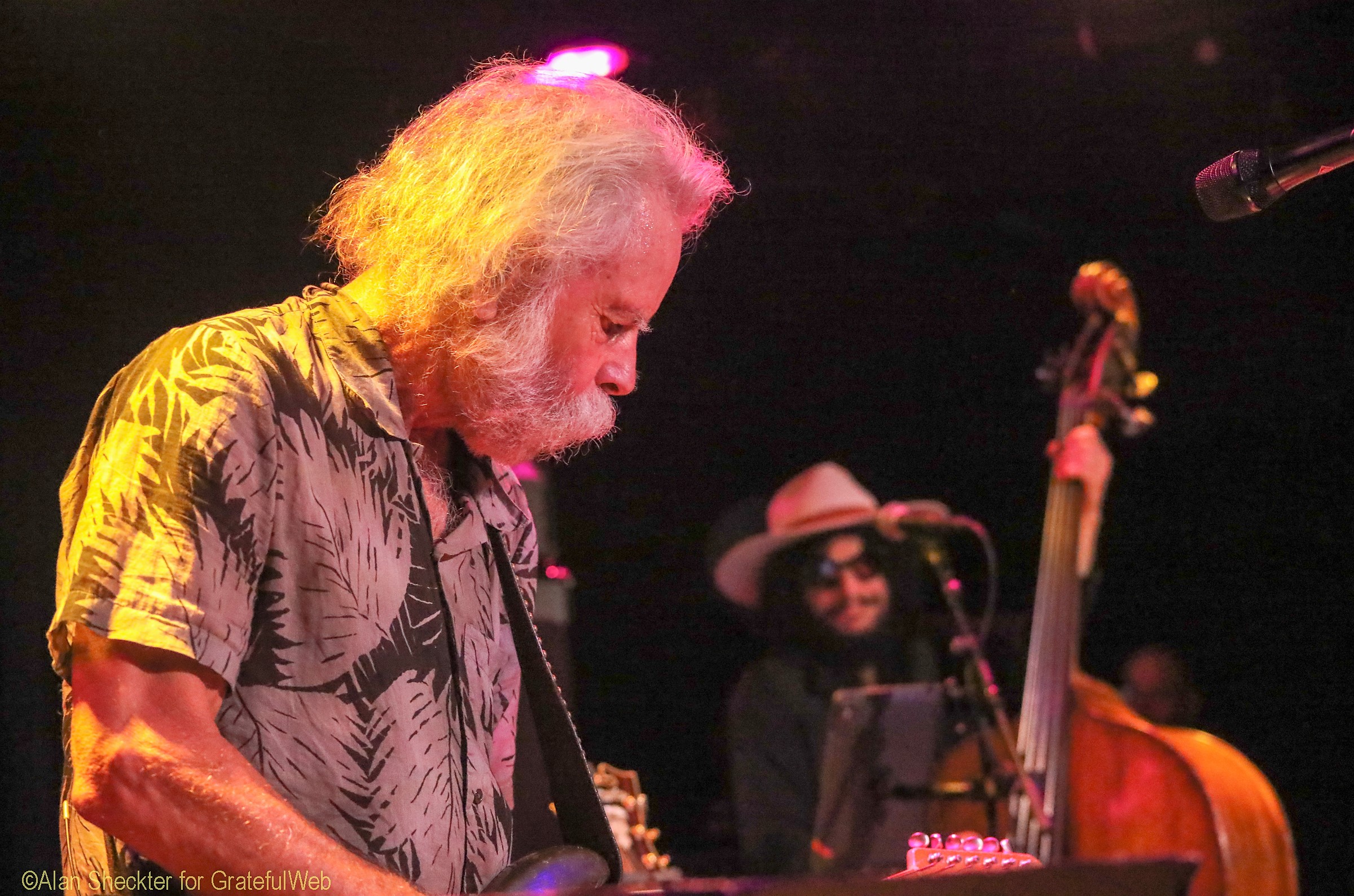 The band and the place were rocking for the closing-song pairing, both first-time performances by this band, The Grateful Dead's "Franklin's Tower" backed by good ol' "Sugar Magnolia." An encore of The Dead's enduring, "Ripple," often covered by Weir & Wolf Bros., closed the evening and sent the audience on their way. For the record, the trio did not repeat any songs during the three-day run.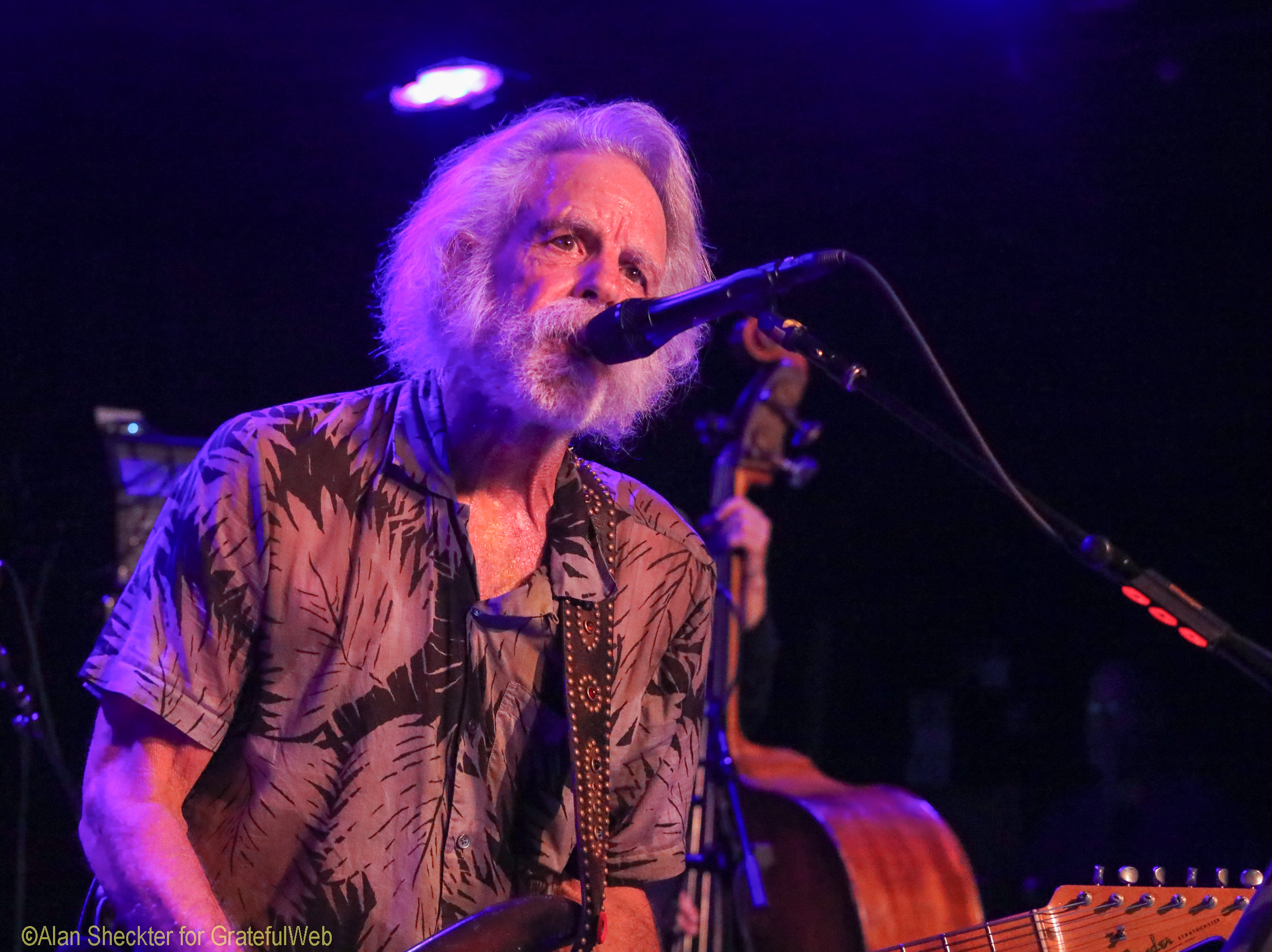 The original Sweetwater, which operated in Mill Valley from 1972 till 2007, reopened with Weir's involvement in 2012 at a nearby site within a few months of Phil Lesh opening his Terrapin Crossroads, which is situated eight miles away. The two proximate clubs are both magnets for an extended Grateful Dead extended family of bands as well as other contemporary performers.