25-Year Touring Vets Spin Their Own Brand of 21st Century Americana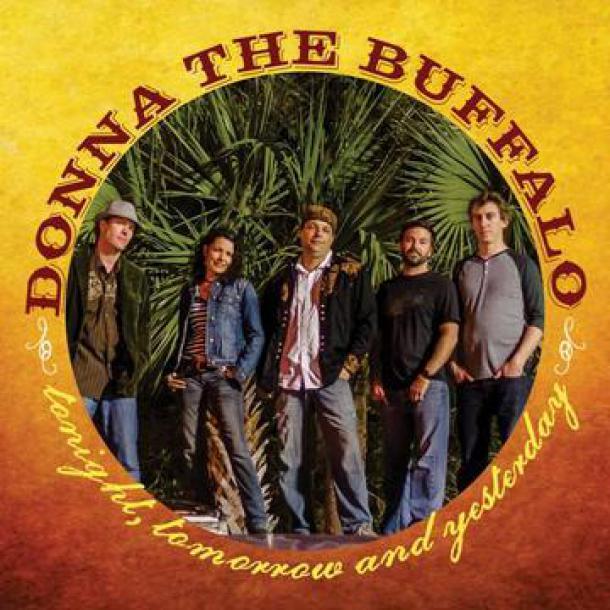 As they unveil their first new album in five years, Tonight, Tomorrow and Yesterday, the across-the-board praise from critics proclaims roots-music troubadours Donna the Buffalo have skillfully assembled a fine set that bolsters their longtime status as a celebrated, exceptionally talented mainstay in Americana music.
Released just yesterday, June 18, Tonight, Tomorrow and Yesterday finds Donna the Buffalo more energized and focused than ever before in their near 25-year career. The follow up to 2008's acclaimed Silverlined, which reached the Top 10 on the Americana charts, Tonight, Tomorrow and Yesterday—the group's 10th studio album—proves the band as a consistent steward of Americana music, their signature sound—traditional mountain music infused with elements of Cajun, rock, folk, reggae and country—an eclectic and extraordinary melting pot of such.
Here's just a sampling of what the press are saying about Tonight, Tomorrow and Yesterday:
"This set...highlights everything this consistent band does, and it has a warm, live-sounding production... The end result is one of Donna the Buffalo's best outings. This is what 21st century Americana sounds like, a little bit of this and that from anywhere wrapped up into a poignant, jamming dance reel, a place where the past and history meet easily in the immediate now and everybody feels like dancing."
- All Music
"...This new effort revels in the kind of rousing enthusiasm that's made the Donnas such festival favorites in recent years. The uninitiated ought to take note –Tonight, Tomorrow and Yesterday is as its title implies, the kind of album destined to make an everlasting impression."
- The Bluegrass Situation
"Tonight plants homegrown peace and love in flower-powered honky-tonk whose rockin' goodwill two-steps between groovy patchouli zydeco and tasty jam-band reggae."
- Maximum Ink
"Next time Donna the Buffalo throws a house party, I definitely want to go. After decades on the festival scene, this energetic band has acquired a super-dedicated fan base known as the Herd — and at some point...I would love to see them all bopping along with [I Love My Tribe's] irresistible chorus."
- CMT Edge
In its first week at Americana radio, the album was No. 2 Most Added. In its second week, the it debuted Top 20 on the Americana radio chart, and this week the album catapulted to No. 12.
The music video for "I Love My Tribe" also enjoyed an exclusive premiere on CMT Edge. Watch the video filmed in and around Nashville--and featuring a cameo from Jim Lauderdale--here.
In support of the new album, Donna the Buffalo has a hefty tour lined up for the summer season, which includes a few weeks on the West Coast. They kick things off at the Red Ants Pants Festival in Montana on July 26 and travel throughout the Northwest before heading for shows at the Mint in Los Angeles and Pappy and Harriet's in Pioneertown, CA. Saturday, August 8 marks the band's return to The Great American Music Hall in San Francisco, followed by shows in Santa Cruz, Chico and then Utah for appearances in Monroe and Park City. They then perform in Denver before wrapping the tour at Wyoming's Grand Targhee Bluegrass Festival.
Donna the Buffalo West Coast Summer Tour:
Fri 7/26 White Sulphur Springs, MT - Red Ants Pants Festival
Sat 7/27 Spokane, WA - The Center
Sun 7/28 Seattle, WA - The Tractor
Mon 7/29 Portland, OR - Doug Fir Lounge
Tue 7/30 Eugene, OR - WOW Hall
Thu 8/1 Los Angeles - The Mint
Fri 8/2 Pioneertown, CA - Pappy and Harriets
Sat 8/3 San Francisco, CA - Great American Music Hall (Presented by Jambase)
Sun 8/4 Santa Cruz, CA - Moe's Alley
Mon 8/5 Chico, CA - The Big Room @ The Sierra Nevada
Wed 8/7 Monroe, UT - Mystic Hot Springs
Thu 8/8 Park City, UT - Newpark Town Center
Fri 8/9 Denver, CO - Oriental Theatre
Sat 8/10-11 Alta, WY - Targhee Bluegrass Fest at Grand Targhee
The most up-to-date touring information can be found at www.donnathebuffalo.com/tour-dates.