Bootsy Collins and the rest of the P-Funk crew have not lost a step in the all the years they have been funkin' it up around the world. As a matter of fact, Collins is touring his brand new holographic 3D album art release Tha Funk Capital of the World, featuring the single "Don't Take My Funk," with Catfish Collins and Bobby Womack. The album is also available in a 2-LP transparent blue vinyl and features fellow P-Funkers George Clinton and Bernie Worrell, along with an all-star lineup of musicians and cultural luminaries including rappers Snoop Dogg, Chuck D, and Ice Cube, actor Samuel L. Jackson, banjo phenom Bela Fleck, the Rev. Al Sharpton, scholar Dr. Cornel West, guitarist Buckethead, and more.
On this night at the Boulder Theater he brought his touring crew and old and new fans slowly entered this classic venue. There was a very small, unique, and fun crowd for this show. It was not the usual Boulder scene, but a welcome change of many different kinds of people. Most were die hard P-Funk fans, which knew their band's repertoire and had an ear to ear smile throughout the show.
As the band took the stage, in true funk style, a PA system played the introduction to the show, giving props to P-Funk and getting the crowd psyched up. Then, Bootsy's oldest son came on stage to announce Bootsy about five minutes later, who graced the stage in an entirely silver disco ball type outfit from head to toe. The thirteen member band quickly went into a medley of songs that got the crowd instantly moving and smiling at Bootsy's outfit.
Next, the band played a few of their new songs before Bootsy dedicated the next part of the show to George Clinton and P-Funk All-stars. He left the stage for this part, and the band led by former Headhunter and P-Funk original DeWayne "Blackbyrd" MckNight played "Red Hot Mama," "Flashlight," and covers such as: Jimi Hendrix's "Star Spangled Banner," and "Purple Haze," and Sly & the Family Stone's "I Want to Take You Higher." MckNight's tone was evidence as to why he is a guitar legend.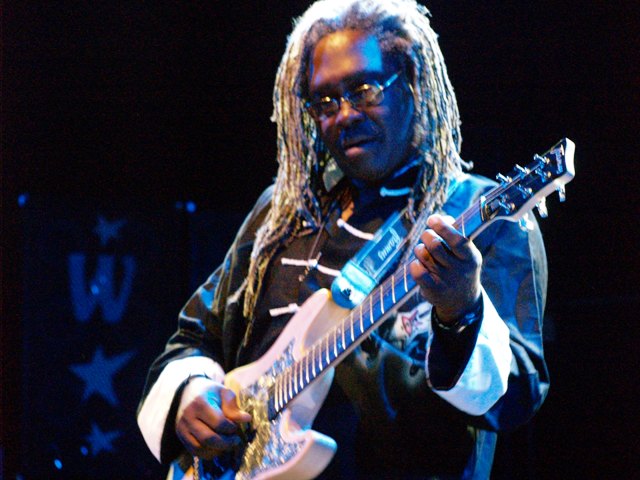 Bootsy came back out in a new outfit and a huge smile. He played a couple of very groovy bass slower songs, and then he told the crowd that it was just foreplay before he whipped into an amazingly innovative bass solo. He played "I'd Rather Be With You" and new song, "Don't Take My Funk Away," which Rolling Stone called "effortlessly groovy" sang by back-up singer Kyle Jason.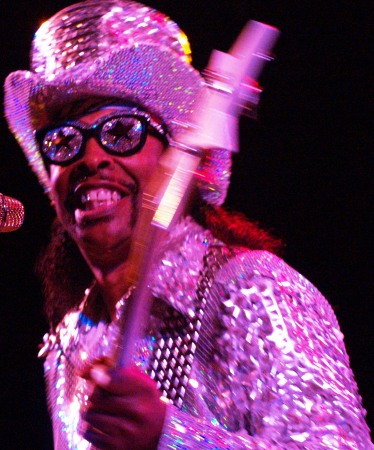 This point seemed like the climax of the show. Bootsy led "One Nation Under a Groove" and "Give Up the Funk (Tear the Roof off the Sucker)" before he encouraged the crowd to start touching each other. He played "Stretchin Out/Touch Somebody," and then got helped off the stage and walked through the entire crowd while people groped him. In the meantime, the back-up singers encouraged a sing along where crowd members took turns singing the lyrics of the medley.
Finally, after the funk medley and party atmosphere, Bootsy introduced the entire band starting with original P-Funk members: Bernie Worrell, DeWayne "Blackbyrd" MckNight, Razor Sharp Johnson, Frankie Kash, and Colonel Hardgroove from Public Enemy. The band just played the Bonnaroo Music Festival and got the opportunity to hang out with Kareem Abdul Jabbar backstage. They have a long tour left so make sure to get your funk on with Bootsy when they come to a venue near you.