Few people are truly aware of the extent of Buddy Guy's influence. If you do not think that he is one of the greatest guitarist's of all time, then your favorite guitarist probably does. Without this legend, other legends such as Jimi Hendrix, Stevie Ray Vaughn, Eric Clapton, and Jimmy Page would not have been who they are. Guy was the bridge between the blues and rock n' roll.
Born and raised poor in Louisiana, this Rock n' Roll Hall of Famer slowly found his way to become the face of the Chicago blues. Even now at the ripe age of 77, Guy plays loud chops that will make the hair stand up all over your body. He will even play so quiet that you will fall in love in seconds. The range that he substantiates in one show is truly innovative and has been mimicked for decades.
On this night, 11-12-13, I had the great pleasure of seeing him up close at the Boulder Theater. The opener was Buddy Guy's producer, songwriter, and friend Tom Hambridge, otherwise known as the "White Willie Dixon" or Susan Tedeschi's "Secret Weapon." He came on stage with just a snare drum, cymbal, and a piano player. It was not just a piano player though; it was Buddy Guy's pianist and Otis Rush's former pianist, Marty Sammon. He opened with an original tune and then played a song he wrote for George Thorogood called "The Fixer." The finger snapping song had the audience participating before he played his "Shot Glass" and a song he wrote for Susan Tedeschi called "It Hurts so Bad," which contained an incredible keys solo by Sammon. Hambridge's story he told about coming home from gigs late at night and getting handed his little child was captivating. He said that "my wife just handed me my lil' red headed daughter named Rachel, and I made up nursery rhymes to put her to sleep." The loud, funny sounding percussion he played all over the microphone stand or anything else he could find to tap on rattled and repeated until he said his daughter would be out cold. He finished with "I Got Your Country Right Here," a song he wrote for Lynyrd Skynyrd, "I Had a Real Good Time," and "The Shoebox."
Then, the six time Grammy Award winner was announced on stage, and Buddy was ferocious! His guitar was turned up and the instrumental he came out to turned into "Damn Right, I Got the Blues." He was wearing his all black and white polka dotted outfit with his polka dotted custom made Buddy Guy guitar strap. I was lucky enough to pick up a signed guitar strap at the merchandise table earlier in the night. After a couple of pelvic thrusts on his instrument, the crowd went crazy, and he stopped and said, "You keep that up, and I'll play all night. Or I'll play something so funky you can smell it. I can do it. Believe me!" He then showed us all his stuff with a cover of "Hoochie Coochie Man" by Muddy Waters. As he is accustomed to being a crowd pleaser, he interrupted the song again to say that "I played it three weeks ago in India and guess what?" The crowd answered, "They knew the words." Buddy quickly responded, "No, they didn't fuck it up as you just did." The laughter could have been heard in the bathrooms, and he went back into "Hoochie Coochie Man," which concluded with a mind blowing loud solo. His stage presence was certainly ever present while playing notes with his pants and flirting with the ladies. His story telling continued with "She's Nineteen Years Old" by Muddy Waters stopping frequently to crack more jokes.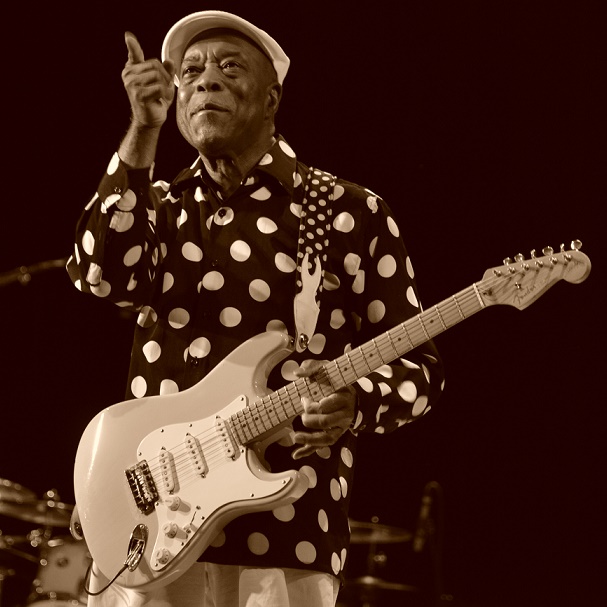 After his classic "Someone Else is Steppin' In," the crowd roared with pleasure. Guy said, "I don't get this applause everywhere. I own a blues club in Chicago, and this makes me think if I own one here, y'all will come out." The audience got even louder from that comment. After all, Boulder is a music mecca. He talked about honesty and moral character, and he dedicated "You Give Me Fever" to the appreciative crowd.
Because of his ever expanding influence on some of the greatest musicians of all time, Buddy said that he was going to show us where Jimi Hendrix got some of his stuff. He said, "I was in New York playing Muddy Waters stuff in a small club, and I didn't even know who the fuck he was. He walked in and I was playing…(insert "Voodoo Chile" intro)." It was loud! He told us, "I want you to get close to me. I want you to get as close as you can like Siamese twins." His signature walk through the entire Boulder Theater while playing guitar was what he meant by "getting close." When he finally got back on stage he talked about B.B. King and other blues influences on music including hip hop. He said blues guys were singing hip hop before hip hop came out. Then he posed the question, "Do you want me to sing blues hip hop?" After the approval he sang old blues lyrics that had us hysterically laughing when he referred to his sister who went to milk, but didn't know how. It was because his sister was milking the bull by his (insert expletive)." Guy explained that he grew up in Louisiana with no running water until age 17. He took care of his ailing mother as the eldest son, and for entertainment, he made his first guitar after listening to a stretched rubber band. He admitted to not knowing how to read music, but also detailed how many musicians did not. He continued his history lesson by describing and playing his influences like Albert King, and John Lee Hooker's "Boom! Boom!"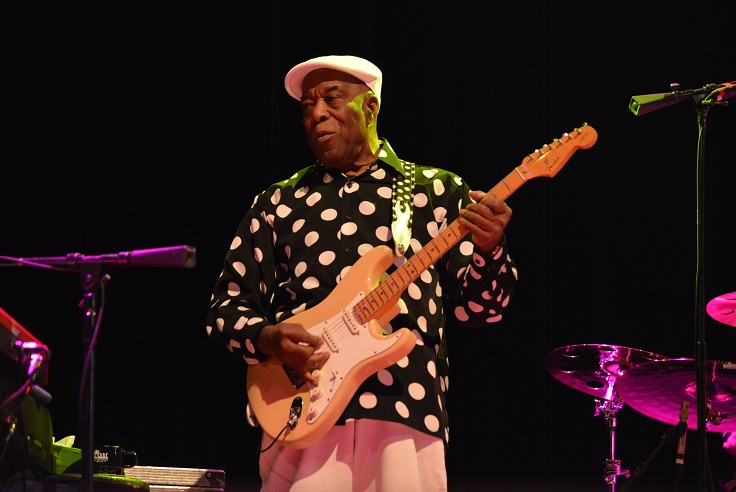 Guy loved the Boulder audience. He said that he used to come here with singer and harmonica player Junior Wells while recollecting good memories. He also reiterated that he was serious about the blues club, and he was disappointed that there weren't many smokin' blues clubs around anymore. He encouraged us to read his book because as he promised his idols that if they go before him, he'll need to keep the blues alive. He played "(Hey) What'd I Say" by Ray Charles and then asked if we knew Marvin Gaye. He played an acoustic and sang some soft soulful "Ain't That Peculiar." As we journeyed through blues time, he referenced the British guys like his good friend Eric Clapton and then played one of his favorite songs by Cream, "Strange Brew." Guy was having so much fun. "I wish I could play all night. I'm never gonna stop playing the blues. I don't give a fuck if they never play it on the radio.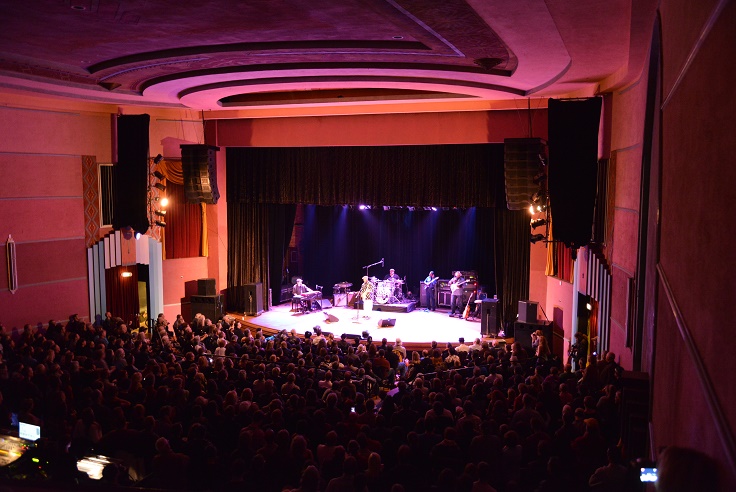 At this point, he welcomed his producer and the show's opener Tom Hambridge onto the stage to play some of the songs off of his new album. They played "Meet Me in Chicago" and the rest of "Voodoo Chile" and "Sunshine of Your Love" one handed, behind his back, and with his towel. After introducing his band, a girl screamed out, "Feels Like Rain!" Guy responded, "Hold it. I was gonna play Isaac Hayes, but kick it," and they went right into the requested song. Finally, he ended the show with a couple new songs including "Skin Deep," which was influenced by his mother. This show was special, and I hope more than anything that Buddy Guy was serious about opening that blues club in Boulder. Only time will tell I guess. Until then, musicians everywhere will continue to take what Guy and other blues legends have left them, and keep the blues alive forever.