"Just had that . . . it's weird. Just had that little feeling . . . you ever get that funny little feeling [of] 'vujà dé'? No, not déjà vu. This is vujà dé. This is the strange feeling that, somehow, none of this has ever happened before. And then it's gone."
~ George Carlin (RIP George – if anybody deserves some of that RESpecT, you do, too, brother!)
"A life without cause is a life without effect."
~ David Hemmings (aka "Dildano") to Jane Fonda in Barbarella (a delicious, existential pun proving axiomatic for her, CSN, et al. in their activism)
"Caught in that sensual music [where] all neglect / Monuments of unageing intellect."
~ William Butler Yeats, "Sailing to Byzantium"
~ ~ ~ ~ ~ ~ ~ ~ ~ ~
Rock IN, Rock UP, Rock ON, Rock OUT . . . Rock AND/OR* Roll! (*With thanks to "Reverend Lovejoy" of The Simpsons for the just brilliant "and/or" that remains, for me, a huge smile.)
CSN's recent concert in Eugene – and the opportunity to compose this review – arrived at a fortuitous moment. I'd just finished editing the proofs for a physician's forthcoming book: as I see (read/edit) it, a quasi-memoir presenting plentiful anecdotal prescriptions for seeking alternatives within standard allopathic models for health care in doctor-patient relationships.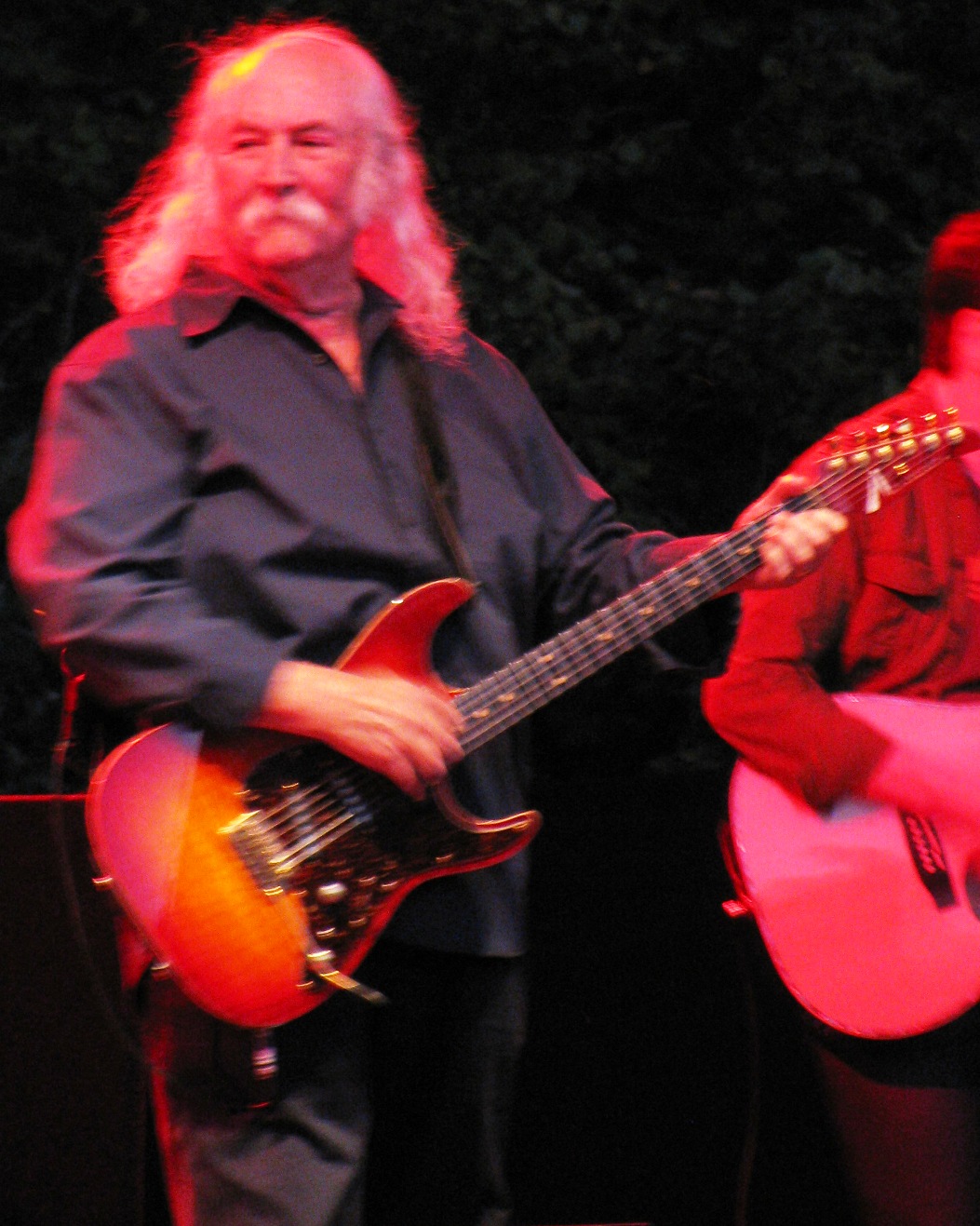 Not necessarily my, uh, primary care, because I prefer naturopaths, homeopathy, etc. But I do consider important alternatives, such as universal health care; and I, like C & S & N, tend to think about oh-too-many issues, as you may imagine, and may likewise do while reading this review.
Anyhooo, having finished up that project for now, I was free to digest my CSN concert-going experience, plus take two days exercising what's left of my wits in service to writing about it.
So, for what it's worth . . . and, as I was saying: rock IN, rock UP, rock ON, and rock OUT!
On this "9-11" (2012) anniversary, Messieurs (David) Crosby, (Stephen) Stills, and (Graham) Nash rocked all that—and our sensibilities—courtesy of themselves, plus the stellar support band whose personnel includes a cadre of versatile touring pros (seen audience left-to-right, whose associations Nash later introduced): from Stills' band, jazz organist Todd Caldwell; drummer Steve DiStanislao (David Gilmour); bassist Kevin McCormick (on loan, as Nash teased him, from fortunately-not-touring Jackson Browne); backing lead guitarist – and we learned, Eugene, Oregon's own – Shane Fontayne (Sting, Springsteen); and Crosby's son, James Raymond (CSN writer/collaborator on incisive, new songs such as "Almost Gone").
Such wonderful assemblages, at first glance, probably don't seem unusual these years, what with make-a-buck, unwarranted "stunt-casting" and cameos in TV and films, and roll-your-eyes, make-a-lot-of-bucks, one-off musical pairings. But for CSN, de rigueur collaboration is a trove of both credited and un-credited historical kinships in discographies. I perused my own collection to recall just how treasured. (I'll warrant you'd discover more interrelatedness, too, via the good ol' InterwebbingZ.)

Grab your reading glasses then, and revisit album- and CD-liner notes for various efforts by CSN, Neil Young, Bob Dylan, Jerry Garcia, David Grisman, Carole King, Joni Mitchell, Steely Dan, James Taylor, Stevie Wonder, and more. Partly lost to this history (likely, because these folks and their contemporaries did not insist on namedrop, uber-ego billing for their potluck contributions to the music), these and other artisans' now-famous, "individual" and/or side-project efforts actually involved, if poorly remembered by us, myriad cross over assists.
For just a few, early-to-latter-day examples: instrumental and vocal combinations of C, S, N elevate Court and Spark (Mitchell); Taylor and Linda Ronstadt illuminate the Harvest Moon (Young); Wonder, with his heaven-sent harmonica, fulfills Taylor's Hourglass; ad infinitum. Oh yeah, one more-well-known tidbit: the Eagles' ubiquitous "Take It Easy"? – co-written with UNfortunately-not-touring Jackson Browne.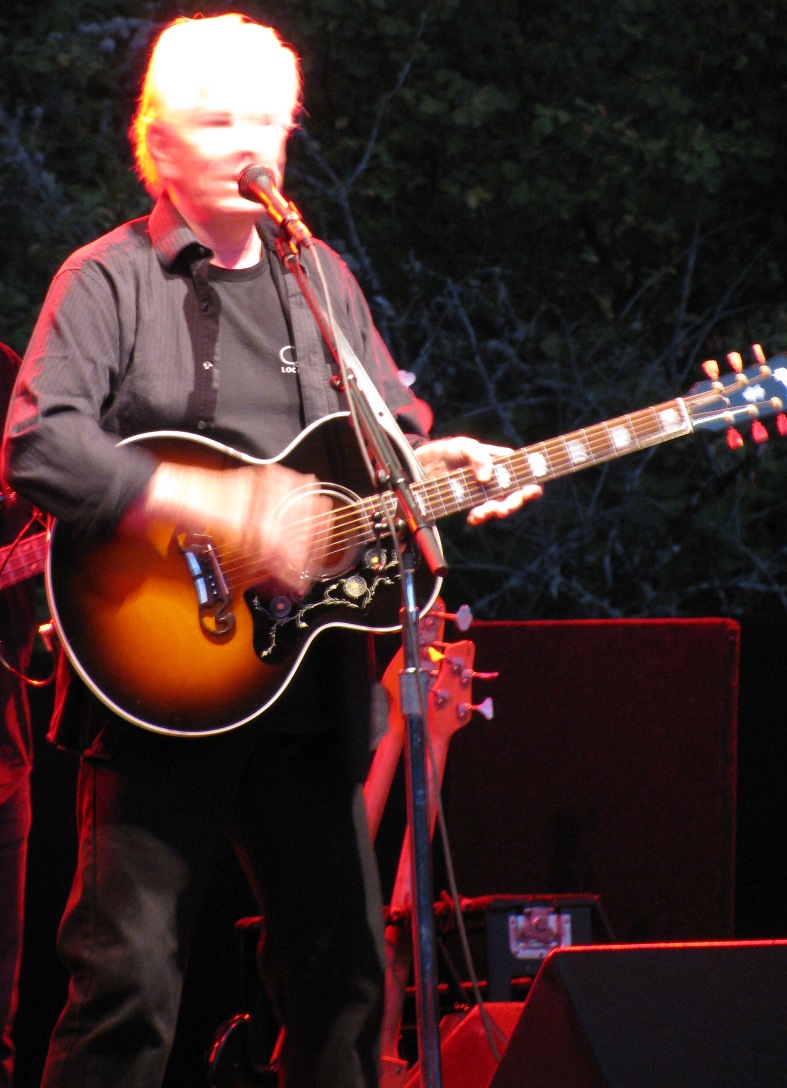 James Taylor would write, lifetimes later in 1999, as we were (still are) moving, fitfully, into this new millennium – awaiting whatever "rough beast . . . slouches . . . to be born" (Yeats; and cf. Van Morrison): "Those were remarkable days. . . . Joni, Jackson, CSNY, Eagles, Carole King . . . exceptional was commonplace. The record industry was a labor of love in the service of the music. It was a hoot."
So, witnessing this evening's banding together seems, if not familiar to us, then natural for C&S&N, who themselves comprise not only a collaborative effort (and whose still-soaring harmonics require meticulous collaboration), but who have emerged from other historical incubators (some might argue: crucibles), with a hoot-and-a-holler (lots of hollering?!) by way of Buffalo Springfield (Stills and Young), The Byrds (Crosby), and The Hollies (Nash).
I've attended CSN performances several times during 25 years, in venues larger (at eastern WA's Gorge; S. F.'s Golden Gate Park), and smaller (at The Hult Center, in Eugene), and also in-between, including this week at Eugene's lovely parkland, copper-half-domed, riverside Cuthbert Amphitheater. Although I am certain I do not qualify as a CSN aficionado, this is thus both familiar terrain and musical territory for me, and is doubtless likewise for most of the 5,000 gathered for CSN's sold-out incantatory revisitation. Welcome!
On another of those occasions, CSN might take a song or three to warm the individual pipes, or to attune the collaborative harmonies that would challenge anyone half their age(s). Not this evening. Notwithstanding CSN's fleeting kerfuffle with some late-night, late-summer's eve no-see-ums (including Crosby's mid-second-set bug battle, complemented by hilarious, tongue-in-cheek/bug-in-throat commentary, and alleviated by a generous spritz of repellant . . . sorry David!), CSN, individually and collectively – instrumentally and harmonically – hit their in-performance strides from the opening notes! Welcome indeed. Woo-hoo!!
So, yes, we enjoyed fitting shares of inviting déjà vu, but we also rejoiced in healthy doses of vujà dé, as the legendary CSN (and company), thus assembled, proceeded to rock our souls' consciousness . . . and our consciences, too.
If I want to anesthetize you by writing, say, a hip-artsy-cute concert review (and, sometimes, you know we all experience just that, because we read/write/see those reviews in assorted print, TV, and online media), I wouldn't have served you with the preceding appetizer, nor with the following full-course meal. Instead, I would unconsciously (though mindfully, too) breeze through CSN's setlists, encapsulating the order of songs/titles, and thereby seem to convey how I – and now you – grokked the moment and genuinely felt the vibes; . . . that is, somethin' like:
"CSN Carry On with Questions and indictments (Chicago and Long Time Gone), then settle into the mystic (oops, sorry, that's Van Morrison) with Just a Song Before I Go and Southern Cross; next Lay Me Down with a redemptive hymnal, echoed by its thematic kin, Radio; quickly track us along the Marrakesh Express, before purposefully derailing headlong (and headstrong!) into that forlorn abyss of the now-Almost Gone, thanks(-less) to U.S. imprisonment/torture policies, which now include capture and mistreatment of U.S. citizens; then abide, waiting for a moment to arise (not with The Beatles' Blackbird), with Buffalo Springfield's (Stills') Bluebird, who likewise yearns "aloft a perch, . . . to fly away . . . home"); and finally, wisely tap into our community's Déjà Vu ("we have all been here before"), and into our communal – if no longer commune-ideal – resolve: not so much to engage in "free love," but to love freely and in peace . . . to Love the One You're With." Peace and Love – still our finest ideas, dontcha think?!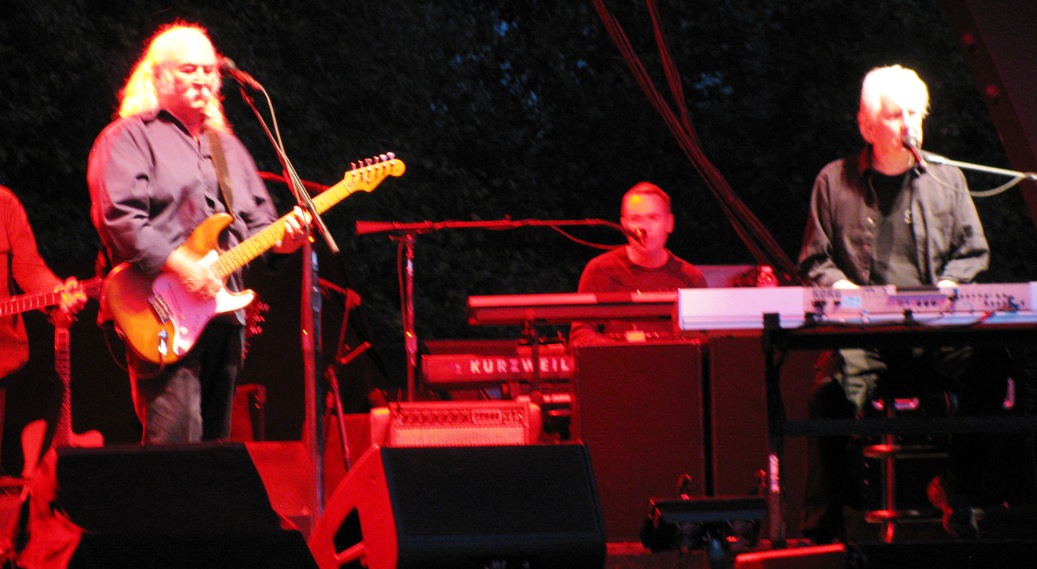 Phew! Set One. Done. There you be. Unchallenging and mostly unchallenged. Quite tidy. Besides, what else do you need to understand? Because now you are in the know, right? Uh-huh, no, not so much. So I'm glad you asked (though others may not be such). We'll see.
First, it's intellectually creative but emotionally bankrupt to perform these mostly nonsensical litanies, whether upon CSN or anyone else's sincere musical excursions. (You may, however, survey CSN's setlist at the end of this review.) Second, CSN, in lyrics and in performance, is not among pop culture's anesthetizing, unthinking bands.
More important, though, I would hope you'll agree such lists are far too cursory, and a lazy exposition – especially if we wish (or, Nash quietly implores on this evening and, presumably, at many performances, since we ought!) to bear meaningful witness to inhumane (in-)justices: currently marshaled against a war-crimes whistleblower (via Wikileaks), U.S. soldier Bradley Manning . . . and, as I'll add my voice to CSN's, against any persons, imprisoned and tortured (e.g., at GitMo, aka Guantanamo Bay), or, likewise, "renditioned" elsewhere to be torture by our U.S. military and military/civilian surrogates.
Leave off the concert and this review, then, for a few moments now or later; and instead check out Nash and Raymond's Almost Gone lyrics. Then watch their powerful, chilling history-in-context video for this song.
Meanwhile, back at the Cuthbert. . . . Manning's actions are thus neither simple nor reducible to right-or-wrong. (Is it a crime to "betray" a loyalty oath by blowing whistles on war crimes and criminals?) Nash, before CSN launches into Almost Gone, succinctly vituperates, "I don't actually care whether [Manning's] guilty or innocent. Torture is not the way." Ya think? Cue appreciative applause . . . among several sustained ovations in response to a Nash or Crosby fit-for-the-occasion pronouncement. (Stills, like the audience, clearly allied with them and us; but he was otherwise not given to verbal extemporaneity, at least not on this evening. Among rock's guitar legends, Stills instead preached through his improvisatory axe . . . and it swore!)
Honestly, how does our cultural-collective, bedrock value – i.e., for which we shouldn't need laws (but for which, thankfully, we have them anyway) – that we do NOT torture other human beings, instead degenerate into official White-House memos (not laws) that codify-as-law that we may (because, hey, here ya go, here's a how-to memo on ways to) torture human beings?!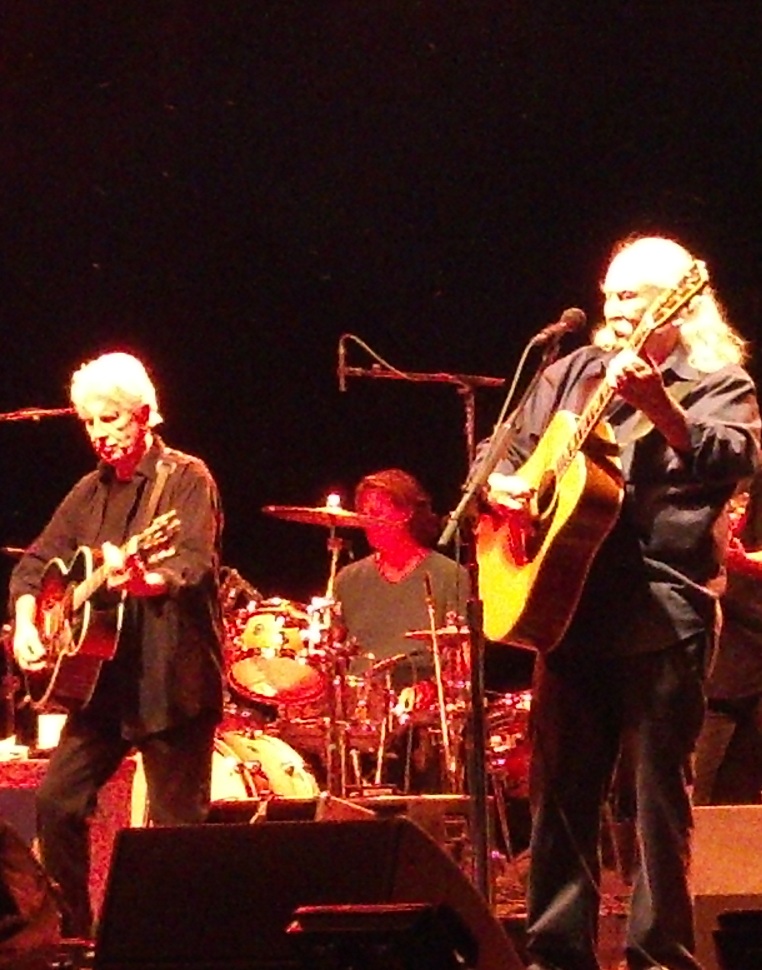 These are "the questions of a thousand drea . . ." – no, nightmares – which CSN encourages us to ask. For CSN and for our cultures, counter or otherwise, we've not only all been here before (cf. Vietnam); furthermore, in our democracy, so-called, we are also each culpable and all share in the responsibility to hold our elected actors accountable for such, and other, war crimes now. Yes, many of us already realize: War IS a Crime. So too, obviously(?!), is torture.
Really then, now you understand how the sort of titles-as-content review above, without lots of context, would be too superficial and dismissive of these weighty concerns. (There's plenty unadulterated c-r-a-p and corporate-music-industry crapulence, eh, where you can read-and-write such nonsense. So let's reserve that for reality-TV-bubble-gum-idol-making music.) Not here. Not with CSN, not with legions of serious musicians and musical-poetic endeavors.
Here, such easy cataloguing neither does justice to the band-as-performers, nor does justice to C-&-S-&-N for being among our brethren witnesses (to unique or shared histories) and sometimes chroniclers of the zeitgeist (likewise, for example, Dylan); and thus, does neither justice to an audience's lived experiences and sympathetic, civic-minded dispositions, nor to the very occasions that are CSN performances, both in song and in their interstitial insights and admonitions. (Though, perhaps, not including the flitter-flutter bug-battle-banter).
On this evening as at other of their performances, CSN's lyrics and presences press us – even for the uninitiated and for many initiates gathering at what they may have thought would be a benign, "fun night out at a rock-n-roll concert" – to rally selves and one another to greater awareness, and, one hopes, beyond awareness to progressive civic action.
Whatever you think you remember, or have forgotten you even ever once knew about CSN, this trio is not now and never was some sanitized-and-innocuous, three-part-harmonies band that our corporate-music overlord greed-heads unceasingly fed us to believe. As Crosby and Nash playfully reminded us at odd-and-even moments, what even they think they remember, they've long since forgot. Two Nash-notes-to-Crosby: "I can't remember how @#$% long ago we wrote that [Just a] song [Before I Go]"; and, regarding the many-months-long tour that, for David, feels like three years: "Is the acid just kicking in?!" . . . then laying down a peerless, energetic Southern Cross.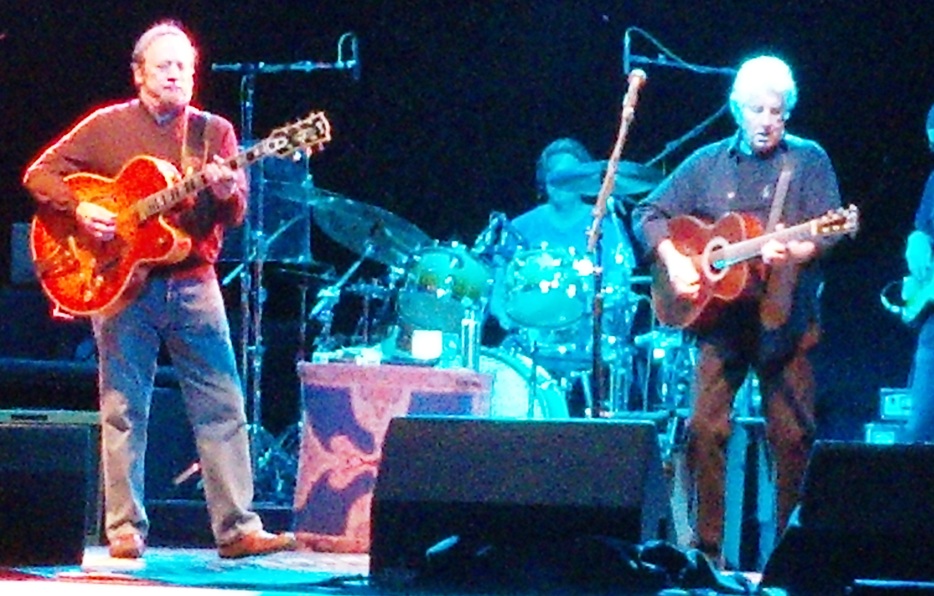 Clearly then, senior-moments haven't impacted their songwriting, singing, or performances. In other words, per Monty Python alumnus Eric Idle, in the brilliant, titular summation for his one-man (plus co-conspirators) tour, CSN is assuredly not "(Another Stupid Evening On . . .) The Greedy Bastard Tour."
I should remark, too, like-minded kudos, and aversion to economic corpulence, applies to CSN's longtime collaborator, Y (aka Neil Young). But this was a CSN-sans-Y performance. Still, it's worth noting here that, some time ago, Young mused to the effect that his career arc from burgeoning folk troubadour to aging-and-raging rocker perhaps meant that, one day, he'd just explode. (Must locate that hilarious sound-bite.) Observing, listening, really tuning in with CSN the other night, I've gotta think they're on similar trajectories. Keep on keepin' on, gentlemen!
Not merely by coincidence, of course, but it so happens that CSN also pens and harmonizes several warm tunes, too, although they are hardly innocuous. Alliterative poetry in Helplessly Hoping and cross-generational didacticism in Teach Your Children (which served for bookends, opening the second set and providing the conclusion of multiple encores) require attention be paid to the messages, respectively, of our mystical and familial interconnections.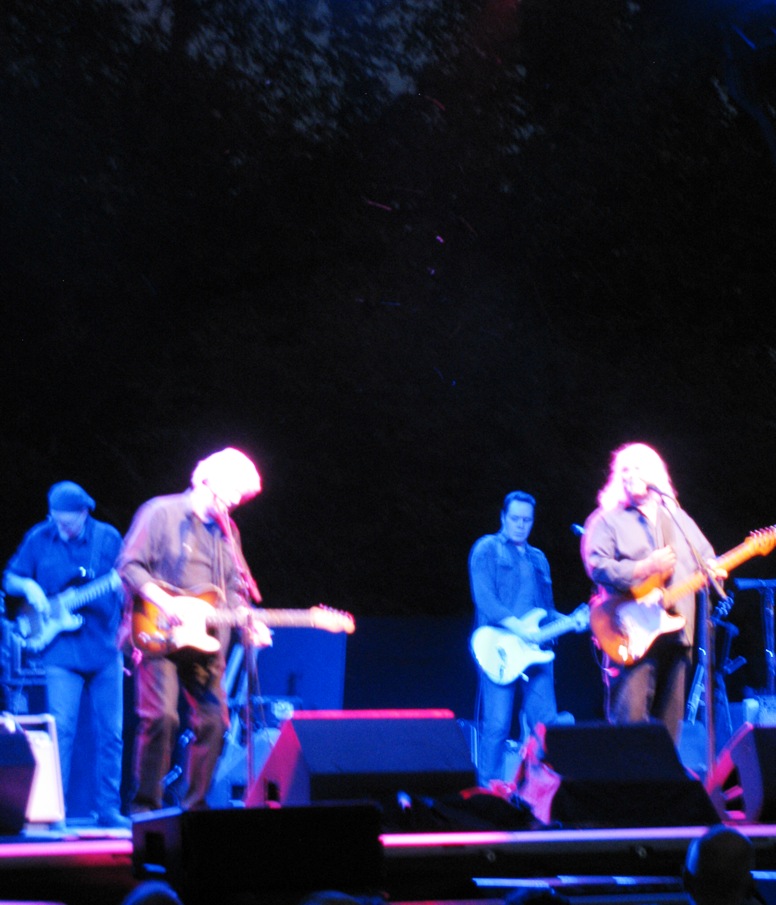 But oh, okay, then there was "Our House." Gotta acknowledge the sappy in that. But cut 'em all – CSN, writer Nash, any of us – some slack. When fortunes smile, plenty have expressed or experienced starry-eyed love. Besides, as Elton John – yet another troubadour from those never-really-were-halcyon yesteryears in a Laurel Canyon that included CSN, Mitchell, and many others previously mentioned – once crooned: "Love is what we came here for."
Good for Nash, then . . . and good for all of us. Nash: "Who shall we dedicate this to [on this evening]?" Crosby: "How about [Mitchell, for whom Nash originally wrote it]?" Nash: "For Joan." (La, la; La-la-la-la, La; la-la. . . .) A sweet, audience-sighing sing-along and late-second-set intervention into the evening's otherwise more serious musical proceedings.
Because, substantially and substantively, CSN songs require quite a bit more from us, on this and any night. Sorry. Warm, yes, but seldom cutesy-fuzzy. Rather, following Stills-and-co.'s early-second-set, beauteous rendering of Dylan's "Girl of the North Country," Crosby, once again smiling, but not so tongue-in-cheek, demurred, "They say we're a political band. . . ."
Ya got that right! I recall, at that moment, wondering how lengthy each of their (and, likely, many audience members') clandestine-F.B.I. files must be. I wasn't thinking this in, say, the For What It's Worth encore's sense of "paranoia strik[ing] deep . . . when you're always afraid," but rather contemplating this notion through the historical lens of a legitimate awareness that our authorities-in-power always fear, and regularly seek to quash by any means necessary, citizens' question-authority articulations. No matter how peaceful—and, too often, as we've experienced or witnessed firsthand, they'll freak out precisely because of (in inverse relation, and disproportionate, to) emergences among peaceable but heretofore subjugated peoples. (Think: civil rights, feminist, indigenous peoples'/developing nations' movements. Discuss.)
Decades of CSN's brilliant songwriting and performance setlists have thus, no doubt, landed CSN in other playbills: not cataloguing their compositions, but making composites of them – namely, on U.S. government "enemies" and "watch" lists. For example, Ohio, although often performed but not on this night, remains CSNY's scathing antiwar anthem, which generally targets the Vietnam War, but also specifically discredits a would-have-been (was!) autocrat, Richard Nixon (who, as you'll recall, had his very own, now-infamous "enemies list"), and indicts the National Guard's murders and wounding of Kent State, OH, students/civilians on the heels of Nixon's secret bombings of Cambodia. Thus, Ohio still resonates in contemporary (anti-)war contexts. (Can you say: Bush trumps-up WMD in Iraq to fuel a U.S.-led invasion?)

Nor did we hear Military Madness. I do not think these songs' absences were felt, however, or at any rate not by me, because we were exposed early in the first set to kindred villains and selfsame villainies with Chicago (". . . change the world!"), plus abundant correlatives in the second set, via In Your Name, Daylight Again/Find the Cost of Freedom, and the new What Are Their Names.
Nash, still standing, lamented with knowing derision that he wrote Chicago "forty years ago, and it's still true today – that sucks!" before sitting down at his keyboards to punch the song's sonorous opening chords in forceful reminder that "you're brother's bound and gagged; . . . in a land that's known as freedom, how can such a thing be fair?" Good, if rhetorical, question.
Not too difficult to surmise whether this Chicago – originally, CSN's late-1960s commentary on the trumped-up Chicago 7 trial and desultory Democratic National Convention (although, recall they were in fact eight, before "brother" Bobby Seale was indeed bound and gagged, and ultimately removed) – now is CSN's transfigured comment on current poverty, murders, other crimes, and mass injustices plaguing that city (with vituperative, my-way-or-no-way former White House Chief of Staff, Rahm Emanuel, serving as Democratic mayor . . . and doing little to stem Chicago's slide into violence's abyss, though he's siding against striking teachers/workers).
Or whether the song is now also possibly a harsher critique of another White House denizen, Chicago's South Side native-politician and our current U.S. president, Barack Obama, whose volitional continuation of warrant-less wiretaps and other constitutional encroachments, not to mention, as above, torture and assorted war crimes, rivals criminal Bush administrations.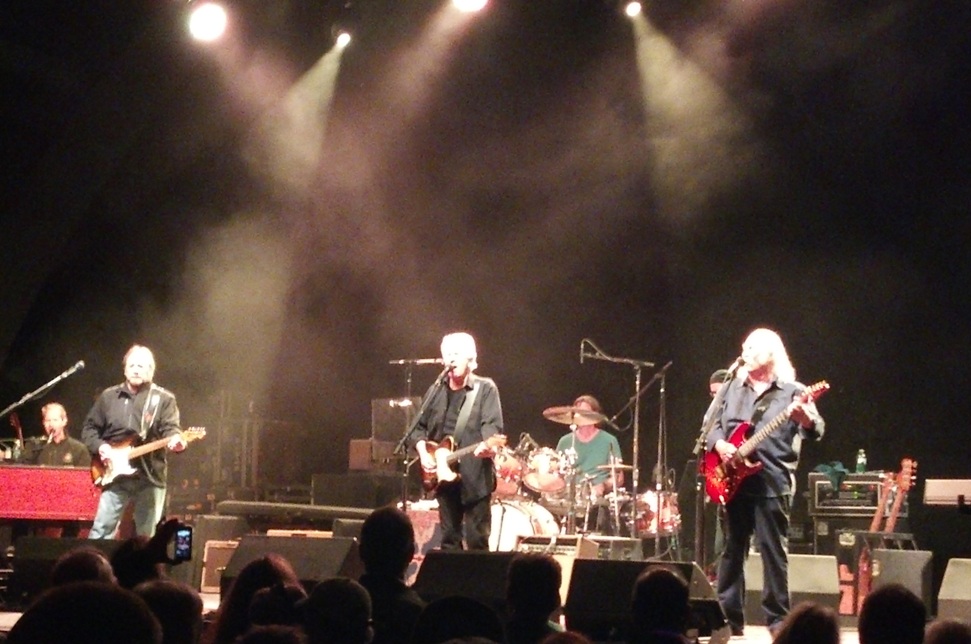 But I think both are fair guesses. I attended Dylan shows in late-April 1992, coincidental with the day of (and riots proceeding from) the original "not-guilty" verdicts stemming from the infamous trial of four white L.A. police officers who brutally assaulted Rodney King.
[NB: Notwithstanding an already biased system – a white judge and, later, predominantly white (10 of 12) jurors – the original judge, Bernard Kamins, felt compelled to stack the deck even further, and had to be removed from the case by the California Court of Appeals, who agreed with the defense that Judge Kamins had, in so many words, assured prosecutors of favorable rulings. Thus, observing Judge Bernard Kamins with Rodney King (1991); and then Judge Julius Hoffman with Bobby Seale and the Chicago 7 (1968): the more things change. . . .]
And so, when Dylan, amid the historical injustice transpiring south of us that April 29, opted (per usual, without prefatory comment) to perform several masters-and-their-victims elegies or invectives, including "The Lonesome Death of Hattie Carroll," I grokked (still do) – rightly or wrongly – that Dylan was simultaneously inveighing against that contemporaneously prevailing injustice. So too, then, Nash's Chicago of the late '60s, now part of CSN's 9/11/12 performance, conflated Chicago's horrible past with Chicago's (and this nation's) surpassing horrible present.
That, dear readers, is the power and the promise of poets-cum-songwriters, whom 19th-century poet, Percy Shelley, deemed "the unacknowledged legislators of the world."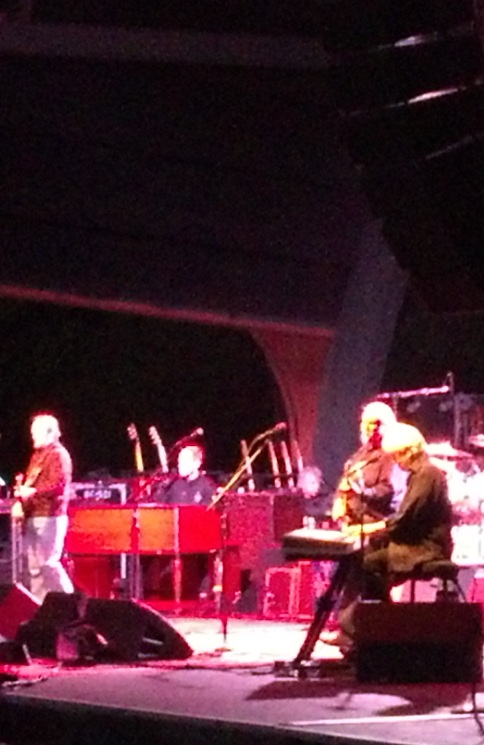 CSN (perhaps, specifically, the non-native, and thus more vulnerable, Englishman Nash(who later added American citizenship), or the ever-Canadian Young) has no doubt been long aware, however, if not also forewarned, that power such as theirs, amplified through their musical genius and poetic faith – and especially where empowerment, in turn, empowers others – quickly exasperates those in power. (Just ask John Lennon or Dr. Martin Luther King, Jr.)
For "Madness in great ones must not [go] unwatch'd," ruminates murderous King Claudius while he plots to dispatch (i.e., first to deport, and later to murder) Prince Hamlet. Our body politic has since confirmed from declassified documents that Lennon, Dr. King, and others not only knew about the powers-that-be attempts at deportations and defamations . . . but, more's the pity, came to know, too, Hamlet's "undiscovered country" (in their deaths and assassinations). And yet, they have thus given what Lincoln called "the last full measure [for their] devotion," in nonviolent causes for peace – the truer, nobler "cost of freedom buried in the ground" that CSN, midway through the second set, solemnly intoned in Daylight Again/Find the Cost of Freedom.
C&S&N, of course, are not legislators-of-the-world themselves per se. Like presidents and legislators (and more so than most of us), however, they enjoy the bully pulpit (i.e., platforms and megaphones to reach mass audiences). Unlike those other (mostly) frauds, though, CSN upholds that sacred bond between poet-performer/reader-audience (first defined by another 19th-century poet, Samuel Taylor Coleridge), whereby we participate in a willing suspension of disbelief. CSN continues to honor this covenant well, with (hi-)fidelity in their poetic faith.
Not that Crosby's following admonition (mostly verbatim, partly a paraphrase) undermines such power elites. "Vote! And if you think you're vote doesn't count, vote anyway!" . . . Plus somethin' to the effect of proving bastards in power they're wrong.) Little wonder Crosby laughingly, but knowingly, opted soon after to self-censor. Unfortunately, pronouncements such as these likely earn him, you, me, et al. more redacted pages in our F.B.I. files.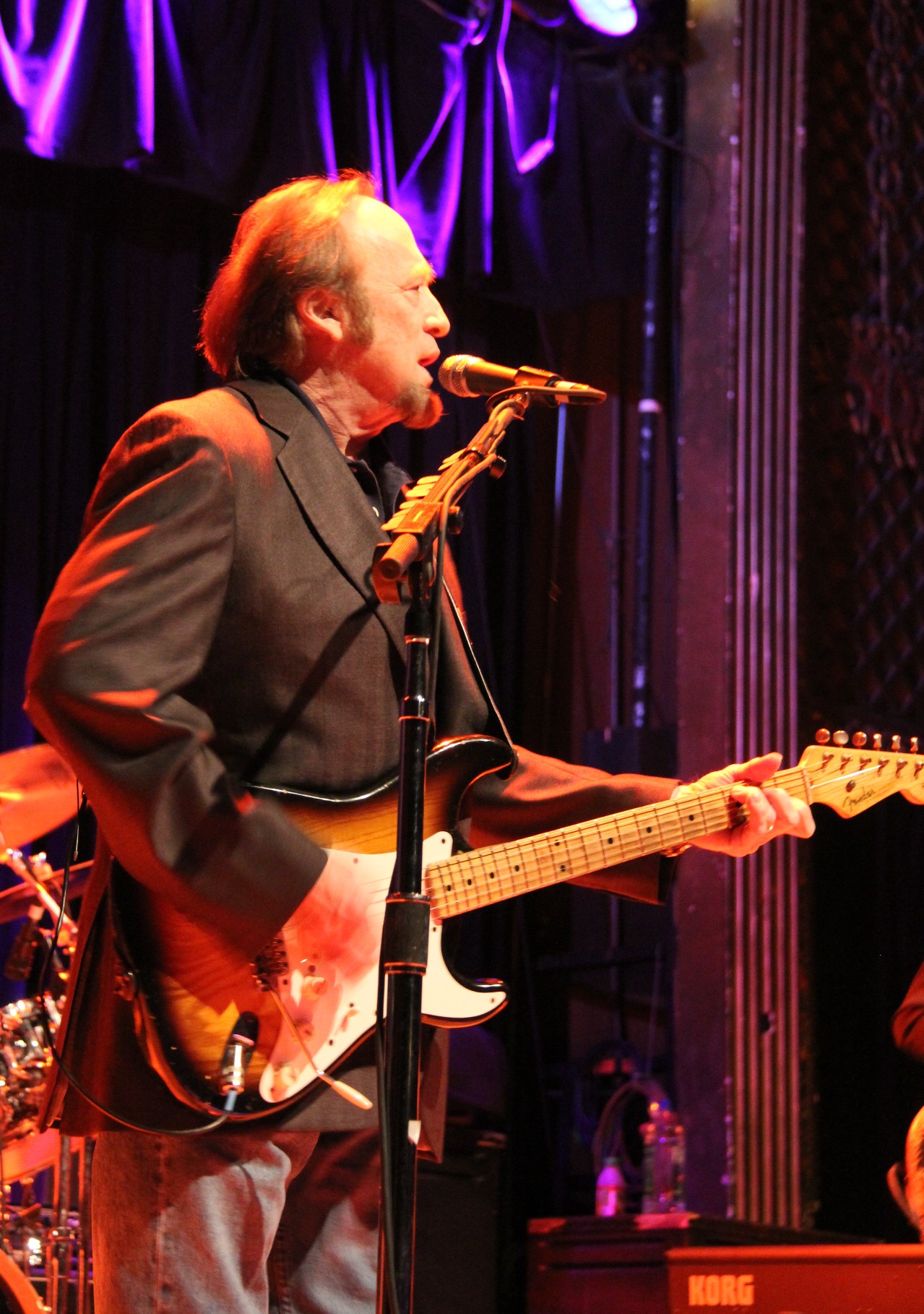 You don't think so? Well, perhaps not. But first check out and dig into Republican Party age-old and up-to-this-minute regional and national attempts to disenfranchise otherwise eligible (and – duh! – Democratic) voters, to disqualify them from voting. Then get back to me and we can discuss further. Meanwhile, don't neglect your Monty Python bible verses: "Nobody expects the Spanish Inquisition!"
W.B. Yeats observed that "Mere anarchy is loosed upon the world, / The blood-dimmed tide is loosed, and everywhere / The ceremony of innocence is drowned; / The best lack all conviction, while the worst / Are full of passionate intensity." If you'll please pardon my telling you what to think here about another writer's work, what Yeats means is often easily misunderstood as an indictment of "passionate intensity." But no, it's not that. Instead, he laments that the worst of us are, uh, full-of-it!, while the best of us, amidst the horrors, regrettably are not.
You see, then, were it otherwise, the worst would lack all conviction (to do ill), and our best would, laudably, be filled with passionate intensity (to do well). Unless, of course, you – as I do – also frequently wish to subscribe to Thoreau's admonition we "beware of all enterprises that require new clothes." But let's save that one for another time.
Sadly, we must still contend with all the many false "American Idol(s)," and ignominious preachers and politicians of every stripe – as Nash, immediately following CSN's doleful memento mori, Daylight Again/Find the Cost of Freedom, exclaims in his Cathedral: "Too many people have [lied/died] in the name of Christ." Though, of course, not just Christ. And, as Nash/CSN later implored in the plaintive In Your Name, ". . . Are you listening, to a prayer from a simple man: Can you stop all the sadness? Can you stop all of this madness? Can you stop all of this killing in your name?"
But thankfully and laudably, Crosby, Stills, and Nash are among our best, and they remain full of passionate intensity and wise convictions.
Let us, if we do not also legislate, acknowledge such troubadours, poets, and their poetics. And may those of us who yet abide in the church of rock-n-roll, keep faith!