Joe Marcinek Band with Allie Kral Announce Midwest Gigs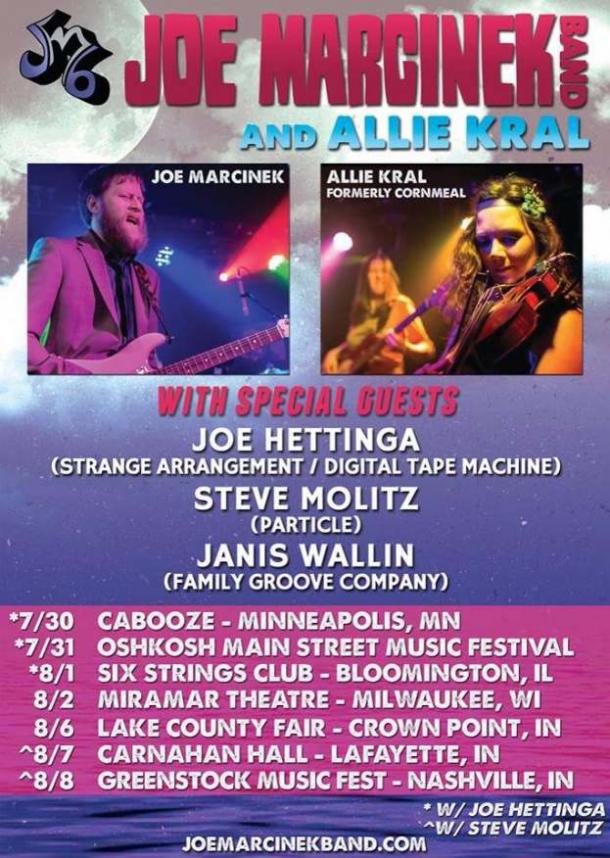 Joe Marcinek Band (JMB) is proud to announce a series of midwest summer dates with special guests Allie Kral (formerly of Cornmeal), Janis Wallin (Family Groove Company), Steve Molitz (Particle) and Joe Hettinga (Strange Arrangement and Digital Tape Machine) with shows in Minneapolis, MN, Oshkosh and Milwaukee, WI, Bloomington, Crystal Lake and Crown Point, IL, and Indianapolis, Lafayette and Nashville, IN.
Joe Marcinek Band is an ever evolving mixture of original compositions and incredible musicians.  Each show has a slightly different lineup and interpretation with a focus on musical improvisation.  Fiddle player Allie Kral, who performed internationally with bluegrass band Cornmeal from 2003 to 2013 joins Marcinek and his bandmates for this run of shows along with bassist Janis Wallin of Family Groove Company and keyboardists Steve Molitz of livetronica supergroup Particle and Joe Hettinga of electronic act Digital Tape Machine and Strange Arrangement sharing duties on keys for select shows.
Guitarist/Founding Member Marcinek, who also plays keys for the bands Fresh Hops and Terrapin Flyer, states.  " this run is exciting - we're taking different genres - bluegrass, electronica, rock, jazz and funk and fusing it into a sort of melting pot of music.   Each show is an experience like no other."
Don't miss this exciting lineup!
DATES:
July 25th -  Mousetrap - Indianapolis, IN with Alan Evan's Playon Brother -  JMB show - (no special guests)
July 26th - Duke's Alehouse - Crystal Lake, IL - JMB show - (no special guests)
July 30th - Cabooze - Minneapolis, MN - w/  Allie Kral and Joe Hettinga
July 31st - Oshkosh Main Street Music Festival - Oshkosh, WI - w/ Allie Kral and Joe Hettinga
August 1st - Six Strings Music Club - Bloomington, IL - w/ Allie Kral
August 2nd - Miramar Theater - Milwaukee, WI - w/ Allie Kral
August 6th - Lake County Fair - Crown Point, IL - w/ Allie Kral
August 7th - Carnahan Hall - Lafayette, IN - w/ Allie Kral and Steve Molitz
August 8th - Greenstock Music Festival - Nashville, IN - w/ Allie Kral and Steve Molitz
For additional information, visit http://www.joemarcinekband.com