Keller Williams Donates Godin Guitar, Special Prizes to Mimi Fishman Auction
Submitted by madison on Thu, 05/12/2011 - 01:29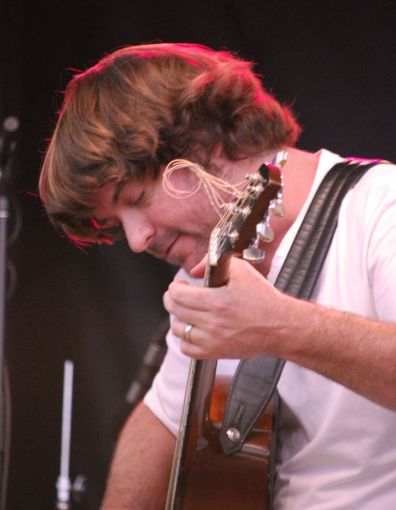 Virginia native Keller Williams today launches an online auction at www.mimifishman.org/auctions to benefit his southern neighbors who were impacted by the recent tornados that tore through the region. Hosted by the Mimi Fishman Foundation, the public can bid on a Godin Guitar cherished by Keller, a Golf Cart Ride and VIP Ticket upgrade at the upcoming Summer Camp Festival, and a Keller Williams "Season Pass." 100% of the money raised will go directly to tornado victims, with Keller and each winner deciding together the specific recipient organization. For additional details and to bid, visit http://www.mimifishman.org/auctions/.
--
A word from Keller about the auction (April 20, 2011):
As I watched the dreamy royal wedding, I couldn't help thinking of the nightmare that was happening in the southeast. The devastation from the tornados left me wanting to help in any way possible. So, in addition to a couple other items, I'm auctioning off my Godin Multiac fretless guitar with synthe access. Her name is "lil' sexy." Please check out "Lil' Sexy Blues" from the Dream record featuring Sanjay Mishra on guitar, Samir Chatterjee on tablas, and me playing this guitar. It has nylon strings and sounds like a warm classical that's being played with a slide except your fingers are doing the sliding as there are no frets. The fret lines are in place so it plays easily. With a fretless, you simply press the string on the fretline for the proper note to be in tune. It's a guitar player's guitar. It's not a cowboy chord guitar you sit back and strum tunes around the campfire. It's a thin body guitar, but slightly thicker than an electric. It's super sexy. The pick up system is very elaborate with many options. Each string sits in its own cradle. The signal is split two ways and has two separate out puts. One is a regular quarter inch guitar cable that controls the acoustic sounds with volume, treble, mid, and bass control faders. The other is a 13 pin gk cable that goes to the Roland guitar synthesizer. This unit is not included. But it's bad ass. Hours of entertainment can be had with a plethora of different sounds. My favorites were the trumpet and fiddle. I would tune the guitar to chord and slide around the low notes on the trumpet patch and would sound like a sexy trombone with no spit. The fiddle is way more realistic sounding with the fretless aspect. Although it's a thin body, there is a small acoustic port up by the controls that allows you to play and hear her in all her sexiness with out any amplification. I'm letting her go because she was a one song a show guitar. Then when I started flying so much and had to choose who goes and who stays, I obviously chose the guitars I play the most. She is a luxury, specialty that deserves to be played.
For more from Keller and to bid in the auction, visit www.mimifishman.org.