Marco Benevento | Brooklyn Bowl | Brooklyn, NY | 4/20/13 | Review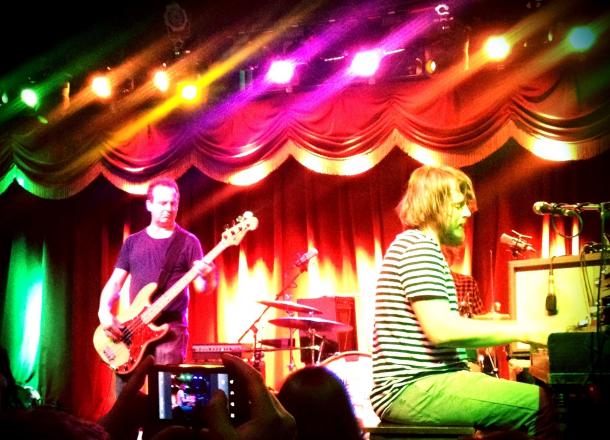 Following what felt like an eternal winter, New York City has finally begun to get some (somewhat) warm and sunny weather, and that alone was cause enough for celebration. The day of Saturday, April 20 became no less sunny as Marco Benevento rolled into the Brooklyn Bowl, along with the Mike Dillon Band and Diamond Doves.
The beckoning smell of fried chicken coming from the established Blue Ribbon joint in the back of the venue resulted in my missing much of Diamond Doves' opening act, but I finished my plate in time to catch Garage a Trois compadre Mike Dillon take the stage. The band's performance made it obvious that everyone's spirits were high that evening, early start time and all. Dillon displayed talents that went beyond mallet mastery: mounting various instruments, rapping a la MC Silver Ice, casual stripping, and parading NOLA-style around the stage with saucy trombonist Carly Meyers rocking out atop his shoulders. Marco then took the stage, donning a lei in honor of a friend's recent Hawaii wedding, and was joined by the usual-as-of-years-late suspects Dave Driewitz on bass and Andy Borger on drums. And of course, the tiger head was there.
The trio played old and new Marco material, but the show was played more to the tune of Benevento's latest release, late 2012's Tiger Face, which is characteristically a bit more indie pop than prior releases. Exceptions to that included highlights such as Bus Ride's psych experimental piano solo sandwiched in between heavier jam jazz. More recent experimentations with vocals were not missed much - his instrumental melodies stood on their own two legs, and those legs danced more and more as the setlist progressed on with tracks such as RISD and Limbs of a Pine. Renditions of LCD Soundsystem's "Someone Great" and "Heartbeats" by The Knife make one wish that every indietronica dance party featured more bouncy piano. In essence, it was fun, and Marco, as usual, was beaming. As he should be: his ability to continually captivate the crowd may leave other like pianists wondering what they're doing wrong.