Rachel Brown | The Darby | New York, New York | Review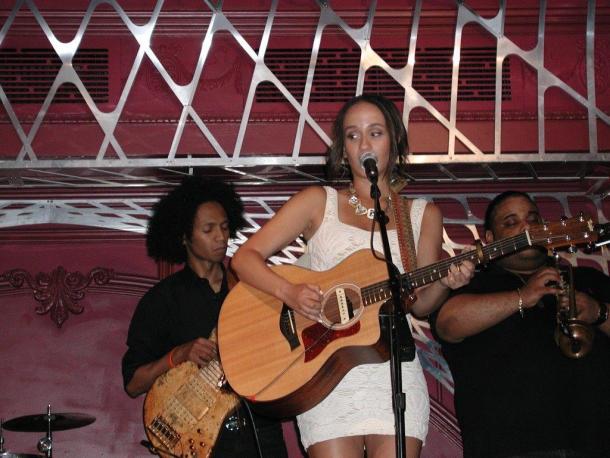 Singer-Songwriter Rachel Brown made her appearance in a weekly residency at the Darby in NYC last Thursday night and if you're looking for a slam-dunk date spot idea, look no further. Never having been to the Darby before, I was very impressed at what I found: a chill, elegant spot with a modern, more youthful jazz club atmosphere . Brown, a native New Yorker, is making a name for herself with a voice that's evocative of Norah Jones but a unique style combining disparate world influences. She's only been performing publicly since her junior year at Harvard in 2009 but since that time she's amassed an impressive array of gigs and recognition, opening for people like Mary J Blige and John Legend and also obtaining a pretty notable fan in Wyclef Jean, who has joined her onstage in some of her past performances at the Darby.
Brown's Thursday and Friday night shows at the Darby are multiple set affairs, combining different arrangements of musicians she plays with on a regular basis. She herself switches instrumentally between acoustic guitar and ukulele and stylistically from Girl from Ipanema to the most original cover of R Kelly's Ignition I've ever heard.  Her voice and phrasing display a natural talent for jazz but her world-music influences based partly on her Ethiopian and Bermudian roots give her the ability to cross several different genres. Brown will be at the Darby this Thursday, June 6th, Friday, June 14th, including a few more dates through the end of June, check her out for a sophisticated yet relaxed evening of a young singer-songwriter on the rise.
Upcoming NYC Dates: