Shook Twins Announce 2013 Summer Tour
Submitted by Sue DuMond on Thu, 06/13/2013 - 14:15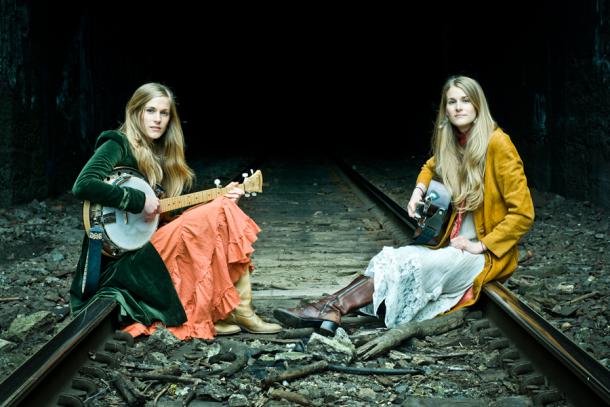 Portland Oregon-based Shook Twins enter June with a completed recording project, successfully funded Kickstarter, vinyl release, and announcement of their upcoming full summer festival season calendar. In May the group headed into the studio with Grammy nominated producer Ryan Hadlock (The Lumineers, Milo Greene) and in concert launched a successfully fan supported Kickstarter campaign to fund the project. The group spent three weeks immersed "in the music," at Hadlock's renowned Bear Creek Studios in Woodinville WA, and anticipate releasing the new material in Winter 2013.
To satiate fans awaiting the new material, the bands 2011 release "Window" will be released later this summer on vinyl, in collaboration with a partnership with Eugene Oregon based Ninkasi Brewing and their "Beer Is Love" campaign.
Confirmed summer festival dates have stacked up and include first time visits to High Sierra, Sisters Folk Festival, MASSV and Summer Meltdown. Other highlights include performing at the first annual Cascadia Music Festival in Eugene Oregon that boasts headliners Railroad Earth and Bruce Hornsby; opening for The Indigo Girls at Festival at Sandpoint (Sandpoint, ID) and the bands first venture to the Midwest to perform at Boats and Bluegrass (Winona, MN). Fall will find the band at Yonder Mountain Festival in Ozark, AR.
Summer Tour 2013
June 14 - Coyote Spirit Festival - Paisley, OR
June 15 - Green Show Concert Series - Ashland, OR
June 25 - The Ruins - Hood River, OR
June 26, -Applegate Lodge - Applegate, OR
June 27 - Humbrews - Arcata, CA
June 28 - Marinwood Music in the Park - San Rafael, CA
June 29 - Aubergine After Dark - Sebastapol, CA
June 30 - Cafe DuNord - San Francisco, CA
July 1 - Private Event - Santa Cruz, CA
July 4 - High Sierra Music Festival - Quincy, CA
July 5 - Cascadia Music Festival - Eugene, OR
July 6 - MASSV Festival - Sun Valley, ID
July 7 - Redfish Lake Lodge - Stanley, ID
July 12-14 - Oregon Country Fair - Veneta, OR
July 18-19 - Northwest String Summit - North Plains, OR
July 21 - Starbelly Jam - Crawford Bay BC, Canada
July 25 - Walnut Room - Denver, CO
July 26 - FAC at The Maya Restaurant -  Avon, CO
July 27 - Mountain Fair - Carbondale, CO
July 28 - Bluegrass Sundays - Aspen, CO
Aug 1 - Festival at Sandpoint - Sandpoint, ID ++
Aug 10-11 - Summer Meltdown, Darrington, WA
Aug 13-14 - Adrift Hotel - Long Beach, WA
Aug 16 - Private Event - Camano Island, WA
Aug 23 - Green Show Concert Series - Ashland, OR
Aug 24 - Ventis Cafe & Taphouse - Salem, WA
Aug 25 - Eugene Celebration - Eugene, OR
Aug 31 - Private Event - Dayton, OR
Sept 6-8 - Sisters Folk Festival -Sisters, OR
Sept 14 - Newport Music Festival - Newport, WA
Sept 18 - Missoula Winery & Event Center – Missoula, MT
Sept 22 - Sunday Afternoon Blues, Brews & BBQ - Huntsville, UT
Sept 28 - Boats and Bluegrass Festival - Winona, MN
Oct. 17-20 - Yonder Mountain Harvest Festival -  Ozark, AR
++ Opening for Indigo Girls
Complete tour and show info is available at: http://www.shooktwins.com