Heartland Americana Rock band The Artisanals are pleased to announce the upcoming release of their self-titled debut album. The recently formed Charleston-based band fronted by Johnny Delaware (formerly of SUSTO) will be releasing the album through AWAL on September 21st, 2018. Ready to share their new music with the world, the band has launched a PledgeMusic campaign that allows fans to pre-order The Artisanals before it's released to the public. Also through PledgeMusic, fans can reserve tickets to an exclusive listening party and beer tasting of 'The Artisanals Angel 40-Brew' Oktoberfest, a collaboration with Holy City Brewing, that will be held in Charleston, SC on August 31st. The Artisanals are currently touring in support of the upcoming release. A full list of confirmed dates is below with additional album release tour dates to be announced soon.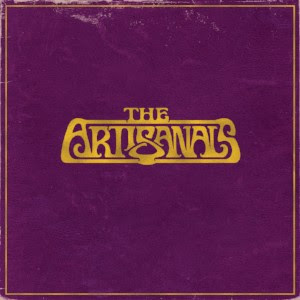 The highly anticipated full-length studio album, The Artisanals, releases in follow up to the band's 2017 four-track EP Literally, Anywhere which received critical acclaim from the likes of Huffington Post, Paste Magazine, Daytrotter, and PopMatters, among others. Produced by The Artisanals with Wolfgang Zimmerman, the forthcoming LP is the first ever record to come out of the Magic Barn - an Iowa studio-converted-barn that features the Neve console and gear from New York City's now defunct Magic Shop Studio which recorded David Bowie's last two albums, Arcade Fire's The Suburbs, and can be seen on Dave Grohl's Sonic Highways.
With sonic influences ranging from the gritty heartland rock refrains of Bruce Springsteen ("Angel 42"), and neo-psychedelia anthems of My Morning Jacket ("Pound The Rock"), to the dream-pop work of The Cars and The War On Drugs ("Drag" and "First Time"), The Artisanals 10-track LP showcases Johnny Delaware and guitarist Clay Houle's knack for writing hooks as well as their ear for quality production. The album utilizes everything from a gong, organ, piano, sitar, french horn, trombone, and koto, to a string section sourced from the nearby University of Iowa. Mastered by the very artisanal Howie Weinberg (Spoon, Ryan Adams, Nirvana), there's no filler here. From start to finish, this record is a straight banger.
Local Charleston businesses will be lending their support for the release of The Artisanals' debut album as well. Holy City Brewing has teamed up with the band to craft a malty Oktoberfest recipe in honor of the band's single "Angel 42". The first keg of "Angel 40-Brew" be tapped on August 31st at D'Allesandro's Pizza in Charleston, SC as part of The Artisanals' official private listening party. Tickets to the listening party and beer release event can be purchased exclusively through Pledge Music. And throughout the month of September, craft beer enthusiasts and fans of The Artisanals will be able to find "Angel 40-Brew" on tap at D'als plus select Charleston Home Team BBQ locations. The Artisanals "Angel 40-Brew" will also be available at The Pour House for the band's hometown album release show presented by WCOO-FM The Bridge on September 29th.
Following the cues of the universe, The Artisanals are crisscrossing the country in their trusty retirement community Miravanti van, crashing on couches of friends and recent strangers, loading in and out of clubs and venues, and bringing their explosive live show to stages of all sizes. Stay tuned to their antics on Instagram at: https://www.instagram.com/the_artisanals/
The Artisanals 2018 Summer Tour Dates
% with SUSTO
+ with Cicada Rhythm
# with Contour
! with The High Divers (duo)
-- July --
7/11 - Redding, CA - The Dip
7/12 - San Francisco, CA - Hotel Utah
7/14 - Santa Cruz, CA - Crepe Place
7/15 - Los Angeles, CA - The Mint
7/17 - Phoenix, AZ - Rebel Lounge
7/18 - Tucson, AZ - Hotel Congress
7/19 - El Paso, TX - The Lowbrow Palace
7/20 - Dallas, TX - Sundown at Granada
7/21 - Austin, TX - The Scoot Inn
7/27 - Nashville, TN - Mercy Lounge
7/28 - Yorkville, IL - Law Office Pub & Music Hall
-- August --
8/1 - Madison, WI - Ruby
8/2-8/3 - Appleton, WI - Mile of Music
8/5 - St. Paul, MN - Amsterdam Bar and Hall
8/8 - St. Louis, MO - Off Broadway %
8/10-8/11 - Maquoketa, IA - Codfish Hollow %
8/14 - Indianapolis, IN - The HiFi +
8/15 - Columbus, OH - Rumba Cafe +
8/16 - Newport, KY - The Southgate South Revival (Revival Room) +
8/18 - Knoxville, TN - Second Bell Music and Arts Festival
-- September --
9/29 - Charleston, SC - The Pour House # !